China Unicom Dials Up Private Capital in Ownership Reform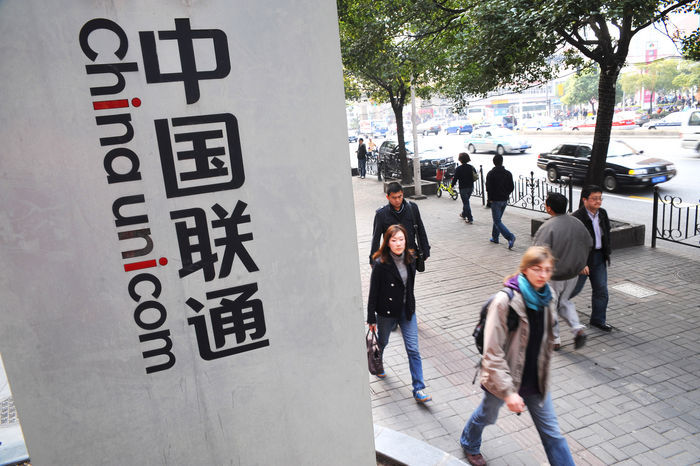 China Unicom unveiled an $11.7 billion ownership reform plan to offer a 35% stake in its Shanghai-listed arm to new investors. Photo: IC.
(Beijing) — China Unicom's $11.7 billion ownership reform plan represents a test case of China's years-long push to revitalize the bloated state sector with private capital.
Market investors and observers are closely watching the deal involving one of the country's three state-backed telecom carriers in hopes of figuring out how far China will go in its efforts to privatize its state sectors. Meanwhile, Chinese authorities are counting on the case to serve as a model that could usher in a wave of reforms at state-owned companies (SOEs).
The state securities regulator treated Unicom's private placement plan to invite new investors as an "exceptional case" with major significance and granted it an exemption to new private placement rules issued in February on deal size and pricing.
Concerns that Unicom's fundraising plan may have violated those rules prompted the company to take down its statement from the Shanghai Stock Exchange a few hours after its announcement of the plan on Aug.16.
Under the plan, Unicom is offering 35% of Shanghai-listed arm China United Network Communications Ltd. to more than a dozen state and private investors, including tech giants Alibaba Group, Tencent Holdings and Baidu, to raise 77.9 billion yuan ($11.7 billion).
The transaction will reduce the state-backed parent's holding to 36.7% from 63.7%, while granting new investors 35.2% of the company stake and 2.7% to its employees in an incentive program. The remaining shares would be in the listed company's traded stock.
Unicom's placement plan received the green light from the China Securities Regulatory Commission after special approval from the State Council under mediation of different departments, a person close to the matter said.
The privatization push at Unicom is directly led by the National Development and Reform Commission, the top economic planner, as a landmark case of China's mixed-ownership reform, said a source from an institution participated in Unicom's fundraising.
Beijing initiated "mixed-ownership reform" in 2013 to expand private investors' access to state companies, hoping to stimulate efficiency of state-controlled sectors such as oil, power, railway and telecom. But the reform pace has been slow, and the entryway for private investors to state companies remains narrow.
As the dust settles for Unicom's reshuffle plan, authorities expect it to serve as a model for other companies. But whether Unicom's reform can play its role as expected will depend on how much private investors can shake up the company, analysts said.
Exceptional case
Unicom was named among a handful of central government-owned companies in early 2016 to be mixed ownership pilots. Others include China Eastern Airlines, China Southern Power Grid Co. and China Nuclear E&C Group.
The case is attached exceptional significance because it is the first effort to reform a major SOE as a whole. Unicom's Shanghai-listed unit holds most of the parent's 600 billion yuan in total assets and shares almost the same management and personnel. Compared to most major SOEs, Unicom has a relatively simple asset structure and much less unlisted, non-core business. That makes it a good testing ground for corporate reform.
Since China kicked off the mixed-ownership reform in 2013, several pilots have been launched in selected companies, but most only affected a segment of the companies' business. In 2014, oil giant Sinopec became one of the first companies to kick off the reform and announced a sale of part of its distribution business to private investment. But the deal was seen as ineffective because many of the main investors were still state companies.
Other companies, such as China National Petroleum Corp. and China Minmetals Corp., have tested the reform program by listing their financial business segments through a backdoor listing. China Eastern Airlines is also preparing to list its logistics division as an ownership reform test. Southern Power Grid has proposed setting up a new power distribution joint venture with private partners, while China National Gold Group said recently it will sell a major stake in its jewelry unit to a group of private investors, including e-commerce giant JD.com.
But none of these deals in on the same scale as Unicom. Unicom's reform initiative has drawn great attention from the market from the beginning. Sources said since late 2016, major internet companies including e-commerce giant Alibaba, JD.com and tech major Baidu and Tencent have approached Unicom for possible tie-up.
Gaining government approval was not an easy task for Unicom, which spent months negotiating with authorities and repeatedly revised the plan according to opinions from different departments. A general plan won approval from the State Council in late May. But details --such as investors, deal size and share placement price -- were not settled, a person close to the matter told Caixin.
Enthusiasm cooled among private investors due to lingering uncertainties, sources said, especially after the CSRC's revision on share placement rules in February, which set stricter requirements and was expected to push up Unicom's placement price.
Unicom held several talks with securities regulators demanding exemption of the new rules but was rejected, sources said.
But Unicom has picked up its reform pace since mid-June, pushed by the NDRC, and in July, the company had preliminarily decided major investors, sources said.
Under the final placement plan, Unicom is to raise 77.9 billion yuan from 14 state and private investors. All of China's top private tech giants participated in the deal: the amounts included 11 billion yuan from Tencent, 7 billion yuan from Baidu, 5 billion yuan from JD.com and 4.3 billion yuan from Alibaba. The four will hold a combined 12.88% of Unicom after the reshuffle. China Life, the country's biggest state-owned life insurer is the largest investor, paying 21.7 billion yuan for 10.22%. Other participants include retailer Suning Commerce Group, tech company Kuang-Chi Group, data centre services provider Wangsu Science & Technology, business software provider Yonyou, ride-sharing giant Didi Chuxing and railway manufacturer CRRC Corp.
Unicom's venture is bolder than many expected, a telecom industry analyst said, who added it was widely believed that Unicom would offer no more than a total 20% stake to new investors.
'Major' opportunity
On Aug. 16, Wang Xiaochu, chairman and chief executive of Unicom, said the reform plan offers Unicom a "major historical opportunity."
Unicom is eager for changes to gain a competitive edge over its bigger rivals and get fresh capital to bet on the next generation of wireless services. Once a triumphant player in the 3G wireless era, Unicom has been squeezed due to its slow move to tap the new generation of 4G services.
In the first half this year, Unicom registered 124 billion yuan in revenue, with 2.4 billion yuan net profit. That is small compared to its rivals--about 4% the profit of China Mobile and 20% of China Telecom. As of June, Unicom had 139 million users of 4G wireless services, compared to 594 million for China Mobile and 152 million for China Telecom.
Several sources close to Unicom said Wang is counting on ownership reform to transform Unicom into a modern corporation with diverse shareholders and a market-oriented management structure.
Unicom said it would use 39.8 billion yuan of the money it raises to upgrade its 4G mobile network and spend 19.6 billion yuan on technology development and the launch of the faster 5G network by 2020. The remaining will be injected into innovative businesses.
Analysts expect the tech investors to help Unicom advance its technology and business innovation. Since late 2016, Unicom has worked with Baidu, Alibaba and Tencent on new services. For instance, it launched an internet data card with Tencent, giving unlimited data usage on Tencent apps.
Wang said in May that the partnership with Tencent has brought 20 million new users to Unicom, and the cooperation with Alibaba helped add at least 2 million new users.
With new investors on board, Unicom will likely revamp its business model to become a more open tech platform, adding competitive pressure on China Mobile, said an executive at the rival company.
A telecom industry analyst said Unicom will become more competitive if it gradually switches its business model from relying on its own outlets to internet channels for marketing and sales, which would be much more cost efficient.
Unicom is also looking at streamlining its organization by cutting its 712 departments scattered in 31 provincial subsidiaries to 516, according to a company executive. Within two years after the reform, Unicom may lay off 1% of its 230,000 employees after stricter review of their performance, said another source close to the company.
As part of the fundraising plan, Unicom will also introduce a so-called "share incentive mechanism" to its employees and link their compensation to the company's performance. About 2.7% of the company's stake will be offered to select employees, according to the plan.
But the real test for success of Unicom's will be determined by whether the telecom giant gives some control to the private companies, especially at the top decision-making level, industry watchers said.
Unicom has said the reform will also involve reshuffling of the company's board and management team. It will offer four seats of the listed unit's 15-member board to private investors and five seats to independent directors. Private shareholders will also be able to name one or two of the company's senior vice presidents.
After the reshuffle, state-backed investors will hold a combined 53% stake in Unicom's listed unit. A senior executive at a central SOE said with 36.5% stake, the parent company still has the veto right in decision-making. "It will only be a fundamental change if the largest single shareholder's stake is reduced to less than 33%," as the company's decision power will be more fairly distributed, said the executive.
Zhou Fangsheng, vice chairman of the China Enterprise Reform and Development Society, said Unicom's state shareholders from various sectors represent different interests, and if private shareholders can work together on the board, they will be able to challenge state shareholders in decision-making.
But some analysts said given the complicated competitive relationships among the private shareholders, it will be very difficult for them to act the same way. Each of them only holds less than 5% in the company, with little voting power.
"If private investors get into the company only to share profits rather than forming checks and balance, the value of the reform will be very limit," said Zhou.
Whether private capital can truly shake up Unicom and reshape its business landscape remains to be seen. But many analysts said it is still an important step forward in China's lagging SOE reform.
"It is better to do something than nothing," one analyst said.
Contact reporter Han Wei (weihan@caixin.com)
Share this article
Open WeChat and scan the QR code