Some Huishan Dairy Creditors Escalate Opposition to Restructuring Plan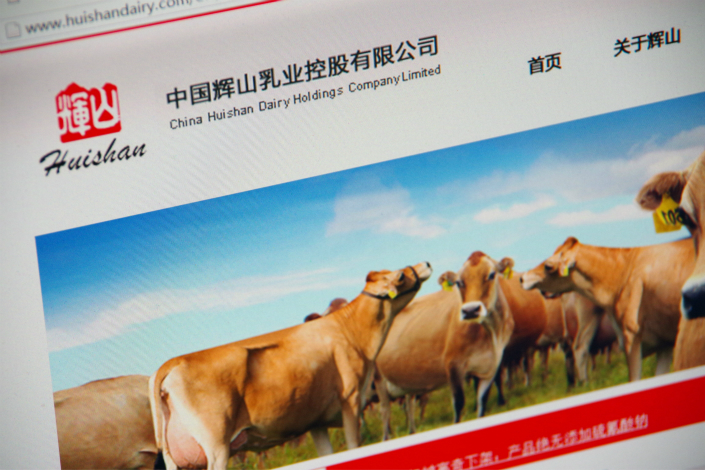 A group of 189 individual investors organized by Gopher Asset Management, one of China Huishan Dairy's creditors, said they would reject any restructuring plan in which Huishan Chairman Yang Kai continues to have control of the company. Above, the official Huishan website is seen. Photo: IC
Some of China Huishan Dairy's creditors, including the Bank of China, are escalating their opposition to the company's debt-restructuring plan, several creditors told Caixin.
Earlier this month, Huishan, a Hong Kong-listed milk producer mired in billions of dollars of debt, proposed to pay creditors with stocks so that they would recover 14% to 20% of the debts.
But more controversial is that the plan includes creating a new company that combines Huishan's current assets and businesses with other affiliated companies personally controlled by Huishan Chairman Yang Kai. Yang and the management team would be given a 15% stake of the new company contingent on their finding a white-knight investor.
More than a dozen financial institutions in northeastern China have accepted the initial debt restructuring plan drafted by Shenzhen Fuhai Yintao Asset Management, an adviser appointed by the dairy firm to negotiate with creditors, sources told Caixin.
However, a group of 189 individual investors organized by Gopher Asset Management, one of Huishan's creditors, said they would reject any restructuring plan in which Yang continues to have control of Huishan.
"We believe the main responsible persons have major moral flaws, and trust has been completely broken. We strongly request that the government conduct a thorough investigation to determine legal responsibilities" a Gopher-led group of investors wrote in a letter for Huishan Dairy and its creditors' committee, and seen by Caixin.
The letter also points out that Yang has not explained where more than 13 billion yuan ($2 billion) of missing funds are.
"It should be easy to find a person, especially if criminal procedures are used … If the government does not allow (former company Vice President Ge Kun) to clearly explain (what happened to funds), we can all wait, and resolving Huishan's debt crisis can occur in the indefinite future," a vice chairperson from the creditors' committee told Caixin.
The company's board has been unable to contact Ge since March 21. When she was vice president, Ge oversaw the company's treasury and cash operations and maintained relationships with major bankers, the company's stock exchange statement said.
Gopher Asset has even proposed an alternative restructuring plan that would involve four investors — a listed livestock firm, a listed dairy group, a state-owned asset management company and Gopher itself — contributing equally to an 80-million-yuan debt-restructuring fund.
According to data collected by Huishan's creditors' committee, Bank of China lent 4 billion yuan to Huishan, making it the dairy company's largest onshore creditor. Ping An Bank is Huishan's largest offshore creditor, having extended 2.4 billion yuan in loans.
Contact reporter Liu Xiao (liuxiao@caixin.com)
You've accessed an article available only to subscribers
VIEW OPTIONS
Share this article
Open WeChat and scan the QR code