Glencore Replaces Sinopec in Chevron's South Africa Asset Sale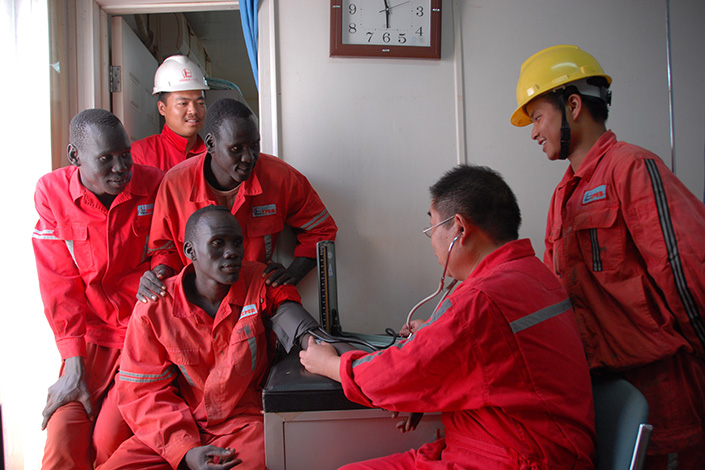 The state-owned Sinopec has poured billions into overseas assets in recent years, including many in Africa. The above picture shows the oil firm's employees conducting a physical examination in Sudan in 2008. Photo Visual China
Switzerland-based mining giant Glencore PLC will acquire assets in South Africa and Botswana from Chevron Global Energy Inc., after a similar deal between Chevron and Chinese oil behemoth Sinopec Group fell through earlier this year.
Glencore will buy a 75% stake in Chevron South Africa Proprietary Ltd. and wholly acquire Chevron Botswana Proprietary Ltd., for a total of over $970 million, Glencore said in a statement Friday.
The Chevron assets involved in the deal — which Glencore struck with South Africa-based shareholder Off the Shelf Investments Fifty Six (RF) Proprietary Ltd. — include a refinery in Cape Town and a total of 850 retail sites in South Africa and Botswana.
Sinopec had announced in March that it would buy Chevron's Botswana subsidiary and the 75% stake in the South Africa business for $900 million, after rounds of bidding that included offers from Glencore and France's Total SA. The Chinese company had planned to rebrand Chevron's Caltex gas stations in the two countries under Sinopec's name.
But Off the Shelf Investments Fifty Six exercised its pre-emptive right and re-opened the bidding process months later. Off the Shelf will continue to hold a 25% stake in Chevron South Africa.
"Glencore believes that the Assets provide an attractive downstream opportunity for its oil business," the Swiss company said in its statement.
Sinopec did not respond to Caixin's queries and Chevron said it would not comment on the deal as a matter of policy.
State-owned Sinopec has poured billions of dollars into overseas assets in recent years, owning 51 projects in 27 countries outside of China by December 2015. But by 2016, falling global oil prices and poorly-performing investments had slowed the company's acquisition binge.
In April 2016, Sinopec sold a 40% stake in its investment arm, Sinopec International Petroleum Exploration and Production Corp. (SIPC), in a deal it said was intended to "increase its competitiveness and achieve sustainable, healthy development." In August this year, SIPC said it would terminate its Addax Petroleum operations in Switzerland because of continued low oil prices.
But Sinopec, together with China's other "Big Three" oil companies — China National Petroleum Corp. and China National Offshore Oil Corp. — placed a vote of confidence in the global oil market this year when they announced plans to invest a combined 371 billion yuan ($54 billion) in 2017.
"Sinopec does have a number of challenges to address domestically in both the upstream (declining assets) and downstream (competition from teapots)," an industry term for China's privately-owned oil refineries, Virendra Chauhan, oil analyst at Energy Aspects, told Caixin.
However he added that while these issues "will undoubtedly hinder its appetite for investment abroad," the Chevron deal is not necessarily part of a larger pattern.
Contact reporter Teng Jing Xuan (jingxuanteng@caixin.com)
You've accessed an article available only to subscribers
VIEW OPTIONS
Share this article
Open WeChat and scan the QR code