China's Former Internet Tsar Caught in Anti-Graft Net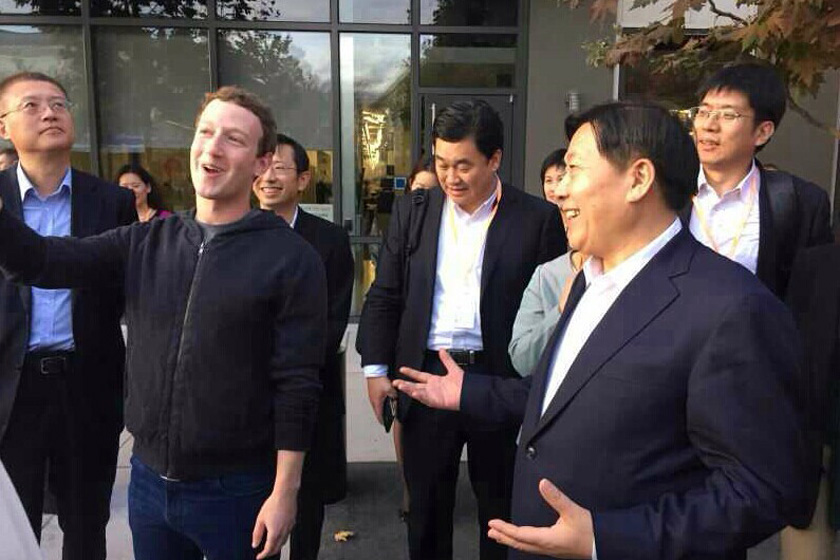 Lu Wei (right) meets Mark Zuckerberg, the chief executive of Facebook, during a trip to the United States in 2014. Photo: Xinhua
A prominent communist party official who previously headed the country's powerful cyber security apparatus has been put under investigation for alleged corruption, according to a statement by the party's top anti-graft agency on Tuesday.
Lu Wei, a deputy director of the party's Publicity Department, is under investigation for "serious violations of party discipline," a party euphemism for corruption, the Central Commission for Discipline Inspection (CCDI) said Tuesday. The statement didn't elaborate on the nature or extent of his alleged irregularities.
Several of Lu's associates and officials in charge of regulating online services have also been taken into custody by CCDI investigators for questioning, people briefed about the probe told Caixin.
Lu, 57, was last seen in public on October 24, when he visited Yan'an University in Yan'an, a city in Shaanxi province baptized as "the birthplace of the revolution" by Chinese communists.
He was shown on Shaanxi-TV's prime-time news bulletin on that day, advising university officials to "abide by party chief Xi Jinping's vision," and increase the number of specialties taught "while holding onto its red DNA and make use of the (revolutionary) Yan'an Spirit in its teaching."
Lu became a deputy head of the party's Publicity Department, a powerful party organ exercising ideological control, in May 2014 while he was still heading the Cyberspace Administration of China (CAC), which oversaw internet security. Lu stepped down from his position at CAC in June, 2016 after a three-year stint.
Legislators started deliberating on China's first cyber security law enacted on June 1 while Lu was directing the internet watchdog.
He also headed the Office of the Central Leading Group for Cyberspace Affairs, a major policymaking team within the party, till June 2016.
Lu is the first senior official to fall from grace over alleged graft after the party's 19th National Party Congress last month.
Lu stepped into international spotlight during a six-day tour of the U.S. in December 2014 when he his frankness and charisma was on full display.
He held a flurry of meetings with American dignitaries and heads of some of the world's top tech giants such as Tim Cook from Apple and Facebook founder Mark Zuckerberg, according to People's Daily online.
Citing a monthly magazine affiliated to the Cyberspace Administration called "New Media," People's Daily said that Lu was very frank with Cook when he told him that that it's not up to Apple but China's own security clearance system to decide if security and privacy are guaranteed before any products can be sold in the country.
He also played down the differences between China and the U.S. in meeting with U.S. officials at the White House, saying that differences only accounted for 10% of what defines bilateral relations and half of them can be overcome through communication.
Prior to joining the cyberspace administration, he had a two-year stint in the Beijing municipal authority, overseeing its publicity department and serving as one of the deputy mayors of Beijing.
Lu, born in eastern Anhui province, had spent nearly two decades working for state-run Xinhua News Agency from 1991 to 2011, first serving as Xinhua's bureau chief in Guilin in the southern province of Guangxi. He was promoted as head of the provincial bureau in November 1997. He left Guangxi and started working in Xinhua's headquarters in Beijing in October 2001 and stayed on for another decade rising through the ranks. He became a deputy head of the state news agency in 2004.
Contact reporter Li Rongde (rongdeli@caixin.com)
You've accessed an article available only to subscribers
VIEW OPTIONS
Share this article
Open WeChat and scan the QR code

China Stories: Strict Rules at Home Push Chinese Metaverse Entrepreneurs, Investors Overseas