Health Insurer Cited by Regulator for Shareholding Violations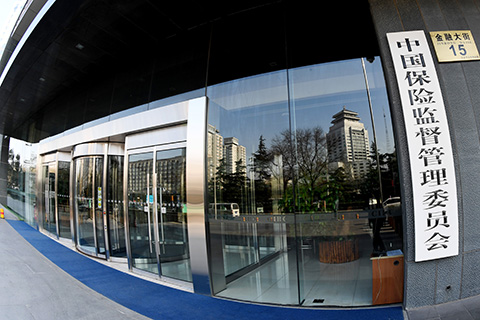 The China Insurance Regulatory Commission (CIRC) published regulatory letters Tuesday requiring three insurers to rectify their practices regarding corporate governance, compliance and risk controls. Photo: Visual China.
China's insurance watchdog cited Kunlun Health Insurance Co. in a regulatory letter for violations in shareholding arrangements after a year-long review of the Beijing-based insurer's opaque ownership. The agency said it would impose sanctions.
The China Insurance Regulatory Commission (CIRC) published regulatory letters late Tuesday requiring three insurers including Kunlun Health to rectify their practices regarding corporate governance, compliance and risk controls.
The CIRC ordered Kunlun Health, Taishan Property & Casualty Insurance Co. and Yong An Insurance Co. to fix a range of problems covering board operations, internal auditing, information disclosure, and management of related-party transactions, among others. The commission said it based its findings on inspections of the companies' operations between February and April. The companies are required to submit a report by Dec. 30 on their steps to correct the problems.
In the letter to Kunlun Health, the CIRC said it found shareholding violations and would issue further regulatory measures, without giving details of the violations or potential penalties.
Kunlun Health became the fourth insurer identified by the CIRC for shareholding violations amid regulators' efforts to crack down on related-party transactions and the use of proxy shareholders to dodge regulations and obtain control of financial institutions. Since last year, China's financial regulators have tightened scrutiny of financial companies' shareholding structures and clamped down on proxy shareholders in a bid to rein in market manipulation and excessive leverage in the financial market.
Last month, the CIRC issued similar letters to J.K. Life Insurance, Sino-Conflux Insurance Co. and Chang An Property & Liability Insurance Ltd for shareholding violations. The CIRC hasn't disclosed further measures for those companies.
The ownership of Kunlun Health has come under scrutiny in the Chinese news media since last year, with reports citing business registration records as showing that at least four shareholders were linked to Guo Yingcheng, the chairman of property developer Kaisa Group, and his family. The reports fueled questions whether the companies are proxy shareholders that allow Guo and his family to exert absolute control over the insurer.
On February 17, the CIRC in its first-ever open questioning of an insurer published an open letter on its website demanding to know whether the four companies that became new shareholders of Kunlun last December were connected to Kaisa Group or the Guo family. The CIRC also asked about the source of money the companies used to purchase the stakes.
In a February 24 response to the CIRC, Kunlun Health denied any links between the four shareholders and Kaisa Group or the Guo family, saying the company's equity was fairly distributed among 14 shareholders without an absolute controller.
The four shareholders at issue are Shenzhen Hongchangyu Business Management Consulting Co., Shenzhen Zhenglaida Industrial Co., Shenzhen Zhengyuanda Technology Co. and Shenzhen Taiteng Material Trading Co. Together, they hold 30.96% of Kunlun Health.
Business registration records showed that the four companies' shareholders or executives have the same names as those in Kaisa Group's affiliated companies.
On March 1, the CIRC asked more questions about the four shareholders in a follow-up to Kunlun Health's earlier replies. The CIRC ordered the company to submit a written response by March 6 and post it on the company's website for public disclosure.
So far, the CIRC hasn't disclosed Kunlun Health's response to its second round of inquiry. A source close to the CIRC told Caixin that Kunlun's equity ownership is so complicated that it takes time to unravel.
Caixin's investigation also found a Kunlun Health link to Tomorrow Holding Group, one of the most acquisitive conglomerates and the investment vehicle of billionaire Xiao Jianhua, who has been assisting mainland authorities with unspecified investigations since January, according to several overseas media outlets.
Kunlun Health's disclosure documents showed that Hangzhou Yongyuan Network Technology Co. is its third-largest shareholder with 14.86%. Caixin has learned that Hangzhou Yongyuan is one of many affiliate companies of Xiao's Tomorrow Group.
You've accessed an article available only to subscribers
VIEW OPTIONS
Share this article
Open WeChat and scan the QR code