Battle for the Cloud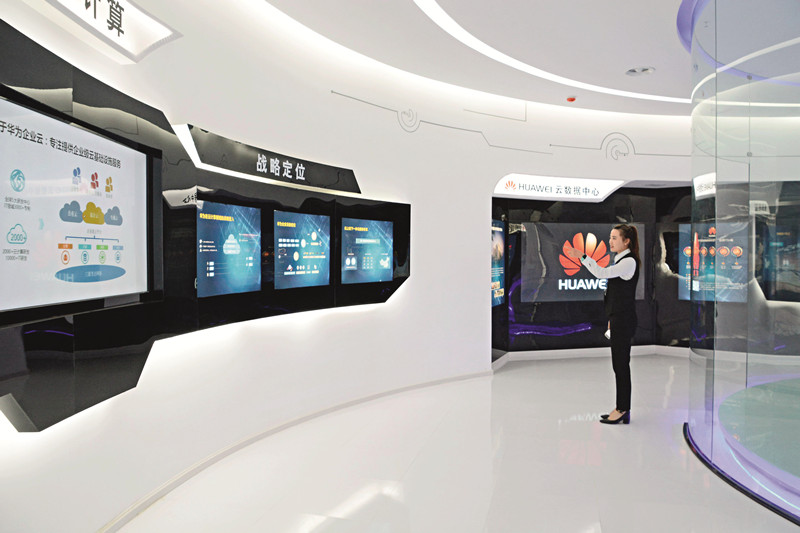 Huawei's cloud computing center in Guizhou Province. Photo: Visual China
Where will the next battlefield be for Chinese tech giants after epic wars in e-commerce, mobile internet services and big data? Many experts say it will be up in the clouds.
Internet giants, network equipment makers and telecom operators are all betting on the fledgling market as they gear up to develop cloud computing platforms that allow people to access and store information using off-site servers.
E-commerce giant Alibaba Group Holding Ltd. tapped the cloud computing market in 2009 as one of the earliest players in China. It is now the market bellwether controlling nearly half of the country's public cloud service market, followed by social media leader Tencent Holdings Ltd. with almost 10% of the market.
To strengthen their respective positions, Alibaba is seeking to partner with local governments to expand the use of its cloud systems in a broad range of city management and public services, and Tencent is collaborating with business partners to promote its cloud services.
But rivals are catching up. Telecom operators that have previously focused on developing cloud systems for governments are now striving to reach business customers. Traditional hardware-makers such as Huawei Technologies Co. Ltd. have stepped into the new territory, while overseas tech leaders, including Amazon.com Inc., Microsoft Corp. and IBM, are also looking to penetrate the China market despite regulatory hurdles.
"The window (of opportunity) is coming, but the market landscape hasn't been decided," said Yang Juzheng, general manager of the marketing department of China Telecom's cloud computing division.
Analysts say they believe cloud technology will become a key infrastructure in China for supporting the wide application of new technologies such as artificial intelligence, blockchain cryptography and quantum computing. Already, Chinese cities are using the technology to better manage traffic and streamline public services. It will also be a vital element for tech companies to generate profits from innovative services.
U.S. tech giants moved earlier into cloud computing services, proving the viability of cloud-centered business for Chinese companies. In 2006, Amazon launched the world's first public cloud service, Amazon Web Service. In the third quarter this year, the AWS unit reported $4.6 billion of revenue with a $1.2 billion net profit, up 36% from a year earlier. AWS became the e-commerce company's leading profit source. Microsoft, which launched a similar service in 2010, said the business registered 90% revenue growth in the third quarter.
As more Chinese companies shift their technology spending from traditional network-building to cloud-system construction and purchase of service, the size of the country's cloud computing industry is expected to almost triple from about 150 billion yuan ($23 billion) in 2015 to 430 billion yuan by 2019, according to the Ministry of Industry and Information Technology.
In an August research report, Deutsche Bank reported that 89% of chief information officers interviewed in China said their companies will use cloud services extensively by 2019, up from 4% in a 2016 survey.
There will be intense battles before the market landscape is settled, according to industry analysts, who said they expect only two or three surviving competitors to dominate the market.
Going cloud
Since November 2016, Huawei founder Ren Zhengfei has busily traveled the country to negotiate cooperation with local governments. Most of the agreements he clinched involved cloud services.
In September, Huawei's rotating CEO, Guo Ping, said at an industry conference that the company will continue investing in technology and setting up partnerships with corporations and governments to develop its cloud business. Huawei has set an ambitious goal to join Amazon, Microsoft and IBM as one of the world's largest cloud-service providers, Guo said.
As a leading equipment-maker, Huawei accelerated its foray into cloud computing in late 2016. Before that, the company emphasized its concentration on hardware development, with limited efforts to offer cloud services targeting niche corporate clients.
In March this year, Huawei set up a Cloud Business Unit, designated to develop cloud-related businesses for public consumers and corporate clients. The unit has expanded to a team of 2,000 people. The company also set up partnerships with software developers such as Microsoft and SAP SE to offer solutions and services on its cloud platforms.
Fang Honggang, vice president of consulting firm Detecon International, said Huawei's recent foray into the cloud business is driven by the need to find new growth as the company's traditional business slows. In 2016, Huawei's profit was virtually flat, growing only 0.4% to 37 billion yuan.
But some analysts said it will be a test for Huawei to balance its new and traditional businesses as the prevalence of cloud services will inevitably erode demand for traditional information technology equipment. That is because as computer users shift storage and computing to the cloud, they need to buy less computing and storage capacity for their operations.
Cloud 2.0
As of June, Alibaba's cloud computing unit, Aliyun, accounted for 47.6% of China's public cloud service market, far higher than second-largest player Tencent's 9.6%, according to industry adviser IDC. The number of paying users of Aliyun exceeded 1 million by the end of June.
Investment bank Goldman Sachs in August forecast that Aliyun would most likely be the strongest rival of Amazon's AWS unit and will report $5 billion in revenue by 2019. Although Aliyun's worldwide business network is much smaller than AWS, the company has shown its ambition for a global foray. Earlier this year, Aliyun set up a partnership with the International Olympic Committee to offer cloud services for major games over the next 12 years.
Industry experts say the cloud computing market in China is entering a new evolutionary phase, shifting from construction of infrastructure to development of services as growing amounts of valuable data have been moved onto cloud systems.
Aliyun sees the opportunities in local government efforts to make their cities smarter. Since last year, the company has helped the city government of Hangzhou, Zhejiang province, to collect real-time traffic information from surveillance cameras on its cloud system and control traffic lights to help reduce congestion by analyzing the data. As of November, Aliyun has signed agreements with Macau and the Xiongan New District in Hebei province to develop cloud-based traffic control systems.
But Aliyun is facing greater challenges as rivals are catching up. Tencent, which launched the cloud unit Tencent Cloud in 2013, has been pushing its business partners and affiliated companies to use its cloud system, a strategy that experts say is crucial for the company to narrow the gap with Aliyun.
Deutsche Bank forecast that Tencent's and Huawei's cloud services would grow by nearly 100% over the next three years and expand their market share.
The country's big three telecom operators – China Mobile, China Telecom Corp. Ltd. and China Unicom – have also stepped up efforts to expand their cloud businesses after years of operating cloud systems designated for government use based on their powerful networks and databases.
"It has never been emphasized so much, and almost all of the company's corporate and government businesses are related to cloud services," said China Telecom's Yang, who expects a major reshuffle in the cloud service market this year.
Regulatory roadmap
Regulators are trying to catch up with the market's rapid evolution. Earlier this year, the Ministry of Industry and Information Technology issued a notice requiring all cloud service providers to obtain licenses starting next year. So far, about 40 companies have received licenses from the MIIT while most applications from other competitors are under review.
In late September, the China Academy of Information and Communications Technology, a think tank under the MIIT, initiated a self-discipline committee for the cloud service industry and started to draft industry standards. Major players — including Aliyu, Tencent Cloud, and Wonders Cloud, controlled by Dalian Wanda — have taken part in the work of drafting the standards.
Xu Enqing, an official from the CAICT's cloud service committee, said major problems in the cloud service market include unlicensed operations, foreign players' noncompliance in operating in China and price distortion.
In March, Tencent Cloud won a contract to provide cloud computing to Xiamen, Fujian province, for 0.01 yuan, raising market eyebrows.
Competitive bidding for government cloud projects are turning abnormal as companies engage in price wars, Yang said. How to make the projects profitable will become a tough challenge, he said.
"Losing a project is painful, but working on it may be even more painful," Yang said.
As more foreign players are drawn into the Chinese market, regulatory hurdles become the main concern. Under the rules, foreign cloud service providers must partner with licensed domestic companies to operate in China.
"The main principle is to keep all the data inside China, and Chinese companies should be in charge of operations," an industry source said.
In 2012, Microsoft, the world's second-largest cloud computing service provider, behind Amazon, became the first foreign competitor to enter the Chinese cloud computing market by setting up a partnership with Chinese data center service provider 21Vianet Group Inc. But the partners' business has remained limited.
In early November, Microsoft announced a partnership with Dell Inc., Huawei and Lenovo Group Ltd. to bring its cloud computing services into China by 2018.
The same month, Amazon's cloud unit AWS decided to sell assets of as much as 2 billion yuan in China to its partner Beijing Sinnet Technology Co. to help Sinnet Technology obtain a cloud services certificate needed to continue operating.
IBM, which has sought to cooperate with Chinese conglomerate Dalian Wanda since 2016, is expecting its first public cloud service to be launched next year.
But uncertainties are embedded in the partnerships. A Microsoft source said his company is well aware that Huawei is a partner that will eventually turn into a competitor.
Contact reporter Han Wei (weihan@caixin.com)
You've accessed an article available only to subscribers
VIEW OPTIONS
Share this article
Open WeChat and scan the QR code