China's Exports Rise at Strongest Pace in Eight Months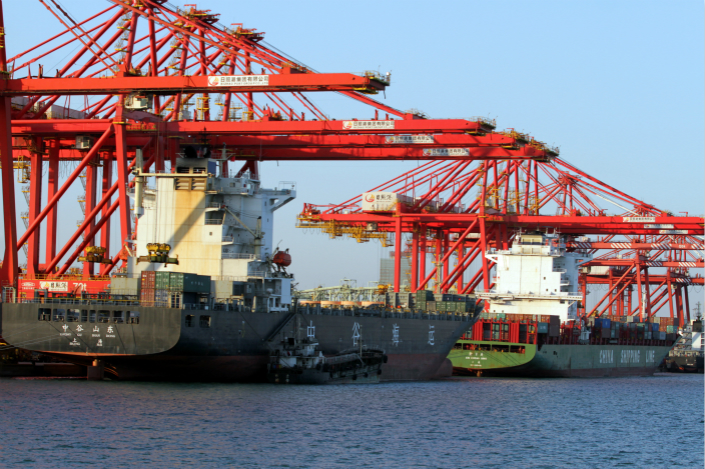 China's trade surplus in November widened to $40.2 billion from $38.1 billion in October. Even so, the cumulative trade surplus for the first 11 months of the year narrowed to $376 billion, down from $470 billion in the same period in 2016. Photo: Visual China
China's exports and imports increased at a much faster rate than expected in November, with expansion in overseas shipments rising the most in eight months and analysts optimistic that the momentum will be sustained as global growth improves.
Exports jumped by 12.3% from a year earlier to $217.4 billion, according to data published by the General Administration of Customs. The figure is the second-highest growth rate this year and up from a 6.8% year-on-year pace in October. It was more than double the median forecast in a Bloomberg News survey of economists for a 5.3% rise.
China's imports surged by 17.7% year-on-year in November to $177.2 billion, accelerating from October's 17.2% and exceeding the median estimate for a 13% increase in the survey. The trade surplus widened to $40.2 billion from $38.1 billion in October and topped the median projection of $35 billion. Even so, the cumulative trade surplus for the first 11 months of the year narrowed to $376 billion from $470 billion in the same period in 2016.
"Looking ahead, while we expect global trade growth to ease in 2018, it should remain solid, underpinned by robust synchronized growth in all major economies," Louis Kuijs, head of Asia economics at research firm Oxford Economics, said in a report after the data release. "This bodes well for China's export outlook."
However, he cautioned that downside risks remain due to uncertainties that include strained trade relations between China and the United States, its biggest export market.
Although China's imports from the U.S. grew at a faster pace than its exports in the first 11 months of the year, it still racked up a $251.3 billion trade surplus, nearly 10% higher than the same period last year, Chinese customs figures show.
Trade tension
U.S. President Donald Trump has highlighted the trade imbalance and the need to boost American firms' access to China's markets among his top priorities since coming to power. His administration has slapped anti-dumping tariffs on a range of Chinese imports, toughened its stance on Chinese investment in the U.S., and is considering an investigation into whether Chinese companies are stealing the intellectual property of U.S. companies.
The Department of Commerce said last month it will open "self-initiated" anti-dumping and anti-subsidy probes into common alloy aluminum sheet from China. "Self-initiated" trade investigations are launched by the U.S. government without receiving complaints from industry. The last time the U.S. took such an action was in 1991, when it conducted a countervailing duty investigation over softwood lumber from Canada.
The U.S. government also announced late last month that it had submitted a statement to the World Trade Organization (WTO) opposing China's demand to be treated as a market economy in anti-dumping investigations. Market economy status could make it harder to prove Chinese goods are being sold in other markets below their fair value, and even if dumping is established, punitive tariffs are likely to be lower.
After falling for 21 straight months through July 2016 as the economy slowed and commodity prices plummeted, the value and volume of China's imports have recovered this year as domestic demand picked up and prices rebounded.
Purchases of major commodities have increased in volume terms in recent months supported by government policies to boost infrastructure investment. Imports of raw materials including iron ore, copper, coal, crude oil and refined oil were all higher in November than in the previous month.
However, government policies to contain credit risks in the financial system and crack down on property market speculation make it unlikely the double-digit growth rates of 2017 will continue next year.
"We are skeptical that the strength of imports can be sustained given that the delayed impact of policy tightening and a cooling property market are set to weigh on Chinese demand for commodities in coming quarters," Julian Evans-Pritchard, an analyst with research firm Capital Economics, said in a note.
Upside risks
Kuijs from Oxford Economics pointed out that imports of manufactured products have softened in recent months, which "may reflect tepid investment momentum."
The growth in imports of diodes and similar semiconductor devices slowed to 7.2% in the first 11 months from 8.2% in the January-October period in volume terms, that of integrated circuits eased to 10.9% from 11.9%, liquid crystal display panels to 1.2% from 2.3%, and motor vehicles and chassis to 18.8% from 19.5%.
"We still expect China's domestic demand to cool in 2018 on gradually tighter monetary and financial policies and slower real estate activity momentum. And this would by itself be a dampening influence for many economies next year," he said.
But he also acknowledged that November's import data reflected the resilience of China's domestic demand, which represented "upside risks" to the firm's estimates on the outlook of the economy.
Contact reporter Fran Wang (fangwang@caixin.com)
You've accessed an article available only to subscribers
VIEW OPTIONS
Share this article
Open WeChat and scan the QR code

05:51 PM

05:22 PM

05:13 PM

04:53 PM

04:46 PM

12:27 PM

Oct 26 06:48 PM

Oct 26 06:37 PM

Oct 26 06:05 PM

Oct 26 06:00 PM

Oct 26 05:05 PM

Oct 26 03:12 PM

Oct 26 01:11 PM

Oct 26 11:51 AM

Oct 26 10:49 AM
GALLERY