Thousands in Rural China Secretly Burn Coal as Gas Prices Soar
Jinzhang village's primary school is using a small electric heater as a temporary measure, but the classrooms are still very cold. Photo: Yang Yifan/Caixin
(Linfen, Shanxi province) – Families in the heart of China's coal belt are secretly burning tree branches and coal briskets to keep warm this winter, after a government campaign to install gas heating failed to meet deadlines.
A spike in the price of natural gas and supply shortages have added to their woes, making it impractical for rural households and businesses to switch to the cleaner fuel.
"(The gas heating system) is better to keep us warm, but it's just too expensive," said Zhang Yue, a resident of Beima village in Linfen, Shanxi province.
The newly-installed gas heating system in her home was left to idle, while the family sat around a stove burning tree branches. The 63-year old also said she doesn't cook on her new gas stove.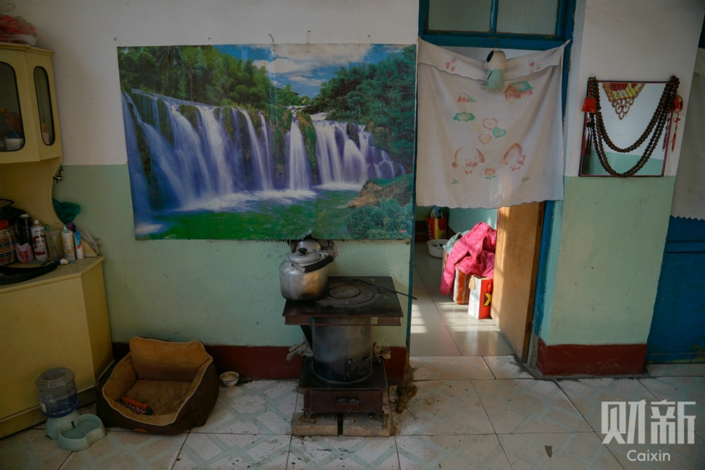 On Dec. 6 in Linfen's Dongsun village, locals are still burning coal to keep themselves warm as their gas heating has not yet been installed. Photo: Yang Yifan/Caixin
The system would cost her family 120 yuan ($18) per day and a whopping 14,000 yuan for the whole winter, said Zhang. That's nearly five times more than what the family spent on coal in previous winters, she added. Zhang's family of five lives on a monthly income of about 4,000 yuan.
Residents in neighboring Nanma village who were ordered to switch to an electric heating system, were also struggling with utility bills. Villager Liang Ruxin said it would cost his family about 70 yuan per night for keep the electric heating on. "This is on top of the 4,280 yuan we've already shelled out in a one-off expense for the connection," he said.
Many families have secretly switched back to old furnaces and stoves and are buying coal from the black market, several locals said.
Linfen, a city of 1 million in the coal-rich province of Shanxi, has a botched track record when it comes to reducing air pollution. The Ministry of Environmental Protection called city officials to Beijing for a stern warning in January, after the concentration of sulfur dioxide — a major byproduct of coal-burning — soared past 1,000 micrograms per cubic meter of air on at least three occasions in that month alone. This is drastically higher than the World Health Organization's recommended levels.
Jinzhang village has been left without heating after villagers' coal furnaces were removed and work to install electric heaters was suspended due to locals' safety concerns. Mr. Li (pictured) took refuge in one of the region's traditional cave homes for warmth, but said he will just return to his bungalow and start burning coal again. Photo: Yang Yifan/Caixin
Short-term exposure to sulfur dioxide could lead to asthma, while longer-term exposure could result in chronic respiratory illnesses and aggravate existing cardiovascular diseases, according to the World Health Organization.
Amid rising pressure to clean up their act, the authorities have waged a war against coal consumption since April, forcing homes, schools and businesses to switch to cleaner alternatives such as natural gas and electricity for cooking and heating.
But the campaign to phase out dirty coal in most parts of Linfen over a three-year period, ending in December 2019, has been hampered by poverty, bad planning and a shortages of natural gas supplies.
In Beima village, residents said their coal-fired stoves and furnaces were dismantled months ago, and that they were still waiting for new heating systems to be installed when a Caixin reporter visited the area on Tuesday. Dozens of farmers there have been living without heat in subzero temperatures for nearly three weeks.
Work on building infrastructure for the transition to natural gas in the village didn't start until late July or August, according to An Ping, a representative from Shanxi Provincial Guoxin Energy Development Group Co., Ltd, which was hired by the city government to lay gas pipes and install gas heating systems in homes.
The initiative to install gas-powered heating systems in Linfen has reached at least 90% of urban homes and more developed town areas within rural counties, according to data from the city government. However even these households can suffer from supply interruptions, and the gas has proven to be pricey. Photo: Zhou Chen/Caixin
Now laborers were working from 8 a.m. to 7 p.m., seven days a week "without a proper lunch break," he said.
Linfen isn't among the 28 northern cities including Beijing that were targeted by the central government for a four-year clean air campaign launched in 2013. However, it has been under no less pressure from central and provincial authorities to fight the severe smog that has often choked the city.
The municipal government had planned to cut 60% of the city's coal consumption by end 2017 and raise the target to 90% by end 2018. If things go according to plan the city will be coal-free by 2020.
The centralized gas-powered heating system in Linfen has reached at least 90% of urban homes and more developed town areas within rural counties, according to data from the city government.
But even these households have been left in the cold due to supply interruptions.
Thousands of families in 13 residential compounds the city's bustling eastside have suffered from intermittent gas outages for more than a month before the supply was completely cut off on Dec. 6, several residents said. Local authorities have blamed the problem on the limited natural gas quota allocated to the coal-rich province by the central government.
Linfen Haizi Gas and Heat Supply Co., Ltd., a local utility company that supplies natural gas to urban areas, said it could only meet 80% of the average daily demand on most days.
A major shortage on Wednesday meant it could only supply 40% of daily demand, said Gong Hongyu, head of the company's general office.
Gong says the company has rushed to fix the problem by installing heating systems in some local homes that could make use of steam from local power companies because the gas supply may not resume for weeks.
The environmental ministry recently back-peddled on its aggressive push to transition to gas in several other northern cities and said households can resume using coal until gas supplies are connected amid growing public dissatisfaction.l
Contact reporter Li Rongde (rongdeli@caixin.com)
You've accessed an article available only to subscribers
VIEW OPTIONS
Share this article
Open WeChat and scan the QR code

Caixin-Sinica Business Brief: China Resumes Issuing Visas to Foreigners