Drive for Clean Air Creates 'Chaos,' Leaves Thousands Shivering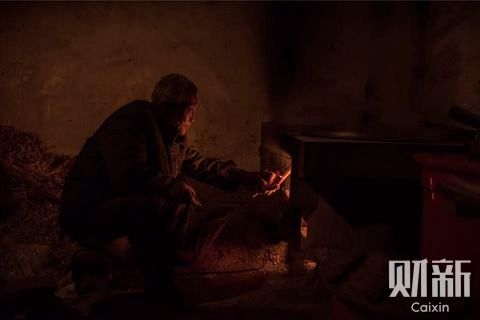 Villagers across northern China have had to improvise to stay warm this winter after being left without heating. Pictured is a villager in Henan province burning corn cobs. Photo: Chen Liang/Caixin
Poor planning and soaring natural gas prices have left thousands in northern China without heat this winter as the authorities rush to meet targets laid out in a four-year clean air campaign.
Photos of primary school students in Hebei province being forced to have lessons outdoors in freezing weather after the school's coal-fired stoves were dismantled, published by the official People's Daily, sparked an outcry last week.
Although the central government unveiled the ambitious plan in 2013 to help 3 million households in 28 northern cities move away from burning low-quality coal, local governments have been dragging their feet in terms of installing gas pipelines and other infrastructure.
A Caixin investigation found that nearly half the 300 households in a village in Zhuozhou, Hebei, were without heating for weeks as temperatures dipped to minus 6 degrees Celsius (21.2 degrees Fahrenheit) last month. Local authorities had ordered farmers to dismantle their coal-fired furnaces, even before the gas pipelines were laid.
The village is among hundreds that have fallen through the cracks as authorities scramble to meet their 2017 clean air targets.
The four-year campaign set to wrap up by the year's end, aims to cut the concentration of the cancer-causing particulate matter choking residents of Beijing, Hebei and Tianjin by 25% compared to levels in 2012. Local officials were told to step on the accelerator after previous efforts to reduce pollution in these areas — earmarked to be transformed into a megapolis housing 7% of China's population — failed to arrest the trend of worsening air quality.
But the top-down directives formed without a proper understanding of the situation on the ground has led to massive miscalculations. For example, Hebei province in September announced that it would help 1.8 million households complete the switch to gas by the end of October. But that figure was "grossly underestimated" and authorities failed to take into account about 700,000 families in the province that is home to over half of China's 10 most polluted cities, people with knowledge of the plan told Caixin.
This failure to accurately estimate the demand for natural gas has also led to a supply crunch and a spike in gas prices. The onshore price of liquefied natural gas in northern China has nearly doubled in the past three months to between 6,000 yuan ($906) and 8,000 yuan per ton.
As a result, thousands of families were secretly burning tree branches and coal briquettes to keep warm, while their newly installed gas stoves were left to idle.
Hebei is now grappling with its "worst-ever natural gas shortage" in recent decades, due to thousands of last-minute conversions, officials said.
Demand for natural gas in the province alone is expected to jump 50% this winter to 6.5 billion cubic meters, according to a plan released by the Hebei Development and Reform Commission, the provincial economic planning body, in late October.
But current stockpiles can only meet 80% of daily demand, prompting the provincial commission to issue an orange alert — the second highest warning on natural gas shortages — on November 28. The agency has also ordered industrial users to reduce the use of gas in areas where demand outstrips supply, so that homes and schools have enough.
The mayor of a city in Hebei has even launched a taskforce to lobby gas companies to increase supply, a city official told Caixin on grounds of anonymity.
The central government should guarantee an uninterrupted supply of natural gas if it wants to fight pollution, this official added.
Local governments have no option but to ease the crackdown on coal burning and even revert to building up their coal stockpiles as a backup in case of a natural gas shortage, he said.
On Thursday, Beijing's municipal government ordered power companies to immediately fire up backup coal-burning generators in response to a natural gas shortage in the Chinese capital.
Price of clean air
Cheap, lead-heavy coal burned by rural households has been a major factor contributing to the toxic air in major cities in North China for decades.
On average, 3.5 million tons of dirty coal is used by families living in slums and rural homes in Beijing in winter, according to Chai Fahe, a researcher at the Chinese Research Academy of Environmental Sciences. That accounted for nearly 30% of the coal burned for winter heating in the Chinese capital.
The 2013 action plan that aimed to reduce or eliminate the use of coal in 28 cities by 2017, proposed a switch to natural gas or electricity, but gas is favored in most regions as it is cheaper and quicker to lay gas pipelines than setting up power grids.
But its implementation has led to "chaos," because regional governments have been pushing for subsidies from the central government and looking for ways to get more political mileage out of projects linked to the clean air campaign, said Lei Yu, a research fellow at Chinese Academy for Environmental Planning under the Ministry of Environmental Protection.
The top-down approach adopted for this campaign is also problematic as lower-level authorities had no involvement in the initial planning, and were only told to follow orders to meet targets set by higher-ups, Lei said.
"If you want to make the conversion plan smooth, you need to go to these places to find out how many households should be included and have specific plans for each town," he said. "In fact, few relevant studies have been carried out as such conversions are impractical in many rural areas where homes are sparsely scattered or people are so poor they can't afford such upgrades."
According to Chai, from the Chinese Research Academy of Environmental Sciences, the city of London also took similar measures to phase out coal after the Great London Smog in 1952, but it adopted a more gradual approach. The British capital took 13 years to phase out coal use in half of metropolitan London, cutting the concentration of pollutants from 280 micrograms per cubic meter of air to 50 micrograms by 1969, he said.
Crunch time
The rush to build last-minute infrastructure as the year-end deadline looms has overwhelmed utility companies hired for the task.
Work on a 20-kilometer gas pipeline planned for completion by summer didn't get off ground until at the beginning of 2017 due to official delays, said an executive from a gas company in one northern city.
Several companies said they were struggling to find skilled workers.
One gas company in Shijiazhuang, the provincial capital of Hebei that was tasked with converting 50,000 households in one neighborhood said that by the time they began construction in September, they could hardly find any subcontractors. "Shortages in qualified welders and plumbers are particularly severe," he said.
The environmental ministry earlier last week backpedaled on its aggressive clean air campaign, saying households can resume using coal until gas supplies are connected amid growing public dissatisfaction.
Contact reporter Li Rongde (rongdeli@caixin.com)
You've accessed an article available only to subscribers
VIEW OPTIONS
Share this article
Open WeChat and scan the QR code

Caixin-Sinica Business Brief: China Overhauls IPO Rules