Honda Invests in Chinese Car-Sharing Platform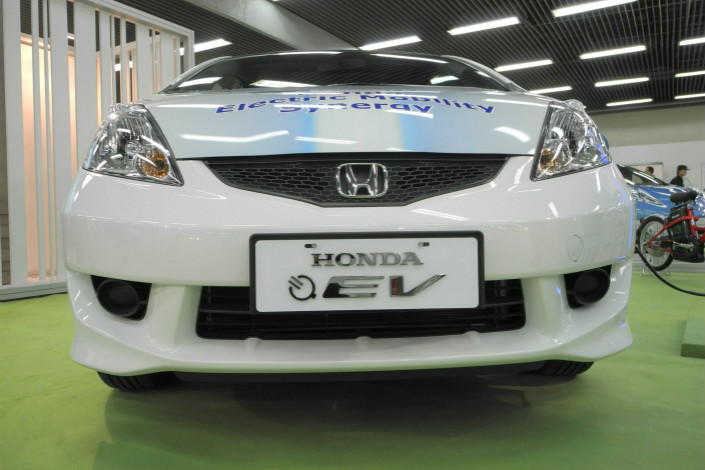 Japanese automaker Honda says it will unveil an electric car model in China by next year — an SUV model produced with the company's China partner. The model will be specifically "tailored for the Chinese market," the company said. Photo: IC
Japanese automaker Honda Motor Co. Ltd. has invested in a Chinese car-sharing platform and announced plans to produce its first electric vehicle in the country by 2018.
Honda China said Tuesday that it will invest 60 million yuan ($9.06 million) in Reachda, the car-sharing service of Shenyang-based Neusoft Reach Automotive Technology. The deal will give the automaker a 10% stake in Reachda.
Reachda will also begin using Honda's vehicles for its car-sharing service. Currently, Reachda operates mainly in three provinces — Liaoning, Hebei and Hubei — with about 100 vehicles, most of which are electric vehicles from Chinese automaker Changan Automobile Group.
Honda said it will unveil its electric car in China by next year — an SUV model co-produced with the company's China partner. The model will be specifically "tailored for the Chinese market," Honda said.
It is yet immediately clear whether Honda's first electric cars will be supplying Neusoft's Reachda.
Compared with their German and U.S. counterparts, Japanese automakers have been slow to respond to China's ambitious plans to encourage development of so-called new-energy vehicles — a category that includes cars with purely electric batteries, plug-in hybrids and hydrogen-fueled models.
In the run-up to meet Beijing's new-energy vehicle quota program, global carmakers — including General Motors, Ford Motor Co., Volkswagen AG and Volvo — have recently announced plans to either set up joint ventures with local automakers or simply introduce more electric vehicle models in the coming years.
Under the upcoming program, automakers must obtain a certain amount of cap-and-trade credits — which are related to the various types of new-energy vehicles — beginning in 2019. Automakers must ensure a certain ratio of their sales come from low- and zero-emission vehicles.
Based on Honda's current capacity — a reported 1.2 million units sold last year — the company would have to produce at least 20,000 new-energy vehicles in China by 2019.
China has already become the world's largest electric vehicle market, mainly a result of the government's years of generous subsidies. But as Beijing phases out its subsidies in 2020, it is hard to predict whether new-energy vehicles will remain a profitable endeavor for automakers.
Honda's plans to invest in Reachda are the latest in a trend in which automakers are increasingly cooperating with car-sharing or car-rental services, which have more stable demand than the market for automobiles.
Contact reporter Mo Yelin (yelinmo@caixin.com)
You've accessed an article available only to subscribers
VIEW OPTIONS
Share this article
Open WeChat and scan the QR code