New Bond-Trading Rules Aim to Clean Up 'Under-the-Table' Deals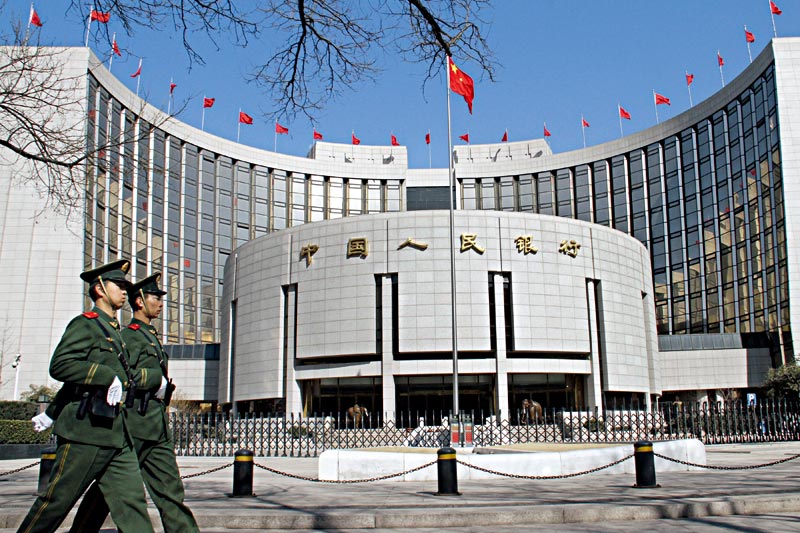 The People's Bank of China (above) and other regulatory bodies are hoping new rules will direct bond repurchase practices into a more transparent and regulated track. Photo: Visual China
China's top financial regulators are working together to regulate the country's 67 trillion yuan ($10 trillion) bond market by introducing unified rules on bond trading, in what is the latest attempt to clean up excessive leverage and shady practices.
The new rules require that financial institutions sign written contracts for any bond repurchase or bond forward transactions. The rules also set a top limit for leverage ratios for institutions in such deals, according to the regulation document viewed by Caixin. The rules were drafted by the central bank and three regulatory commissions overseeing banking, securities and insurance.
The rules mark the latest coordinated effort by China's top financial regulators to integrate supervision of the country's fragmented financial markets. In November, the central bank and three commissions jointly released sweeping rules of the country's $9 trillion asset management industry. Five state agencies currently oversee bond issuance and bond trading.
The new rules aim to clean up the widespread under-the-table deals of bond repurchase agreements made by banks, securities companies and other financial institutions to dodge regulations, add leverage and channel borrowed funds into the bond market. Known as entrusted bond holdings, the practice is blamed for a US$2.4 billion bond scandal that triggered a market rout in late 2016.
Securities firms often make bond repurchase agreements with banks through informal contracts or even oral agreements so that they can skirt government-mandated limits on the use of such instruments to raise money to invest in the bond market. Banks are happy to be part of the deal as it offers them higher returns by channeling money raised from wealth-management products into the booming bond market.
In a statement on Friday, the central bank said that as China's bond market thrives, many investors have used the entrusted bond holding arrangements to dodge regulatory requirements on capital and leverage, triggering market disruption and potential risks.
Risks linked to entrusted bond holdings were thrust into the spotlight in December 2016, when a midsize brokerage Sealand Securities caused market panic by declining to repurchase more than 16.5 billion yuan in bonds it had sold to more than 20 financial institutions. Sealand claimed that the agreements were forged by a rogue employee with a fake company seal.
The news triggered a massive selloff as investors lost confidence and liquidated billions of yuan of their holdings out of fear that more such problems could emerge. The China Securities Regulatory Commission (CSRC) had to step in to defuse the crisis and restore calm.
Under the new regulation, all bond market transactions must be done with formal written contracts and through an authorized transaction system. All types of entrusted bond holding arrangements must be treated as repurchase agreements and be included in balance sheets.
A central bank official said regulators are hoping the new rules will direct bond repurchase practices into a more transparent and regulated track.
You Haibo, a trader at Xiamen International Bank, said that although the new regulation takes an important step to tackle under-the-table bond deals, it will be a challenging task in practice as such oral agreement-based deals are hard for regulators to detect.
Another investment executive said that despite the challenges, the new regulations will restrain institutions from abusing the bond repurchase agreement because of clear and strict requirements.
The new rules spell out the maximum leverage ratios for different institutions to conduct repurchase agreements. For instance, the outstanding volume of such transactions should be capped at 80% of commercial banks' net assets.
The cap is 120% for securities firms, fund managers and futures brokerages, while the limit for insurers is 20% of their total assets.
Financial institutions are ordered to report financial data to regulators if their outstanding repurchase agreement volumes exceed the limits, according to the rules.
As the new rules thrust entrusted bond holdings into the spotlight, regulators will be able to more accurately monitor the bond market leverage ratio and detect risks that were previously hidden behind the under-the-table deals, said Ming Ming, a fixed-income analyst at CITIC Securities.
Wang Tao, chief China economist at UBS AG in Hong Kong, told Caixin earlier that the outstanding value of bond repurchase agreements rose to 4.2 trillion yuan in December 2016 from 1.7 trillion yuan in January 2014, reflecting the tidal wave of money that poured into the bond market and the risks to market stability posed by incidents like the Sealand Securities scandal.
The regulation also banned bond market investors from borrowing other's accounts for transactions, or from leasing their accounts to others. Bond market investors are required to meet certain standards in internal management and risk control to prevent risky investments.
A one-year transition period will be granted to institutions to adjust their bond trading activities. Those who fail to meet the new requirements won't be allowed to make new bond investments.
According to Qu Qing, a fixed-income analyst at Hua Chuang Securities, the new bond trading rules will affect commercial banks the most, compared with securities firm and insurers because banks carry higher leverage. About 30% of commercial banks need to cut their leverage, based on the bond trading rules, Qu said.
Contact reporter Han Wei (weihan@caixin.com)
You've accessed an article available only to subscribers
VIEW OPTIONS
Share this article
Open WeChat and scan the QR code

Caixin Biz Roundup: China's Covid Caseload Hits Six-Month High