Environmentalists Warn of Pollution From Burning Oil Tanker in East China Sea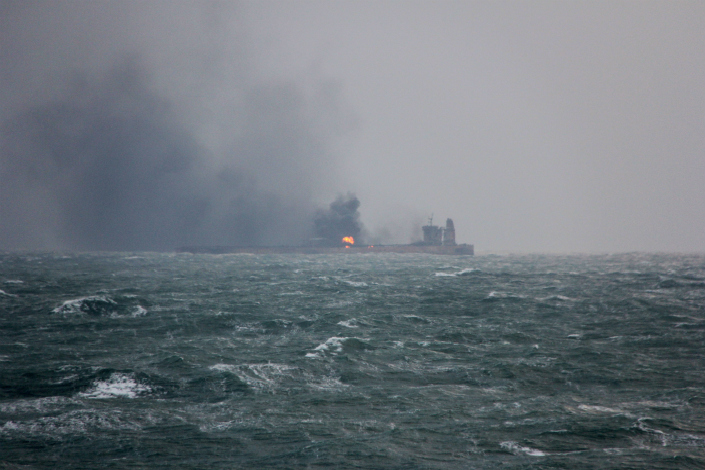 At least 300,000 tons of fish are caught each year off the coast of the East China Sea, government data showed. Above, the oil tanker Sanchi is seen burning off the coast of Shanghai after it collided with a Chinese freight ship over the weekend. Photo: Visual China
Environmentalists have raised concerns over pollution and potential damage to fish stocks in the East China Sea as a large tanker continues to leak oil four days after colliding with a cargo ship.
The oil tanker Sanchi, en route from Iran to South Korea, was still ablaze after a collision on Saturday with CF Crystal, a cargo ship registered in Hong Kong, China's Ministry of Transport said in a statement Wednesday.
The collision happened about 160 nautical miles (184 miles) east of the Yangtze River estuary, according to the ministry.
Of the 30 Iranians and two Bangladeshis on board the tanker, only one body has been found so far, the ministry said.
At least 13 vessels have been deployed to put out the blaze, but rain and high winds have hampered rescue and salvage operations.
The Panama-flagged ship was loaded with 136,000 tons of ultra-light oil knows as condensate, according to ministry. But the authorities stopped short of giving any details about the extent of a possible oil spill.
Condensate could burn off or evaporate quickly and would leave little residue compared to crude oil, because it is highly soluble in water, according to Zhao Ruxiang of the Yantai Maritime Bureau in the eastern province of Shandong. This reduces the chances of leaving a thick oil slick like those from crude oil leaks in the past, said Zhao, a senior engineer at the bureau's Yantai Oil Spill and Emergency Response Technical Center.
But this type of oil has a high concentration of toxic chemicals such as hydrogen sulfide and could cause severe air pollution because it is more volatile than crude, Zhao said. The burning of condensates can produce pollutants such as carbon monoxide, carbon dioxide and sulfur oxide, he said.
The China branch of international environmental group Greenpeace said in a statement that it is concerned about the potential damage to the coastal ecosystem and fish stock and it would monitor the cleanup operations closely.
A major concern is that if the vessel sinks before all the condensate has burned off, condensate would continue to leak underwater, disperse and break down quite quickly, significantly complicating clean-up operations, according to a Greenpeace factsheet.
The accident is likely to have "a grave impact" on the local fishing industry because the accident site is close to many fisheries along China's coast, though the exact damage is hard to assess, according to Li Jiansheng from the East China Sea Fisheries Research Institute of the Chinese Academy of Fishery Sciences.
At least 300,000 tons of fish are caught each year off the coast of the East China Sea, government data showed.
The cargo ship, which also was damaged, has been towed to a port near the Zhoushan Islands in Zhejiang province. All of its 21 crew were rescued and transferred to a fishing vessel.
The Shanghai maritime authorities issued a warning on Saturday morning, advising passing vessels to circumvent CF Crystal, which was out of commission, according to the transport ministry in Beijing.
Authorities said they are still investigating the cause of the collision.
Contact reporter Li Rongde (rongdeli@caixin.com)
You've accessed an article available only to subscribers
VIEW OPTIONS
Share this article
Open WeChat and scan the QR code