Developers Still on the Hunt for Money Overseas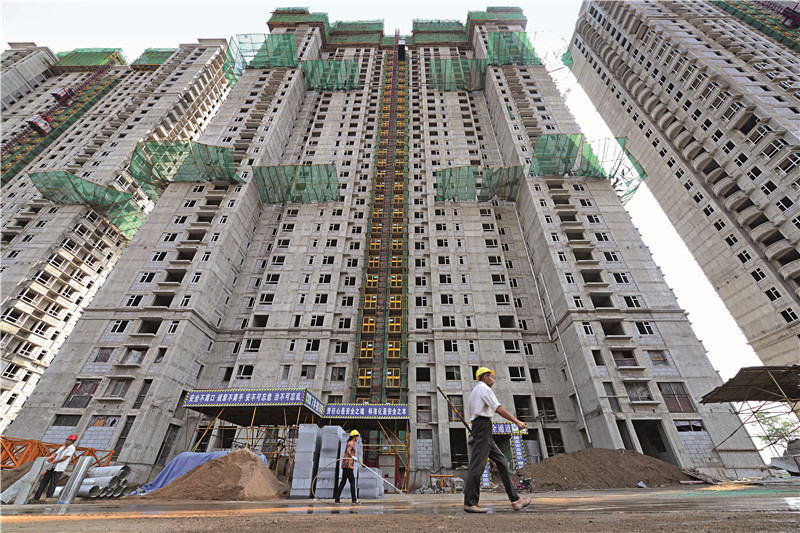 Chinese real estate companies raised $38.9 billion from overseas markets in 2017, up 176% from the previous year, according to Centaline Group. The burst appears to be continuing. Photo: Visual China
Chinese real estate developers continue to look overseas for money amid tightening credit supply at home.
In the first two weeks of this year, at least four major real estate companies have unveiled plans to issue bonds or medium-term notes at overseas markets, to raise a combined $2.6 billion. That burst is on top of soaring overseas financing seen in 2017.
Data from property agent Centaline Group indicate overseas fundraising by real estate companies has totaled $38.9 billion in 2017, up 176% from the previous year.
Ouyang Jie, vice president of Hong Kong-listed developer Future Land Holdings, said real estate firms are increasingly turning to overseas bond sales for capital due to tightening capital access at home.
"The tightening credit will continue in 2018," pushing up financing costs, said an executive at a trust company. Meanwhile, stricter regulatory scrutiny on corporate debts and financing activities will also pose challenges to developers' capital chain, the executive said.
Over the past year, top financial regulators have issued a slew of regulations targeting off-balance sheet lending activities. These included a sweeping rule on the country's $15 trillion asset management market as well as a recent crackdown on irregularities related to entrusted loans, in which a bank acts as only an intermediary to arrange and administer the financing between the borrower and lender.
Market analysts said the stricter rules will help squeeze unregulated shadow banking activities. Such activities have been channeling excessive funds into the property market and fueling debt-driven investments of local governments.
Since the beginning of the year, developers have increased overseas fundraising plans. Tahoe Group, a Shenzhen-listed property group, said on Wednesday that its British Virgin Islands-registered unit Tahoe Group Global Ltd. will issue $425 million in bonds overseas. On the same day, Guangzhou-based Country Garden also revealed plans to raise $850 million from overseas note sales.
On Tuesday, Times Property Holding Ltd. and Longfor Properties Co. each announced issuance of $500 million and $800 million notes.
Bonds issued in U.S. dollars offer a cheaper alternative for Chinese developers to raise funds, several real estate industry sources interviewed by Caixin said.
Ouyang said local governments are pleased when real estate companies raise funds through U.S. dollar-based bond sales because that means more capital inflow.
Caixin learned recently that the China Banking Regulatory Commission (CBRC), the top banking regulator, has signaled it will continue tightened oversight on lending to the real estate sector in 2018 to rein in risks from irregular financing.
The banking regulator's pledge echoed a statement made by top policymakers at the annual Central Economic Work Conference last month to improve long-term mechanisms to ensure the stable and healthy development of the real estate market.
"Real estate companies will feel the greatest capital pressure this year compared to the last three years," said Zhang Dawei, chief analyst at Centaline.
Several financial analysts told Caixin that the competition among property developers to raise money will heat up as many face massive repayments between 2018 and 2019 for their debts issued in previous years.
Contact reporter Han Wei (weihan@caixin.com)
You've accessed an article available only to subscribers
VIEW OPTIONS
Share this article
Open WeChat and scan the QR code

Aug 04 07:22 PM

Aug 03 08:05 PM

Aug 03 05:58 PM

Aug 03 03:58 PM

Aug 02 07:29 PM

Aug 02 05:39 PM

Aug 02 03:39 PM

Jul 30 07:13 PM

Jul 30 06:26 PM

Jul 30 03:58 PM

Jul 29 08:23 PM

Jul 29 07:03 PM

Jul 29 04:45 PM

Jul 28 06:49 PM

Jul 28 05:54 PM
GALLERY