Fudged Numbers Revealed as Officials' Performance Redefined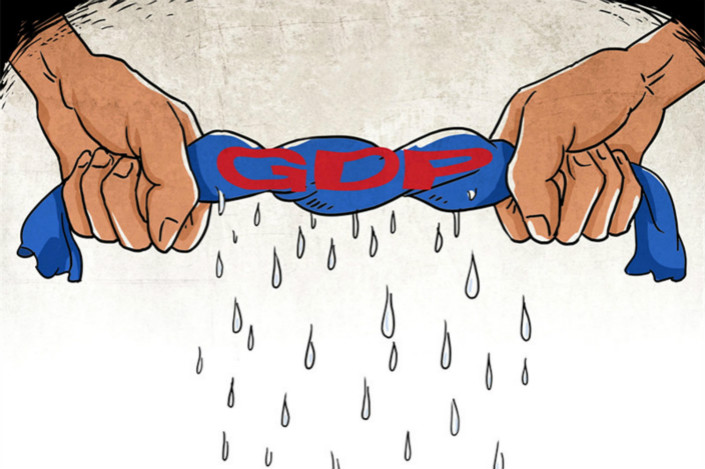 Since the beginning of this year, a number of provincial and city officials have confessed to inflating fiscal revenues, industrial output and gross domestic product data. Photo: VCG
Many of China's local governments have long operated under the suspicions of fudging data, particularly, economic data. Over the past few weeks, many of those suspicions have proved to be true.
And more fudging could come to light as China moves forward with a new approach to economic policy.
Since the beginning of the year, a number of provincial and city officials have come forward by confessing they cooked the books to inflate fiscal revenues, industrial output and gross domestic product (GDP) data.
Behind the outing process are central government authorities who pressured local officials to admit that they falsified data to exaggerate the strength of their local economies in order to advance their own careers.
The pressure is tied to a statistical system reform campaign that has accelerated since last year. The reform, spearheaded by the central government, incudes changing the performance assessment mechanism for provincial and local officials as China's economy enters a new phase of slower growth.
Since the 19th National Congress of the Communist Party of China last fall, the government has stressed the importance of quality economic growth over rapid growth as measured by the country's gross domestic product (GDP) growth rate. And in recent weeks, provincial government leaders across the country have fallen in line by announcing that GDP growth is no longer the sole means by which they will measure success.
New incentives
Calls for new benchmarks for economic success emerged from the annual Central Economic Work Conference of the nation's leaders in early January. Officials at the conference said they wanted a new system centered on incentives and indicators with the goal of promoting high-quality growth.
"The primary issue is what sorts of objectives, assessments and incentive systems should be adopted if we want high-quality growth," said Liu Shijin, a former deputy head of State Council's Development Research Center.
Liu suggested a system that blends several indicators, including the employment rate, economic quality tools, stability rates and sustainability measures. These indicators could be bundled to create a compound indicator, he said.
Employment data could be gleaned from the National Bureau of Statistics, which is preparing to begin surveying employment conditions nationwide for the first time this year. Economists in China have long called for determining unemployment rates based on surveys and abandoning the "registration unemployment rate" system, a holdover from the planned economy. The new system now taking shape has been touted as a more accurate indicator for macroeconomic management.
Niu Li, deputy head of the National Information Center Economic Forecasting Department, said that since more economic efficiency is a result of higher quality growth, statistical indicators such as labor and total factor productivity as well as incremental capital output rates will become increasingly important under the new system.
Also rising in importance are indicators related to disposable income, corporate income, energy consumption and environmental conditions.
Government officials are now fine-tuning the system for compiling these statistics and crafting indicators that historically were not tied to performance incentives for local government officials. Indeed, it's unclear how these statistical indicators may be used in the future to assess the job performances of provincial and local government officials.
Assessment reform
The central government has tried in the past to reduce the role of GDP growth in assessing the performance of local government officials, but has had limited success.
Yang Weimin, the deputy head of the Central Leading Group of Financial and Economic Affairs Office, noted that economic and environmental conditions are not uniform across China, which means officials must be evaluated differently based on different conditions. "Different regions should develop based on their own priorities and positioning," Yang said. "In this way, we can attain high-quality growth."
Some hope local governments across the country will learn from Hainan province, which has been in the forefront of adopting a so-called "development priority zones" system of economic progress evaluation.
Starting this year, dozens of development priorities have been assigned to each of 12 regions across Hainan. Officials in each of these regions are assessed based on those local priorities. Abandoned were traditional assessment indicators such as GDP growth, industrial output and fixed asset data.
Liu Cigui, the party secretary for Hainan, said each local government must adjust its priorities because job performance is now evaluated based on a range of indicators, including environmental protection and poverty alleviation.
Officials say the transition to assessing quality rather than rapid GDP growth will take time and require a range of reforms.
"The misallocation of economic factors must be fixed through reform because administrative measures cannot fix the core of the problem," said Yang, adding that market forces will help improve economic efficiency as reforms are implemented.
Zhu Baoliang, who serves as chief economist for the government's National Information Center, thinks the ongoing 2-year-old effort to reduce excess capacity in some industries has been a result of administrative measures that had huge, short-term impacts on production and prices. But these measures have done little to get at the root causes of excess capacity such as inefficient, state-owned enterprises and so-called "zombie" companies.
As Liu sees it, improving the quality of economic growth will require reforms such as breaking up administrative monopolies, reducing costs for land, energy, communications, logistics and financing, as well as pushing for tax cuts as well as tax reform.
Liu also thinks competition between local governments should be allowed to continue to play a role even as reforms are implemented, with governments vying for higher tiers in terms of productivity.
"We should allow more room for maneuvering by these local governments so they can benefit from trial and error, as well as benefit from competition," he said.
Coming clean
Officials with the regional governments in charge of Inner Mongolia and Tianjin's Binhai New Area recently confessed to fudging economic data in the past. Their admissions came about a year after officials in Liaoning province also came clean.
The Inner Mongolia Autonomous Region government said its true 2016 industrial added value was 290 billion yuan ($45.88 billion), or 40 percent, less than originally reported. Moreover, officials in the region's industrial city of Baotou admitted a 49 percent decline in fiscal revenues last year to 13.7 billion yuan.
Binhai officials revealed they had revised 2016 GDP data downward by 33 percent after changing the calculation means and "wringing out data inflation." The new figure included only economic activity generated in the area, excluding some activities of companies registered locally.
Local governments in other parts of the country might make similar admissions in the future. For example, the National Audit Office recently announced that 10 governments in the provinces of Yunnan, Hunan, Jilin and the municipality of Chongqing inflated fiscal revenues by a combined 1.55 billion yuan in the third quarter 2017.
Jiang Chao, chief macro-economic analyst at Haitong Securities, said officials who exaggerate economic data are often working for local governments that have relied too heavily on investments and borrowing, and now are no longer able to sustain high-speed growth.
One reason why some local government officials have admitted inflating data is that they came under pressure from the Communist Party's discipline inspection teams. Another reason is that they feared the central government's data-gathering reforms and an upcoming nationwide economic census would eventually shed light on false figures.
Contact reporter Zhang Qizhi (qizhi.zhang@caixin.com)
You've accessed an article available only to subscribers
VIEW OPTIONS
Share this article
Open WeChat and scan the QR code