Drone Startup Takes Guangzhou Deputy Mayor to the Skies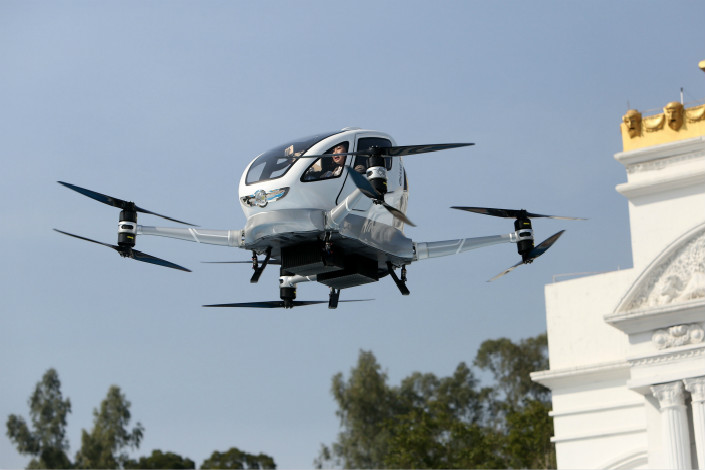 Ehang Intelligence Technology Co. Ltd. has released a video showing its passenger-carrying drone, the Ehang 184, giving passengers a ride in the Guangzhou area. Despite progress in the nascent industry, Ehang has no clear timetable for the commercial use of its passenger drones. Photo: VCG
*Vehicle can carry a 220-pound passenger for 25 minutes
*Despite progress, commercial use of such vehicles remains far from reality
Avoiding car-choked city streets by flying to work is a fantasy entertained by many people stuck in bumper-to-bumper rush hour traffic. But a Chinese startup is working to make this daydream a reality.
Ehang Intelligence Technology Co. Ltd., a Guangzhou-based aerial-vehicle-maker founded four years ago, released footage on Tuesday in which its signature passenger-carrying drone, the Ehang 184, took several people on a ride through the skies.
In the video, about 40 passengers, including Guangzhou's deputy mayor and Hu Huazhi, Ehang's founder and CEO, take turns flying in the vehicle over rural and urban areas in a variety of weather conditions.
The release of the video came two years after the Ehang 184 was first shown off during the CES trade show in Las Vegas, making global headlines.
The vehicle, which has eight propellers attached to four arms, is capable of carrying a single passenger weighing up to 100 kilograms (220 pounds) for 25 minutes on a single charge, according to the company. The vehicle can be controlled by the passenger, or the autonomous drone will fly itself to the location after being given a destination.
Ehang is among a group of ambitious Chinese companies that are vying to perfect passenger drones, a sector that has benefited from the government's support for electrification and automation in the automobile industry.
In November, private automaker Zhejiang Geely Holding Group Co. Ltd. announced it will buy U.S. flying-car startup Terrafugia for an undisclosed amount to acquire its technology.
Although Ehang promotes itself as an innovator that will provide answers to congestion by using the so-called third dimension, the commercial use of these kinds of futuristic vehicles is far from a reality.
Ehang has partnered with a transportation agency in Dubai, where Ehang had test flights in an urban environment last year. And in the U.S., it signed an agreement in 2016 with the Nevada state government and the non-governmental Nevada Institute for Autonomous Systems, with the institute saying it will help the company test its vehicles.
The results of these tests have not been revealed, and so far there is no clear timetable for the commercial use of Ehang's passenger drones, Caixin has learned.
Ji Chenyue, a representative of the company, said regulations will be a big challenge. "Just like the auto industry, where automakers are required to get permits to produce cars, drivers get a license and there are rules for public traffic. The rules for aerial space still remain blank all over the world."
Contact reporter Mo Yelin (yelinmo@caixin.com)
You've accessed an article available only to subscribers
VIEW OPTIONS
Share this article
Open WeChat and scan the QR code

Jan 20 06:48 PM

Jan 20 06:44 PM

Jan 20 06:16 PM

Jan 20 03:41 PM

Jan 20 12:39 PM

Jan 20 12:22 PM

Jan 19 06:27 PM

Jan 19 04:53 PM

Jan 19 03:26 PM

Jan 19 01:51 PM

Jan 19 01:35 PM

Jan 19 01:17 PM

Jan 18 06:34 PM

Jan 18 06:08 PM

Jan 18 05:03 PM
GALLERY