Big Banks Report Better Profits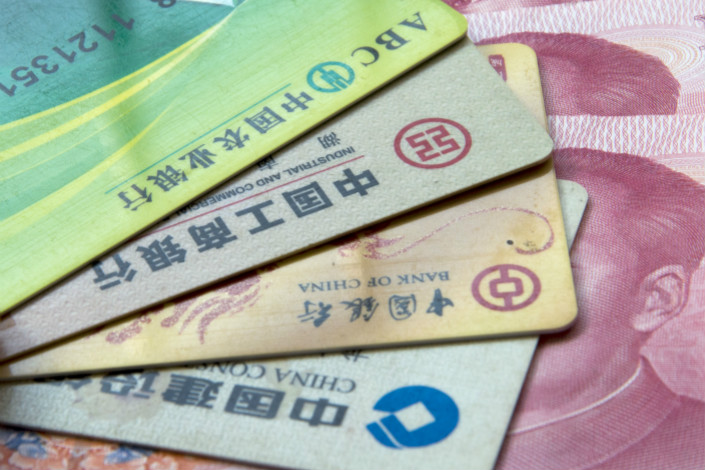 Major banks have benefitted from the government's drive to defuse risks in the financial system and clean up off-balance sheet banking activities. Photo: VCG
China's biggest commercial lenders reported an improvement in profits and key ratios such as non-performing loans for 2017, as the economy picked up, a shadow banking crackdown drove borrowers and savers back to the formal banking system, and bad debt write-offs rose.
The Industrial and Commercial Bank of China (ICBC), the country's biggest lender by assets, on Tuesday reported a 2.8% increase in net profit to 286.05 billion yuan ($45 billion) last year, compared with growth of just 0.5% in 2016. China Construction Bank (CCB), the second-largest bank, said on Tuesday its net profit rose 4.7%, up from a 1.45% gain in 2016. Agricultural Bank of China (ABC), the third-largest lender, said on Monday that its net profit jumped by 4.9%, up from a 1.8% rise the previous year. Bank of China (BOC) will be the last of the big four state-owned commercial banks to release its earnings on Thursday evening local time.
Major banks like ICBC and CCB have benefitted from the government's drive to defuse risks in the financial system and clean up off-balance sheet banking activities. The campaign forced many smaller banks who depended heavily on the interbank market to raise money to lend to customers to scale back their activities. The larger banks, who were the main source of funds for the interbank market, consequently shifted lending back to their own retail customers — companies and individuals.
All three banks saw a small improvement in their net interest margin (NIM), a key profitability metric, which shows that they made more money from the difference in the interest rate they charge borrowers and the interest rates they offer to savers. ICBC saw the biggest gain, with its NIM increasing to 2.22% from 2.16% in 2016 as it raised interest rates on some loans. ABC said its NIM improved to 2.28% in 2017 from 2.25% a year ago mostly due to changing the structure of its savings rates, while CCB's showed a marginal improvement to 2.21% from 2.20%.
Net interest spreads, which measure the difference between the average yield a bank receives on its loans and on the average rate it pays on deposits and other borrowings such as bonds or certificates of deposit, also rose. CCB said its spread increased to 2.10% from 2.06%, while ABC's jumped to 2.15% from 2.10% and ICBC's rose to 2.10% from 2.02%.
Stronger economy
Zhang Keqiu, vice president of ABC, said at a news conference on Tuesday that the improved net interest spread was mostly due to the bank's ability to obtain a lower cost of funding.
The non-performing loan (NPL) ratio, another key metric to assess the quality of banks' lending activities, also improved on the back of a stronger economic performance last year, higher write-offs and disposals of bad loans by the banks. CCB's NPL ratio at the end of December 2017 was 1.49%, down from 1.52% a year earlier, while ICBC's dropped to 1.55% from 1.62%.
ABC saw a big drop to 1.81% from 2.37%, which the bank said was due to accelerated write-offs, improved collection of bad debts along with more securitization of non-performing assets and debt-to equity swaps. Its outstanding non-performing loans at the end of December amounted to 194 billion yuan, down 36.8 billion from the end of 2016.
Chinese banks are under pressure to bolster their financial strength to meet regulatory requirements on metrics such as capital adequacy ratios and ensure they have enough reserves to cope with a surge in non-performing loans or other major risks.
Although the big four commercial banks have stronger balance sheets than many of the smaller lenders, they are still expected to raise billions of yuan to make sure they comply with the regulations — analysts estimate Chinese banks will need to raise at least 500 billion yuan within the next three years.
ABC announced on March 12 that it planned to raise as much as 100 billion yuan in a private placement of its Shanghai-listed shares to boost its capital adequacy. Zhang, vice president of the bank, said one of the reasons why the lender had weaker capital adequacy is because it hadn't so far raised funds by selling common equity, unlike its peers.
To alleviate pressure on the banks, the China Banking Regulatory Commission said in early March that it would allow them to lower the amount of cash they need to set aside to cover losses from bad loans, provided they meet certain criteria. Stringent current standards have left lenders struggling to increase profits amid the government's financial deleveraging campaign. Banks that fulfill the conditions will be able to reduce their loan-loss provisions to as low as 120% of their bad loans, the regulator said. The previous floor was set at 150%. The minimum ratio of provisions to total loans has also been relaxed to 1.5% from 2.5%.
But the biggest banks are faring better than their smaller competitors. The loan loss provision ratio at ICBC rebounded to 154.1% at the end of 2017 from 136.9% at the end of 2016, after having fallen from 257.2% at the end of 2013. Yi Huiman, chairman of ICBC, told Caixin that a slower growth of bad loans and stable profitability of the bank helped bringing the metric back above the red tape minimum of 150%.
Contact reporter Leng Cheng (chengleng@caixin.com)
You've accessed an article available only to subscribers
VIEW OPTIONS
Share this article
Open WeChat and scan the QR code

08:24 PM

07:51 PM

07:39 PM

04:35 PM

May 06 06:31 PM

May 06 06:25 PM

May 06 06:16 PM

May 05 06:52 PM

May 05 06:46 PM

May 05 06:43 PM

May 04 06:37 PM

May 04 06:34 PM

May 04 05:50 PM

Apr 30 07:05 PM

Apr 30 06:31 PM
GALLERY