Chinese TV-Makers Could Be Hit Hard by U.S. Tariffs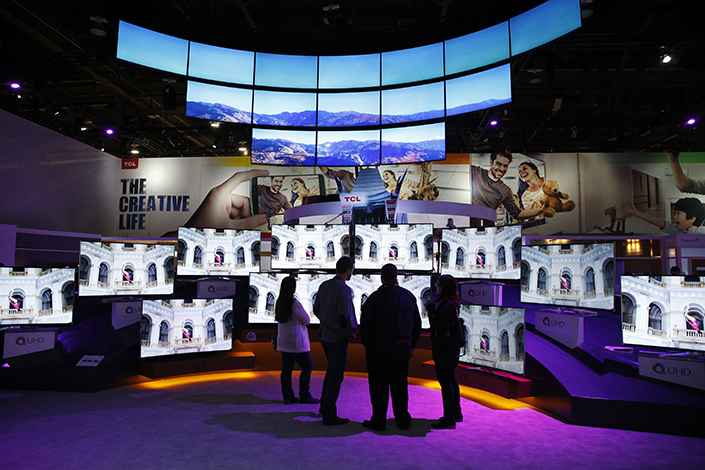 Visitors to the 2016 CES International electronics trade show in Las Vegas check out ultra-high definition TVs at the TCL booth. Photo: IC
Major Chinese TV-makers including TCL Corp. and Hisense Co. Ltd. are expected to suffer a serious blow from the punitive new tariffs threatened by the U.S., analysts said.
The tariffs will "greatly impact Chinese TV exports to the U.S.," as TCL exports over 30% of its total TV shipments to the market and Hisense exports 6%, according to data provided by Sigmaintell Consulting, which researches chip and display markets.
China exported around 80 million TVs globally last year, with nearly 30%, or 23 million, being shipped to the U.S., the Beijing-based market researcher said.
The Office of the U.S. Trade Representative proposed late Tuesday to slap 25% import duties on an extensive list of Chinese products valued at a total of $50 billion, including electronic products, chemicals, metals and aircraft parts. A public hearing on the list is scheduled for May 15, and filing requests to appear and comment are due April 23.
"On a $4,000 TV ... the tariffs might have a several-hundred-dollar price impact," David French of U.S. advocacy group the National Retail Federation, told CNBC.
If the list were to take effect as planned, Chinese manufacturers are expected to assemble their TVs in a third market, said Peng Yuhan, an analyst with Sigmaintell.
"Many Chinese manufacturers have assembly facilities in Mexico, whose export duties to U.S. are low," Peng said.
TCL and Hisense have gained shares of the worldwide TV market amid a slump in demand in their home market.
According to a report from intelligence firm IHS Markit, South Korea's Samsung Electronics and LG Electronics were the world's top TV-makers in the third quarter of last year with a combined share of over 30%.
But TCL rose to the third spot with an 8.3% share — the first Chinese brand to ever achieve that figure — it said, adding that Hisense came in fourth with a 6.3% share.
In addition to TVs, nearly 80 audio and video products from China are subject to new tariffs, including video monitors, TV cameras, projectors and game console parts. According to the China Chamber of Commerce for Import and Export of Machinery and Electronic Products, the affected products exported to the U.S. in 2017 were worth about $12.2 billion.
Other consumer goods subject to the tariffs include dishwashers, light-emitting diodes for backlighting of display screens, copying machines and printer accessories.
Contact reporter Jason Tan (jasontan@caixin.com)
To read more about China-U.S. trade tensions, click here
You've accessed an article available only to subscribers
VIEW OPTIONS
Share this article
Open WeChat and scan the QR code