ZTE Prepares Case Against U.S. Sanctions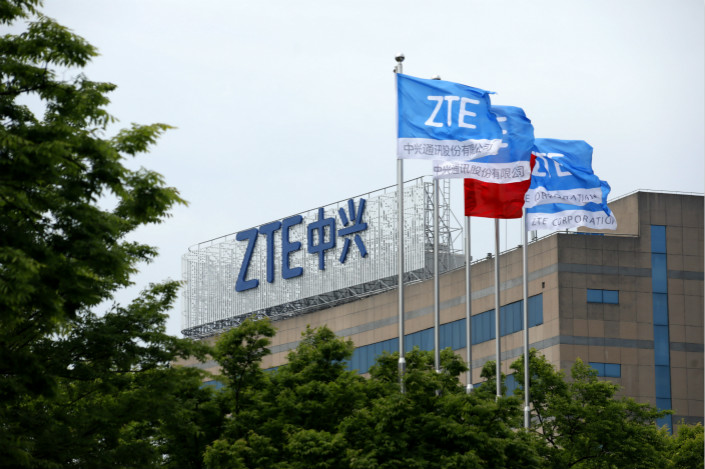 A ZTE building in Shanghai on April 21. Photo: IC
Embattled telecom equipment-maker ZTE Corp. has been notified on how to proceed with its efforts to stave off potentially life-threatening U.S. sanctions, and is planning to hand in new submissions to make its case, the company said.
The move is the latest in a high-stakes faceoff between the company and Washington, which found ZTE previously sold American-made products to Iran in violation of U.S. sanctions at that time. ZTE had previously reached a settlement in the matter, but Washington announced last month the company had failed to comply with some of the agreement's terms.
That means ZTE could soon become subject to a seven-year ban on buying parts from its key U.S. suppliers, a development the company has said could threaten its existence. ZTE argues the U.S. failed to complete its investigation before finding ZTE guilty of the violation, which involving alleged failure to adequately punish some employees involved in the illegal sales to Iran.
The U.S. Commerce Department, which is overseeing the sanctions, has previously said there is no appeals process in such matters. But it has agreed to allow ZTE to submit further materials to make its case. The faceoff is unfolding against a broader backdrop of growing trade tensions between China and the U.S., amid allegations by President Donald Trump that Beijing engages in unfair trade practices.
In a statement dated on Tuesday, ZTE said it has received instructions "regarding the process by which the U.S. Department of Commerce will accept and consider supplemental information from the company."
"The company proposes to provide information … according to the aforesaid process," ZTE said. "If necessary, the company intends to exhaust administrative or legal remedies available to it under applicable U.S. laws," it added, reiterating previous statements that indicated it might take legal actions to stop the threatened sanctions.
ZTE's Hong Kong- and Shenzhen-listed shares have been suspended since the middle of last month when the U.S. sanctions were first announced. The company said its shares will remain suspended pending, among other things, an assessment of the impact of the U.S. sanctions on the company.
To read more about ZTE's sanctions, click here.
Contact reporter Yang Ge (geyang@caixin.com)
You've accessed an article available only to subscribers
VIEW OPTIONS
Share this article
Open WeChat and scan the QR code