Wage Earners Shouldering More of Income Tax Burden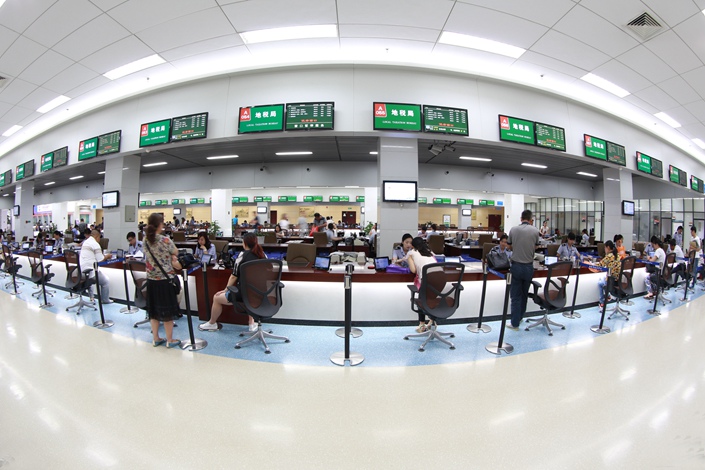 The tax window of the Nantong municipal government affairs service center in Jiangsu province is seen on June 20. Photo: IC
* Taxes on personal income from operating an individual business can be subject to far lower rates than payroll taxes
* Capital gains taxes are difficult to collect because government departments, such as those in charge of taxation, finance and real estate, don't share information very well
(Beijing) — China has been collecting more of its personal income tax revenue from salaries and less from a business-earnings levy that has recently come under scrutiny as a vehicle for tax evasion among the rich and famous.
The trend, the result of a Caixin analysis, raises doubts about the fairness of a personal income tax system that relies more and more on wage earners while collecting a shrinking share of revenue from a group that has come to include movie stars and other wealthy people taking advantage of an often-used tax loophole.
The personal income tax system has been the subject of a recent public discussion that intensified after June 19, when the country's top legislature began considering a draft amendment to the Individual Income Tax Law that experts say did not address the issues of inequity and tax evasion at the center of the debate.
Payroll reliance
China launched its personal income tax code in 1980, two years after the country launched its reform and opening-up. At that time, wages and salaries made up the vast majority of most people's incomes.
Of the 11 types of personal income taxed by the government, the levy on wages and salaries makes up the biggest share of revenue. The payroll tax accounted for 66.7% of the personal income tax revenue in 2016, the most recent year that data was available, according to Caixin calculations based on data from the China Taxation Yearbooks published by the State Administration of Taxation. That figure had risen 5 percentage points since 2012.
By comparison, the tax on personal income from operating an individual business, a levy designed to tax income from mom-and-pop stores and other small businesses, accounted for 4.7% of personal income tax revenue in 2016, down from 10.3% in 2012, according to Caixin calculations.
From 2013 to 2016, payroll tax revenue increased at an annual growth rate of more than 10%, outpacing growth of the per capita annual salary level of urban residents, according to Caixin calculations and data from the National Bureau of Statistics (NBS). Compared with the growth of payroll tax revenue, revenue from the tax on personal income from operating an individual business fell 20.5% to 47.4 billion yuan ($7.25 billion) in 2016 from 2012.
Off the rolls
In 2017, about 187 million Chinese people paid the payroll tax, according to Caixin calculations based on NBS data and the files that the Ministry of Finance submitted to the country's legislature a few days ago. Because it is withheld by the employer, the payroll tax is difficult to evade.
It is also taxed at a higher rate than most other types of personal income. In the highest tax bracket, individuals have to pay a 45% tax on the salary income.
The tax on personal income from operating an individual business, however, can be subject to far lower rates, depending on where the business is registered. In Shanghai and its neighboring province of Zhejiang, certain kinds of film studios pay a personal income tax rate as low as 2.16%, below even the rate for the lowest payroll tax bracket. Caixin has learned that movie stars can avoid paying a high personal income tax rate by setting up this kind of studio as an individual business.
The wealthy can also benefit from lower tax rates on other types of personal income such as capital gains, which include earnings from things like stock dividends and property sales. However, it's difficult to collect capital gains taxes because government departments, such as those in charge of taxation, finance and real estate, don't share information very well.
Unlike most wage earners, the wealthy also have the wherewithal to set up multiple companies for tax arbitrage, said John Gu, head of deal advisory and M&A tax with accounting firm KPMG Advisory (China) Ltd.
Gu told Caixin that some local governments even provide preferential policies such as tax refunds to attract investment, making the tax burden on the rich much lower.
Gu suggested that China put more effort into solving problems caused by the different tax rates for different types of income to close tax collection loopholes.
Contact reporter Lin Jinbing (jinbinglin@caixin.com)
You've accessed an article available only to subscribers
VIEW OPTIONS
Share this article
Open WeChat and scan the QR code