Top Financial Regulator Says Trade War Can't Last Long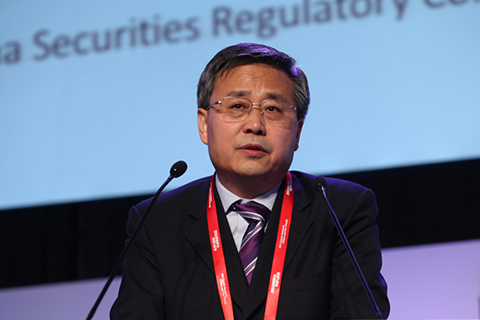 Guo Shuqing. Photo: Niu Guang/Caixin
China's top banking and insurance regulator said the looming trade war with the U.S. could not be sustained and argued that China has better economic endurance for the consequences of a full-blown conflict.
Guo Shuqing, chairman of the China Banking and Insurance Regulatory Commission (CBIRC), made the comments as the two countries prepared to hit each other with tariffs Friday after months of threats and several rounds of failed negotiations.
The first U.S. tariffs are scheduled to begin Friday on $34 billion of Chinese imports, according to Bloomberg, and Beijing has pledged to retaliate with levies on an equal amount of American goods at the same time.
The trade war will to a large extent hurt global companies, including many American companies, Guo said in an interview with Chinese state-run newspaper Financial News published Thursday on the CBIRC's website,
Companies with foreign investments account for nearly half of the total import and export value of China, and more than half of China's exports to the U.S. come from multinational companies operating in China, Guo said.
Guo's comments are in line with those of other Chinese officials who blamed the U.S. for provoking a war on the global business community.
At a media briefing Thursday, Chinese Commerce Ministry officials said $20 billion of the Chinese-made goods targeted by U.S. tariffs are made by foreign companies, including U.S. enterprises.
"The U.S. will be opening fire on the whole world, including itself," said Gao Feng, a spokesman for the Chinese Commerce Ministry, at the briefing. "China will not bow down in the face of threats and blackmail and will not falter from its determination to defend free trade and the multilateral system."
Chinese officials have voiced confidence in the country's ability to endure a full-blown trade war.
China's transition to a consumption-driven growth model from heavy reliance on investments and exports will give China better economic endurance when facing external pressure, Guo said.
Guo added that a majority of China's trade surplus comes from private companies and joint ventures, which are most flexible in adjusting to changes.
After U.S. President Donald Trump threatened to levy punitive tariffs against Chinese products, Chinese President Xi Jinping met recently with a group of 20 mostly American and European multinational chief executives, delivering a stiff message that Beijing plans to strike back.
As trade war looms, China's tightly controlled currency has fallen sharply in recent weeks as the yuan hit its lowest level in nearly 11 months, fueling fears that Beijing would potentially resort to devaluing the yuan to fight back, making its exports cheaper in the U.S.
The yuan had entered "a reasonable range of two-way fluctuations," said Guo, who is also the Communist Party chief of the central bank.
Guo said China's economic fundamentals showed no possibility of sharp yuan depreciation and the yuan would rise in the future.
Guo also warned speculators against attempting to short the Chinese currency. He said some international institutional investors had tried to make profits by shorting the yuan in recently years, but the facts had proved that they misjudged the situation.
When asked whether the trade war would hinder China's opening-up efforts, Guo said China will continue to deepen financial sector reforms and fend off major risks in the economy, including external risks.
He said the trade conflict would surely trigger some problems, but "nothing is to be feared."
You've accessed an article available only to subscribers
VIEW OPTIONS
Share this article
Open WeChat and scan the QR code