China Books First Half-Year Current Account Deficit in 20 Years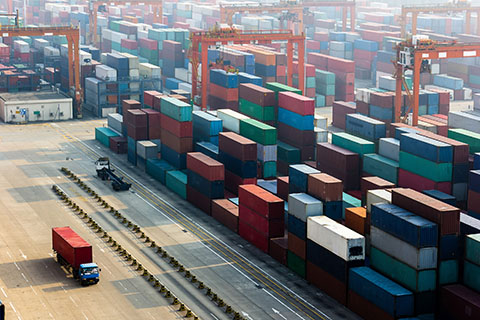 China's goods trade registered a surplus of $104.2 billion in the second quarter. Photo: VCG
China's current account booked its first half-year deficit in 20 years as spending on overseas services continued rising and outpaced income generated from the sale of goods by the world's largest exporter.
The current account balance recorded a deficit of $28.3 billion in the 2018 first half, China's first mid-year deficit since 1998, data from the State Administration of Foreign Exchange (SAFE) showed. The current account records a nation's transactions with the rest of the world, mainly net trade in goods and services.
China's exports of goods exceeded imports by $155.9 billion in the first half. But a deficit from trade in services offset the long-standing surplus in goods trade and reflected China's rising spending on outbound tourism, education, entertainment, and purchases of foreign technologies and patents.
Since the 2008 financial crisis, China's current account surplus has been steadily shrinking as the country moves toward a shift away from relying on exports for growth and toward depending more on domestic consumption.
Analysts have expected to see a narrowing surplus or more frequent current account deficits against the backdrop of trade tensions between China and the U.S.
Zhang Ming, chief economist at Ping An Securities, said in July that as goods trade comes under pressure and as service trade continues expanding, China may see more current account deficits. Zhang said the deficit also reflects a falling domestic saving rate, which may be partly because of the greying population.
China reported its first quarterly current account deficit in 17 years for the January to March quarter this year with a deficit at $34.1 billion.
The current account returned to a surplus of $5.8 billion in the second quarter because of a rebound in goods trade, according to SAFE. Goods trade registered a surplus of $104.2 billion in the second quarter, while service trade booked a deficit of $73.7 billion, mainly from spending on outbound tourism, transportation and patents, SAFE said.
"China's current-account balance has entered an equilibrium range, and either a moderate surplus or moderate deficit indicates basic balance," SAFE said in a statement.
China has pledged to expand imports and open up service sectors as part of structural reforms, which could further narrow China's current account surplus, analysts said.
China's overall trade and current account surpluses have fallen significantly as a percentage of GDP since 2007. China's current account surplus declined from 9.9% of GDP in 2007 to 1.3% in 2017, according to SAFE.
SAFE said China's international balance of payments remained in the range of equilibrium and will stay at a reasonable level in the future.
Contact reporter Han Wei (weihan@caixin.com)
You've accessed an article available only to subscribers
VIEW OPTIONS
Share this article
Open WeChat and scan the QR code