Anbang to Shed Stake in Rural Bank as Asset Sales Pick Up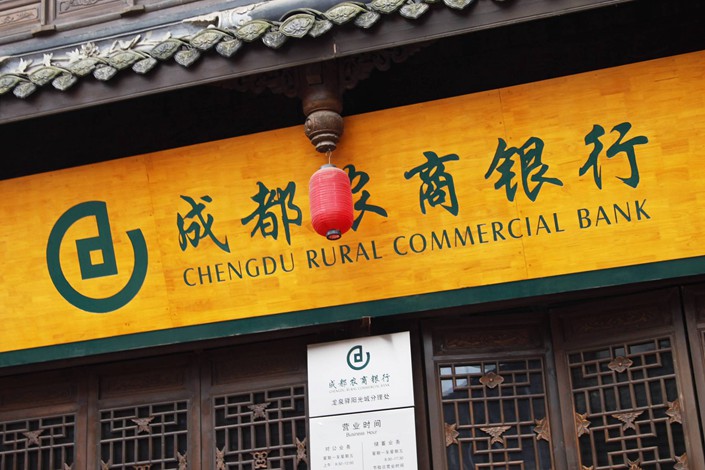 A branch of Chengdu Rural Commercial Bank in Chengdu, Southwest China's Sichuan province, pictured in March 2011. Photo: VCG
Anbang Insurance Group Co. Ltd., whose founder was imprisoned after the government took over the company earlier this year, is preparing to sell its controlling stake in a rural bank to comply with regulations, Caixin has learned from multiple sources.
The move comes amid a broad sell-off of assets by a group of Chinese conglomerates, such as HNA Group Co. Ltd., CEFC China Energy Co. Ltd. and Tomorrow Holding Ltd., which have come under government scrutiny for their aggressive purchases at home and abroad.
Anbang's asset-shedding plan also comes as a Shanghai court on Thursday rejected the appeal (link in Chinese) of the conviction of the firm's founder, Wu Xiaohui, which means Wu faces 18 years in prison for fundraising fraud and embezzlement.
Anbang plans to pare its controlling stake in Chengdu Rural Commercial Bank Co. Ltd., which was previously controlled by the government of Chengdu, the capital city of South China's Sichuan province, sources with knowledge of the matter told Caixin.
Companies interested in buying Anbang's controlling stake in the rural bank include two state-owned enterprises controlled by the Chengdu government, two controlled by the Sichuan government, and Shenzhen-listed liquor-maker Wuliangye Yibin Co. Ltd., which is controlled by the city government of Yibin in Sichuan, sources said.
Other potential buyers include e-commerce giant Alibaba Group Holding Ltd., automaker Zhejiang Geely Holding Group Co. Ltd., and Shenzhen-listed feed producer New Hope Liuhe Co. Ltd., they said.
Some of these potential buyers started due diligence in early August, sources told Caixin. Anbang is likely to sell its stake in the rural bank at an auction on a Shanghai-based financial asset exchange, one of them said.
According to China's rules on the ownership of commercial banks, an investor that holds a stake of 5% or higher in any bank is allowed to own only either a controlling stake in no more than one bank, or a non-controlling stake in no more than two banks.
That means Anbang has to make a choice on which way to go. Currently, it owns a stake of at least 46% in Chengdu Rural Commercial Bank. Meanwhile, it has a 17.84% stake in China Minsheng Banking Corp. Ltd. and an 11.63% stake in China Merchants Bank Co. Ltd., both of which are the country's leading joint-stock lenders.
The plan to sell the rural bank is the latest step in the embattled financial giant's shedding of assets after the top insurance regulatory agency took control of the company earlier this year.
Give full play to the banking license
The government team now in charge of running Anbang has found a host of murky entanglements between Anbang and Chengdu Rural Commercial Bank, Caixin has learned from sources with knowledge of the matter.
Anbang got all the funding for its overseas asset purchases through one type of financing, in which it pledged collateral in exchange for domestic banks' guarantee letters for loans issued by overseas lenders to its offshore subsidiaries, regulators told Caixin.
The collateral Anbang pledged was the certificates of deposit that Chengdu Rural Commercial Bank provided, a former employee with the bank told Caixin.
Anbang had a deposit balance of around 150 billion yuan ($21.91 billion) in the rural bank at the end of each of the last three years, according to the lender's annual reports.
Controlling the rural bank also allowed Anbang to consolidate the bank's financial statements with its own, so as to enlarge its total assets. By the end of 2014, Anbang's total assets amounted to more than 1 trillion yuan after combining with the lender's 634 billion yuan of assets.
Anbang persuaded the insurance regulator to raise the cap on an insurance company's equity investment to 30% of its total assets from the previous 20% limit, sources told Caixin. Such a regulatory revision, which took effect in February 2014, enabled Anbang to buy more equity assets at home and abroad.
The Chengdu government owned a 31% stake in Chengdu Rural Commercial Bank when it was established in December 2009. In November 2011, Anbang overtook the city government as the lender's biggest shareholder by purchasing a 35% stake through a private placement.
Anbang sealed that deal at a cost lower than the market's expectations with the help of Li Chuncheng, Chengdu's top Communist Party official at that time, sources with the knowledge told Caixin. Li was sentenced in October 2015 to 13 years in prison for graft.
Contact reporter Lin Jinbing (jinbinglin@caixin.com)
Read more of Caixin's Anbang coverage
You've accessed an article available only to subscribers
VIEW OPTIONS
Share this article
Open WeChat and scan the QR code