U.S., EU Firms in China Feel Pinch From Trump's Tit-for-Tat Trade War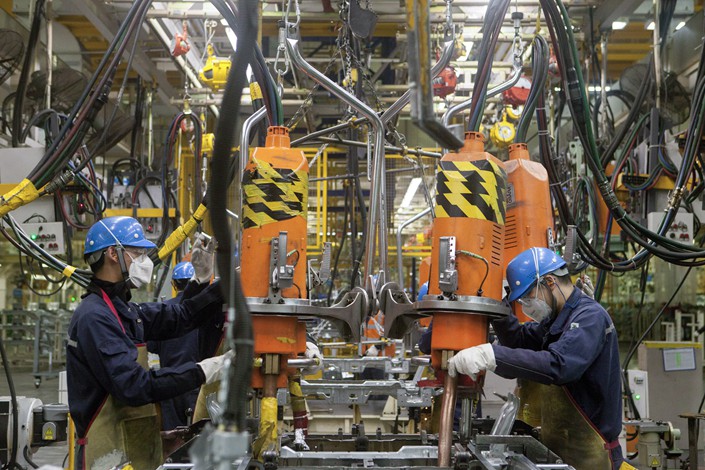 The assembly line of a Ford Motor Co. plant is seen in Hangzhou, Zhejiang province, in April 2017. Photo: IC
* The number of U.S. businesses in China reporting a "strong negative impact" from the current U.S. tariffs stood at 21.5%, with the figure jumping to 47.2% if new tariffs on an additional $200 billion of Chinese imports are imposed
* European Chamber's report found the trade war is extending beyond just U.S. and Chinese companies, reflecting the highly connected nature of global markets and supply chains
(Beijing) — Two-thirds of American businesses in China are feeling a pinch from tit-for-tat protective tariffs in the U.S.-China trade war, with many saying things will worsen if the U.S. follows through on threats to levy even more tariffs, according to a new survey released on Thursday.
At the same time, the U.S.-China trade war is also being felt at the Chinese operations of European companies, around half of which view the tariffs negatively, according to results of a separate survey released the same day by the European Union Chamber of Commerce in China.
The downbeat views reflect a growing tide of negative sentiment from American businesses both at home and overseas toward the trade war instigated by U.S. President Donald Trump, who accuses China of unfair trade practices and intellectual property theft. Trump has imposed protective tariffs on $50 billion worth of annual Chinese imports to the U.S. and threatened similar taxes on another $200 billion in goods, prompting reciprocal moves from Beijing.
About 63% of American businesses in China said the initial $50 billion in U.S. tariffs and similar-scale retaliatory tariffs by Beijing are affecting their business, according to the survey, conducted jointly by Beijing-based AmCham China and AmCham Shanghai, the two major groups representing American businesses in China.
The number reporting a "strong negative impact" from the current U.S. tariffs stood at 21.5% of the survey's 430 respondents, with the figure jumping to 47.2% if Trump goes ahead with new tariffs on the additional $200 billion of Chinese imports. The survey found that U.S. machinery, electronics and automotive companies in China were feeling the worst pinch from the current U.S. tariffs, with 80% or more reporting an impact. U.S. companies feeling the biggest pinch from the Chinese tariffs came from the agribusiness, chemicals, health care and automotive sectors, with 75% or more respondents from each of those groups reporting an impact.
"Our member companies — from a range of industries and locations across China — have spoken loud and clear: American companies are suffering both from China's retaliatory tariffs, and — ironically — from U.S. tariffs designed to harm the Chinese economy," the two chambers said in a joint statement. "Additional tariffs will only do further damage. AmCham China and AmCham Shanghai urge both governments to return to the negotiating table."
The call for new negotiations came as foreign media reported that senior U.S. officials led by Treasury Secretary Steven Mnuchin had recently invited their Chinese counterparts to a new round of negotiations that would likely take place in Washington. The two sides have previously held one round of low-level negotiations since Trump imposed the first tariffs in July.
Meanwhile, the European Chamber's report found the trade war is extending beyond just U.S. and Chinese companies, reflecting the highly connected nature of global markets and supply chains. Among the survey's 193 respondents, 53.9% viewed the U.S. tariffs negatively, while the figure was 42.9% toward the Chinese reciprocal tariffs. About 17% of respondents said they were delaying further investment or expansion as a result of the situation, exposing another fallout factor from the trade war.
"The effects of the U.S.-China trade war on European firms in China are significant and overwhelmingly negative," said Mats Harborn, president of the European Chamber. "We share the concerns of the U.S. regarding China's trade and investment practices, but continuing along the path of tariff escalation is extremely dangerous. It threatens to dismantle the entire global, rules-based system at a time when we should be working together to modernize it."
Other victims of the friction have been the stock markets both on the Chinese mainland and in Hong Kong, which are all now in bear territory after Hong Kong's main index fell more than 20% from its most recent peak earlier this week.
Some American companies active in China are getting hit by a double whammy from higher costs to import tariff-targeted goods to their Chinese operations and similarly higher costs for Chinese imports to their main U.S. operations, said the chief of China operations at a major U.S. industrial equipment manufacturer, speaking on condition of anonymity due to the sensitive nature of the situation.
He said his company's China operations have taken the hardest hit due to significant cost hikes for some of the goods it imports from the U.S. for eventual sale of finished products both inside and outside China. Likewise, the U.S. tariffs are having a similar effect on his company's main American-based operations. He said the U.S. operation is changing to non-Chinese suppliers in some cases, and in others is sharing the increased cost burden with its existing Chinese suppliers.
"These hits from both sides have major impact in the profitability of the China operation, but minimal impact on the profitability of the U.S. operation," he said.
One of the few groups that has benefited from the friction is consultants, who are helping companies try to figure out the best way forward, the European Chamber said in its survey. "Consultants have a field day — one respondent that provides research and analysis on EU-China relations noted that demand has gone up for their services," it said.
Contact reporter Yang Ge (geyang@caixin.com)
You've accessed an article available only to subscribers
VIEW OPTIONS
Share this article
Open WeChat and scan the QR code