Trump Threatens Steeper Tariffs on $200 Billion of Chinese Goods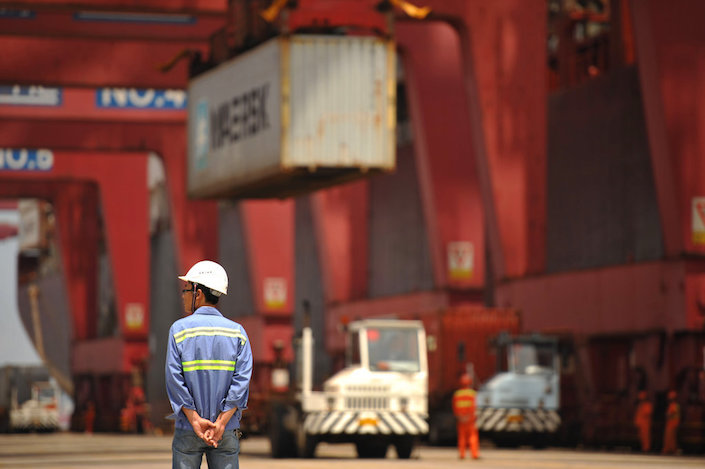 China exported $505 billion of goods to the U.S. in 2017. Photo: VCG
* Trump advisers advocate tougher tariffs in effort to force trade concessions from China
* "China will inevitably take countermeasures, and we will resolutely protect our legitimate rights," Foreign Ministry spokesman says
President Donald Trump is threatening to more than double proposed tariffs on $200 billion of Chinese goods imported annually, further escalating the trade war between the world's two biggest economies.
Trump told top trade official Robert Lighthizer to look at slapping 25% tariffs on the Chinese goods, up from the 10% proposed July 10, senior administration officials said on a press conference call Wednesday. The American president is seeking to ratchet up pressure on Beijing in the intensifying trade dispute.
The proposed tariffs could not take effect before September, and no decision has been made, the officials said. The planned tariffs could affect thousands of Chinese imports, including food products, chemicals, steel, aluminum and consumer goods including furniture, bicycles, baseball gloves and beauty products.
Advisers to Trump are suggesting tougher tariffs to press China for concessions on trade, U.S. media reported.
"The president's going to continue to hold China responsible for its unfair trade practices," White House spokeswoman Sarah Sanders said before the conference call. "This has gone on long enough, and he's going to do something about it."
Beijing responded angrily early Wednesday, accusing Trump of "blackmail" and vowing to retaliate if the measures are implemented.
"If the United States takes further escalatory steps, China will inevitably take countermeasures, and we will resolutely protect our legitimate rights," Chinese Foreign Ministry spokesman Geng Shuang said at a regular news briefing.
China has always upheld handling trade frictions through dialogue and consultations on the basis of mutual respect and equality, Geng said. "Unilateral threats and pressure will only be counterproductive," he said.
Tit-for-tat
Trade talks between the two countries are reportedly stalled as both have turned to tit-for-tat retaliation.
The U.S. has already imposed 25% tariffs on $34 billion of Chinese imports and is on schedule to levy similar tariffs on an additional $16 billion of goods, probably in coming weeks.
China immediately struck back with tariffs on $34 billion of U.S. imports, especially farm products. The country is ready to respond to measures from Trump whether they involve $16 billion or $200 billion of Chinese imports, Bloomberg reported last week citing an official in Beijing who asked not to be identified.
In an interview on the business news television channel CNBC late last month, Trump threatened to impose punitive tariffs on all imported goods from China.
"I'm ready to go to 500," he said.
China exported around $505 billion of goods to the U.S. in 2017, leading to a trade deficit of nearly $376 billion, U.S. government data shows.
An additional 10% tariff on $200 billion of Chinese goods would slow the country's annual economic growth by 0.3-0.5 percentage point, according to Larry Hu, a Hong Kong-based economist with Macquarie Capital Ltd.
The International Monetary Fund in its most recent report upheld its optimistic projection on the Chinese economy, forecasting that China's gross domestic product (GDP) growth will slow only slightly to 6.6% this year from 6.9% in 2017. But the organization warned in a separate report that rising trade tensions between the U.S. and the rest of the world could cost the global economy $430 billion.
Tensions have also mounted on the investment front between China and the U.S. Last month, the U.S. House of Representatives passed a defense spending bill that would increase scrutiny of Chinese investments in the U.S. and ban the government from using technology from major Chinese companies.
A document released Wednesday by the U.S. Commerce Department's Bureau of Industry and Security showed that 44 Chinese entities have been added to an export control list, which will restrict these companies from receiving certain U.S. exports.
In April, Chinese telecommunications giant ZTE was slapped with a crippling export ban which led the company to halt major operations. The ban was lifted after three months of negotiations and ZTE's payment of a $1 billion penalty.
On July 26, U.S. telecom chip giant Qualcomm Inc. scrapped its long-delayed $44 billion bid to buy Dutch peer NXP Semiconductors NV after failing to secure approval from Chinese regulators.
Contact reporter Han Wei (weihan@caixin.com)
You've accessed an article available only to subscribers
VIEW OPTIONS
Share this article
Open WeChat and scan the QR code