China's State Financial Assets Worth About Half of Global GDP
A new government report is part of Beijing's effort to develop a more-thorough system of oversight of state-owned financial assets and is frank in admitting the problems of the current situation. Photo: VCG
* Report shows state-owned financial enterprises held 241 trillion yuan in assets in 2017, with liabilities of 217.3 trillion yuan
* Paper also proposes an improved legal and regulatory system for state-owned financial capital management that clarifies investor responsibilities and centralizes oversight
(Beijing) — The Chinese government has for the first time tallied its total financial assets across its sprawling network of thousands of state-owned companies, warning in a report of poor management, bad planning and the urgent need for a system to provide legal accountability and supervision.
While state-owned institutions usually publish their financial assets in their own individual reports, this is the first time a full report has been compiled and made public, according to state media (link in Chinese). The new "Comprehensive Report on the Management of State-Owned Assets in 2017," which was released Wednesday by two central financial committees, is part of an effort to address the issue.
The report found that state-owned financial enterprises held 241 trillion yuan ($34.7 trillion) in assets in 2017, equivalent to roughly half of global gross domestic product (GDP) for that year. Liabilities came to 217.3 trillion yuan, giving the government holdings a liability-to-asset ratio of 90.2%.
The figures revealed are "not entirely unexpected, given the banking system is essentially owned by the government," said Christopher Balding, an expert in China's economy and an associate professor at Fulbright University Vietnam. Yet despite confirming his suspicions, the high liability-to-asset ratio it is still "very concerning" and "still surprising when you put the numbers to it," he said.
Most assets were concentrated in the hands of centrally managed financial institutions, which held 76.1% of financial assets across 34 institutions, while 23.9% of financial assets were in the hands of 3,065 local and provincial level financial institutions. The lion's share of assets across both central and local institutions are in the banking sector, which holds 76.1% of total assets.
Substantial financial risks exist across both central enterprises and local-level financial institutions, Balding said. "There's a risk that a local-level official fails to tell the government it's about to blow up. If you're a small state-owned enterprise, it's possible a central bank does not know the extent of your debt problems," he said.
On the flip side, while authorities might be much more aware of what is happening at a central institution, the stakes are higher. "Problems at a company with 4 million employees are a much bigger risk than a much smaller company, even if you have a better option to control it," he said.
For several years, economists have noted with concern the risks in the lack of oversight of local government entities and their growing debts, leading to a deleveraging campaign in 2016 and 2017 that started to show some success. However, it was derailed this year as the government turned to dealing with economic stresses exacerbated by the trade war with the U.S.
The report forms part of the government's efforts to develop a more-thorough system of oversight of state-owned financial assets and is frank in admitting the problems of the current situation. It says overall planning is poor, with responsibility for managing financial assets scattered between departments and localities. There is also an unclear system of rights and responsibilities between state-owned entities, compounded by problems in budget management. It proposes an improved legal and regulatory system for state-owned financial capital management that clarifies investor responsibilities and centralizes oversight.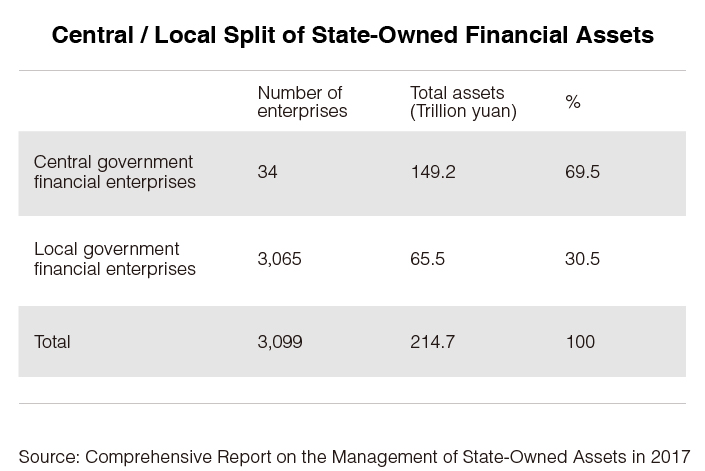 While the report might be taken as a sign of the government's seriousness in centralizing management of its scattered financial assets, observers may be alarmed that the report says nonperforming loans constituted just 1.86% of the total loans made between the end of 2017 and the second quarter of 2018, a figure many economists believe greatly underestimates the actual number.
While the government has stated its intention to rein in the risks associated with debt for scattered assets, Balding remains skeptical of its ability to do so, due to challenges in making sure there is adequate information for oversight. "Even if they have the good information, we have not seen a pattern to address those risks," he said.
Balding nevertheless does not believe these assets do not pose a risk of financial crisis. "Beijing simply won't let (a collapse) happen — no bailout is too big to prevent a serious financial event," he said.
Contact reporter Ke Dawei (daweike@caixin.com)
You've accessed an article available only to subscribers
VIEW OPTIONS
Share this article
Open WeChat and scan the QR code