Guangdong Zhenrong and CEFC China: Dodgy Traders in a Mirror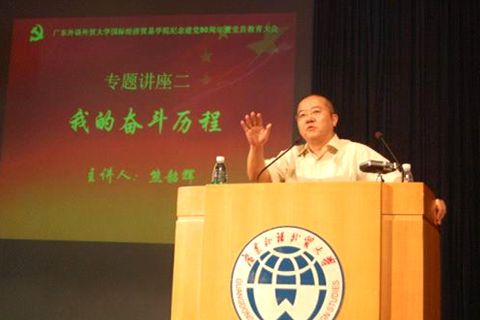 Xiong Shaohui. Photo: Caixin
In 2009, Xiong Shaohui, chairman of state-backed fuel trader Guangdong Zhenrong Energy in the southern city Guangzhou, set out to expand the company's revenue 10-fold and make it one of the world's largest businesses.
A thousand miles away in Shanghai that same year, a businessman named Ye Jianming relocated his niche fuel trading company from Fujian province, renamed it CEFC China Energy and launched a huge expansion.
In the years since, both companies seemingly turned into dazzling business miracles backed by soaring trade volumes and generous bank credit. And now they face similar crises of mounting debt and scrutiny of fake deals and loan fraud. Both had dealings with a mystery businessman who has since disappeared.
By 2013, Guangdong Zhenrong achieved Xiong's goal of expanding revenue to 105.2 billion yuan ($15.2 billion) from about 10 billion yuan in 2009, making it the 185th largest company in China. And in 2017, once-obscure CEFC China reached No. 222 on the Global Fortune 500 list with $43.7 billion in revenue, becoming China's largest private energy conglomerate with assets spread across Europe, the Middle East, Central Asia and Africa.
There was a short alliance between the two companies before their heydays, sources told Caixin.
In March 2010, Guangdong Zhenrong's parent Zhuhai Zhenrong Group set up a joint venture with CEFC China in Shanghai, with a former military official named Wang Hongyuan as liaison.
Guangdong Zhenrong and Zhuhai Zhenrong held a combined 50% stake in the Shanghai venture —Shanghai Zhenrong Petroleum Co. Ltd. — while CEFC China owned 38% and had the major say, a former CEFC China executive told Caixin. The remaining 12% was held by a company controlled by former Taiwan gang leader Chang An-lo, also known as the "White Wolf."
The investment in Shanghai Zhenrong gave privately owned CEFC China easier access to bank loans, as the Shanghai venture's connection with central government-backed Zhuhai Zhenrong was often seen by lenders as a guarantee of lower risk, the executive said.
CEFC China siphoned credit from the Shanghai venture through trade and accounts-receivable arrangements, the executive said.
But CEFC China sold its stake in Shanghai Zhenrong by the end of 2012 in a liquidity crunch that followed the 2011-2012 global commodity market crash. A major part of the stake was sold to a company called Shanghai Zhongdian Huatong Telecom Co.
"CEFC China owed money to us, and found Zhongdian Huatong to assume its 30 million yuan debt obligations," said a Guangdong Zhenrong executive. "But Zhongdian Huatong has never repaid the debts."
The 30 million yuan unpaid debt is only a tiny divot in Guangdong Zhenrong's multi-billion dollar black hole. An audit by the National Audit Office last year found that the company had more than 20 billion yuan of unpaid bank loans, with 18.8 billion yuan missing from its books as of April 2017.
A big part of the missing funds may have vanished with a mysterious businessman called Xie Yun, who has also used the names Xie Dichi and Xie Hong, sources told Caixin. Xie has been impossible to contact, people familiar with Xie said.
Xie is the owner of one of the new shareholders that entered Guangdong Zhenrong after a 2009 share placement and played an important role in Guangdong Zhenrong's trading.
Business registration records show that Xie has appeared as shareholder in dozens of trading companies, some of which are registered as upstream suppliers of Guangdong Zhenrong. Others are downstream buyers, while some took out short-term loans from Guangdong Zhenrong for long-term investment.
According to Guangdong Zhenrong's financial reports, as of April 2017 the company had accounts receivable totaling 18.9 billion yuan from trading partners, including 10.3 billion yuan owed by 27 companies including Shanghai Rongkun Trade Co. Ltd. Several creditors said the 27 companies are all backed by Xie.
Xie was also an affiliated trader working with CEFC China to arrange connected-party transactions to expand CEFC China's revenues, according to one former CEFC China executive. "He (Xie) later detached (from CEFC China)," the executive said.
In a similar way to Guangdong Zhenrong, CEFC China mainly relied on letters of credit — a short-term financing instrument for traders — to obtain bank loans to support its early business expansion, Caixin reported in March.
CEFC China used complicated trade arrangements among affiliated companies to obtain credit and expand its leverage, one source said. Such practices fall in a regulatory gray zone, but many private companies used them to raise funds around 2009 when commodity and property markets were booming, founder Ye Jianming told Caixin in a 2017 interview.
Guangdong Zhenrong's crisis and dodgy business practices came to light during a routine audit last year. Auditors found Guangdong Zhenrong fabricated massive trade deals and defaulted on 16 billion yuan of loans and interest to nearly 30 banks as of March this year, with an additional 13 billion yuan of potential obligations for debt guarantees. Most of the banks had no collateral from the company, exposing them to risks of significant loss, Caixin learned.
A person close to the parent company Zhuahai Zhenrong said almost all of the fuel oil trade carried out by Guangdong Zhenrong between 2012 and 2014, totaling 200 billion yuan, lacked concrete documentation aside from figures on books and suspicious documents. Another source said most of Guangdong Zhenrong's trade deals booked after 2010 were fabricated.
Since the beginning of this year, CEFC China has also been mired in a crisis involving more than 100 billion yuan of debts that may go sour after its founder and chairman Ye was placed under investigation for alleged economic crimes.
Contact reporter Han Wei (weihan@caixin.com)
Read more about Guangdong Zhenrong's multibillion-dollar black hole
You've accessed an article available only to subscribers
VIEW OPTIONS
Share this article
Open WeChat and scan the QR code