Alibaba Switches On First Smart Hotel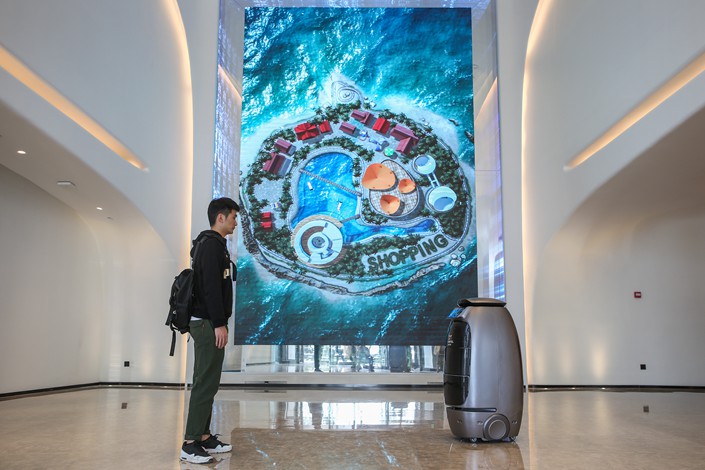 A robot serves a guest on Monday at Alibaba's futuristic FlyZoo Hotel in the eastern city of Hangzhou. Photo: IC
Robot receptionists and facial recognition-powered door locks. Chinese e-commerce giant Alibaba Group Holding Ltd. has unveiled its "hotel of the future."
FlyZoo Hotel has an evocative name in Chinese: Feizhubuke, which sounds close to "Facebook" in the language and can be loosely translated as "staying here is a must."
The two-block, low-rise hotel will open its doors to guests by the end of the year. It's located in the company's headquarters compound in western Hangzhou, the touristic capital of Zhejiang Province. The hotel is near a national wetland park and is less than an hour's drive from downtown.
Everything in the hotel is high-tech: a check-in counter managed by robots, face scan to operate the elevators and open the room doors. In addition, guests can control the room's temperature, lighting and appliances with voice commands.
For those who want to experience FlyZoo first-hand: A deluxe room starts from 1,399 yuan ($201) per night, provided that you book it during "Double 11," a much-anticipated online shopping extravaganza in China that will end later this month. The room's normal price is 3,000 yuan per night, more than double that of a nearby five-star Sheraton, and 50% more than a night at the Shangri-La, which is located at the city center, Caixin has learned.
FlyZoo will also combine hospitality with Alibaba's prowess in e-commerce. In the future, customers will be able to shop online for anything they fancy in the room by just taking a photo of the item.
FlyZoo's guests can control the temperature, lighting and appliances in their rooms with voice commands. Photo: IC
In addition, a patron can be exempt from paying a deposit if he or she obtains a good rating on Sesame Credit, a private credit-scoring system developed by Alibaba-affiliated Ant Financial Services Group. This deposit-free incentive has been introduced at "hundreds of thousands" of hotels worldwide that partner with Ant Financial's mobile-payment platform, Alipay.
Over the past two decades, Alibaba has gradually dominated the online shopping space China, and is now seeking to combine its online know-how with offline powers.
Its endeavors into offline businesses including investments in the supermarket chain Sun Art, the department store network Intime and its self-incubated grocery store Hema.
Through the hotel project, the company wished to develop an efficient hospitality management system that can be replicated. Wang Qun, FlyZoo's chief executive, said the hotel's management efficiency is 1.5 times that of traditional hotels of similar sizes, though he didn't how much all the high-tech gadgetry saved the hotel on labor costs.
The news came just days before Alibaba's disclosure of its latest quarterly financial results on Friday. Its profit dropped over 40% in the April-to-June quarter due to increased compensation for its Ant Financial staff. The company's shares closed up 6.3% Thursday on the New York Stock Exchange.
Contact reporter Coco Feng (renkefeng@caixin.com)
You've accessed an article available only to subscribers
VIEW OPTIONS
Share this article
Open WeChat and scan the QR code