$6.1 Billion Loan Fraud Ends With 13 in Prison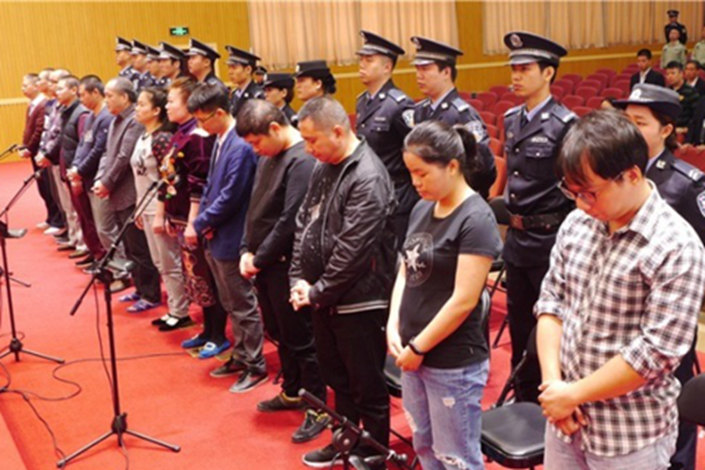 Thirteen defendants who appeared Friday in the Intermediate People's Court in Liuzhou, the Guangxi Zhuang autonmous region, received sentences ranging from 18 months to 10½ years in prison in a fraud case involving the attempted murder of a banker and $6.1 billion in swindled bank funds. Photo: Liuzhou Intermediate People's Court
The masterminds behind a fraud case involving the attempted murder of a banker and $6.1 billion in swindled bank funds have received prison sentences as long as 10½ years from a court in southern China.
Wu Dong, the controller of Guangxi Zhongmei Tianyuan Financing Guarantee Group, and 12 others bilked several unnamed banks out of 42 billion yuan ($6.07 billion) from 2010 to 2014, according to a statement (link in Chinese) by the Intermediate People's Court of Liuzhou in the Guangxi Zhuang autonomous region.
The 13 defendants were convicted of fabricating documents such as financial figures, proof of tax payments, sales contracts and land deeds in order to apply for loans and other financial support from the lenders, the court said. They also bribed bank employees.
Wu was sentenced to 10½ years in prison and fined 200 million yuan. Along with bribery, he was convicted of fraud related to loans, bills of acceptance and financial warrants. His company has been ordered to pay just over 1 billion yuan in fines and return 10.9 billion yuan to the banks that are still owed money, according to the court statement, which was posted on Friday.
The 12 other people involved in the case got prison terms ranging from 18 months to eight years, including four whose sentences were immediately reduced to probation.
The scheme was exposed in May 2014 when Liuzhou Bank Chairman Li Yaoqing was sliced up by a man hired by Wu's sons. The attack took place after Li had replaced the former head of the bank and suspended the granting of credit to Zhongmei Tianyuan because he spotted problems with the loans, according to previous media reports.
Liuzhou Bank, a local commercial bank that counted the local government, state-owned enterprises and some private investors among its stakeholders, was the main provider of loans to Zhongmei Tianyuan and its affiliated firms.
An indicator measuring the concentration of loan extensions to individual institutional clients at the bank surged to 14.02% at the end of 2014 from 7.76% two years before, approaching the 15% limit set by the regulators, its financial reports showed. The gauge has declined since the fraud was revealed and was at 9.84% at the end of last year. The bank has not disclosed any figures about its lending to Zhongmei Tianyuan and its affiliates.
In December, the bank's former chairman, Liu Zhong, was sentenced to 16 years in prison and fined 1.1 million yuan for taking bribes and illegally granting loans.
Contact reporter Fran Wang (fangwang@caixin.com)
You've accessed an article available only to subscribers
VIEW OPTIONS
Share this article
Open WeChat and scan the QR code