How Spiraling Online Debt and an Insurance Scam Pushed a Mother to Kill Her Children and Herself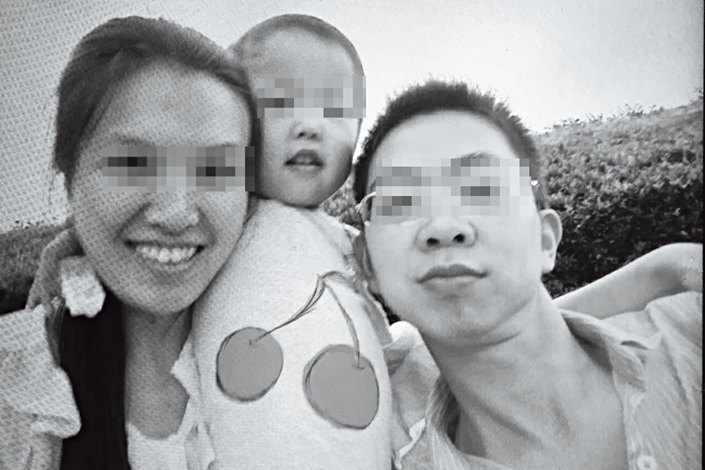 Dai Guihua did not have an easy life. Orphaned at the age of 11 after the death of her father — her mother had died of childbirth complications seven year earlier — she grew up in the care of her 70-something grandmother. Dai left school after learning to read, according to her cousin Yanyan, and began working 12-hour days at a ceramic's factory.
After eventually finishing middle school at 16, Dai moved to Shenzhen. Yanyan never knew much about her time in the southern metropolis, but found out later that Dai worked in a jewelry store. In 2013, after nine years away, Dai returned home where she met and married He Zhi after two months. He was just her type, slightly built, wearing glasses, and with a love for Western-style suits. They quickly had one child, a son, named Xixi, and daughter Xinxin soon afterwards.
But five years later, on Oct. 11, 2018, the bodies of Dai Guihua and her two young children were hauled out of a fishing pond, the victims of a murder-suicide.
What had pushed Dai to drown herself and her children?
The day before, Dai posted a message on her Facebook-like WeChat timeline that read: "They say life is short and bitter, but mine wasn't short or bitter. I am happy to leave in order to follow the one I love. We promised to grow old together. How could I let you leave alone? So, baby, your wife is coming with you. All I want is our family of four to be together."
Twenty-two days earlier, He Zhi had gone missing. Unbeknownst to Dai, his disappearance was part of an insurance fraud plan he devised that would enable her to claim 1 million yuan ($144,600) and pay back online loans in excess of 100,000 yuan.
After seeing his wife's post, He Zhi rushed back to Xinhua, but was too late. "I didn't expect my wife to react this way to my fake death, that she would be so stupid, that she was so impulsive," he said through sobs in a video posted online.
A lie to defraud the insurance company resulted in three deaths and one detention. But behind the scam was a family of four, dragged down by illness and online loans.
Online loans
After Dai Guihua became pregnant, she stopped working and the family relied entirely on the money He Zhi earned as a driver for the ride-hailing service Didi. Dai's life revolved around caring for her family, cooking, and cleaning. Their daughter was epileptic and needed medicine every day. He Zhi worked long hours, but occasionally he would come home early and the family would go for walks together after dinner. In July 2016, the family rented a 60-square-meter (646 square feet) two-room home not far from Xinhua for 5,000 yuan per year.
At that time, they were struggling to make ends meet. Yanyan noticed her cousin's frugality when the two would go out shopping together. She had never seen the family's home. Once, He revealed to his friend Xie Kun that he had lost tens of thousands of yuan. Yet in 2016, he had spent 60,000 yuan on a new car, paying most of the down payment with money acquired through online loans.
Over the last summer, large numbers of Chinese people — mostly from poor, rural areas — gathered in Beijing amid a crisis in peer-to-peer lending, online services that directly connect borrowers and lenders. Many of them had lost hundreds of thousands of yuan on platforms that were forced to shut down when they failed to comply with new restrictions set by the government. The number of so-called P2P lending platforms on China had skyrocketed, largely unregulated, from 2007.
Caixin found through inquiries to multiple lending platforms that He Zhi and Dai Guihua first opened accounts on a variety of platforms at the end of 2016. According to incomplete data, He opened accounts on at least 58 lending platforms and took at least 132 loans over two years, mostly through P2P, microfinance companies, and bank-funded consumer finance companies. In the same period, Dai registered for accounts on 14 different platforms, mostly P2P, and had taken out at least 25 loans.
Most of these platforms have a low borrowing threshold and high interest rates, leading people with poor financial sense or low self-control to get caught in a lending cycle. In Xinhua, young people got information about the online lending platforms through advertisements on TV, through text message spam, and online.
The couple never told their family and friends about the loans. The first time Xie Kun was aware that his friend He was getting loans online was when he complained that he wasn't able to cash out of Ant Check Later, a consumer credit service run by Ant Financial that allows people to pay for items through monthly installments.
Xie didn't hear anything else about it after that, and didn't know if He was borrowing from other friends. Yanyan told Caixin that He and Dai had borrowed several thousand yuan from her multiple times, but always paid her back a few months later. He's brother, He Li, told Caixin that the couple had paid back a few thousand yuan earlier in the year.
At dinner one night, He told his wife's family that he was making up to 400 yuan per day driving for Didi, and up to 1,000 yuan per day driving over Chinese New Year. In a town where the average income was 3,000 yuan per month, Yanyan suspected that her cousin's husband was lying.
Epilepsy
According to He Zhi, the family fell into a whirlpool of debt due to their young daughter's epilepsy.
Xinxin had suffered her first seizure in 2017 when she was just over 12 months old. She was taken to Hunan Children's Hospital in a critical condition and diagnosed with epilepsy. Dr. Yang Liming, director of neurology and chief physician at the hospital, suggested to her parents that Xinxin get a gene test to determine if it was caused by a gene mutation. The treatment was expensive and wouldn't cure her, so He Zhi refused.
Credit reports show that within a month of his daughter's discharge from hospital, He had registered on at least eight lending platforms. In July 2017, he sought to raise money for his daughter's medical costs, writing a post that said: "As a parent, there's nothing I can do. I feel so useless. I can do nothing but watch my child suffer with so much pain. If I could, I would bear it for her." He raised 37,000 yuan.
In January 2018, Xinxin started having recurrent seizures and had to be hospitalized again.
The family spent a further 100,000 yuan to get treatment for their daughter. Dr. Yang estimated that the three hospital stays cost about 63,000 yuan in total. Every month, the family had to spend about 2,000 yuan on medication and 1,000 yuan per medical consultation, of which there were at least 20, according to medical records from the Hunan Children's Hospital.
The police estimate that the family was spending 12,000 yuan per month. "In a small county, where the starting price of a taxi is only six yuan, how much does He make per day after deducting gas money?" wondered Xie Kun. The family had to turn to online lending to make ends meet, landing them in hundreds of thousands of yuan of debt.
The couple fought bitterly because of their debt problems. Their landlord told Caixin of one particularly intense argument in June 2018 when Dai threw one leg over the railing and threatened to jump, screaming that she didn't want to live. When the police arrived, a despondent Dai showed them a text message reminding He to pay off his debts. But the couple reconciled the next day.
Insurance fraud
It is unknown when He Zhi began planning the insurance fraud, but in August and September, enough had happened to break the family.
In August, Xinxin's epilepsy started acting up again. He Zhi told Xie Kun over WeChat, "God is driving me down a dead end. My daughter is sick again, the loans are exploding, everyone knows about it and no one will lend me money. How will I afford the hospital fees? This will cost thousands, and the insurance doesn't cover enough of it …"
Then, Dai told Yanyan that, in September, He Zhi had hit a BMW while driving in Changsha and was required to pay 60,000 yuan in compensation.
People familiar with the matter told Caixin that He purchased a life insurance policy from Ping An Insurance on Sept. 7. It came into effect the next day. He listed Dai Guihua as the beneficiary in the case of his death and the payout would be one million yuan.
On Sept. 16, He left his family in Xinhua to pick up some work driving for Didi for a few days in Changsha and surrounding areas. He spent three nights sleeping in the rental car.
On the evening of Sept. 18, he and Dai exchanged WeChat messages for more than an hour. "There are certain responsibilities men must bear," he told her. "And you have to take care of the children." At the end of the conversation, he asked, "My wife, do you regret marrying me?"
Dai, confused, asked him why he would say such a thing. He didn't respond.
He Zhi went to the local police station to get a new ID card, as his current one was set to expire in three months.
In the early morning of Sept. 19, He drove the rental car off a cliff nearly 30 meters (98 feet) high, jumping out at the last second. The car splashed into the river below. His now expired ID card went into the river with the car. He retrieved his own car, parked elsewhere, obscured the license plates and drove away.
Waiting
On the morning of the 19th, Dai sent a message to He on WeChat, but got no response. She called his brother, Li, and told him that He had disappeared, sending him details of their conversation from the previous night.
Li revealed to Caixin that he found this suspicious. "They were chatting until after 11pm the night before. Why would she say, the very next morning, that he disappeared? Why did she delete her chat history with him? Is there something she isn't telling us?"
On Sept. 22, Dai received a letter containing a 70-page insurance contract. The sender and phone number were unknown, but after Dai inquired about it at the county post office, she discovered that the contract had been mailed from Guizhou Province.
To save money, Dai and her children moved in with their in-laws on Sept. 24. Li said that Dai was acting normally, but Yanyan said that she had clearly lost weight.
On Sept. 30, the rental car company called and said that He Zhi's car disappeared somewhere in a town near a river. Dai immediately called the police, who later found tire tracks leading into the river. He Zhi's family called a search and rescue team that salvaged the license plates and front bumpers of the car.
On Oct. 1, the car was pulled from the river, but He's body was not in it. Li spent 50,000 yuan on a dive team to look for He's body, but after two days of searching nothing was found.
Dai and her husband's family started having problems. Her WeChat money transfer function was frozen, and she couldn't send or receive payments. According to a loan report, she had applied for a 2,000-yuan loan on a lending platform. The status of the loan is unknown.
Dai told Yanyan that her father-in-law was helping her to find a job and that they had signed an agreement to help her take care of her son and daughter. Li denied that such an agreement existed.
On Oct. 10, Dai's father-in-law drove her and Xinxin to visit her aunt, who was suffering from lung cancer. Dai later picked up her son from kindergarten, where the three ate lunch.
At 11:54am, a surveillance camera captured the final scene of Dai carrying her daughter in one arm, two bags in the other, and her son trailing behind them.
At 12:27, Dai sent out her suicide note over WeChat. He Zhi, hiding over 400 kilometers (248 miles) away in Guizhou, saw it and rushed back home. But he was too late.
On the afternoon of Oct. 11, He Zhi cried bitterly next to the pond where Dai and the children were found.
He said, "If I had really had an accident, why wouldn't she be strong enough to raise our children on her own? Those two children were her fire, our fire. She was the only one left of her family, and now she's taken my two children away. What about me? I'm childless."
When Xie Kun learned of Dai Guihua's death, he questioned He Zhi on WeChat: "How could you do something like this?" He Zhi responded with a few short voice notes, tears in his voice. He kept saying that he had killed his wife and children.
***
In September 2016, He Zhi and Dai Guihua bought their first car. Dai Guihua wrote on her WeChat moments: "We married in 2013 and were bursting with happiness! Prince charming arrived in 2014! It was so gratifying! In 2015, the little princess arrived, our house was full! In 2016 we bought a car, I was so excited! In a few months, it will be 2017, I can't wait to see what it will bring…"
But waiting for her in the future was her daughter's recurring seizures, a mess of online loans and the disappearance of her husband. It ultimately culminated in this terrible tragedy.
Contact reporter Ren Qiuyu (qiuyuren@caixin.com)
You've accessed an article available only to subscribers
VIEW OPTIONS
Share this article
Open WeChat and scan the QR code