Iran Says China Will Take Over Total's Stake in World's Largest Natural Gas Field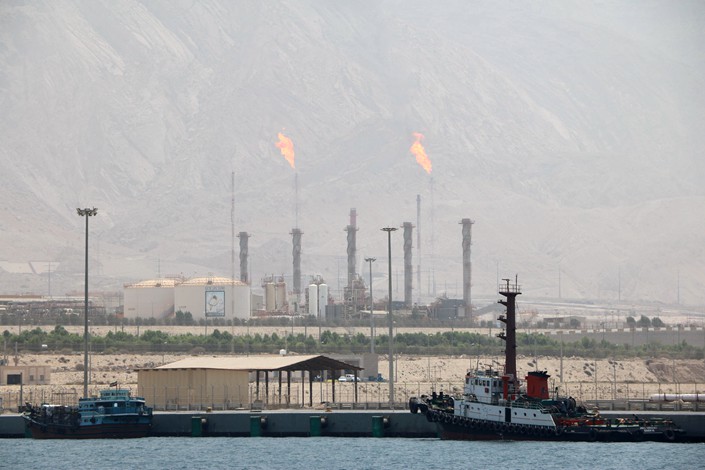 Natural-gas refinery facilities are seen in the Pars Special Economic Energy Zone in Assaluyeh, Iran, on the Persian Gulf coast in July 2016. Photo: IC
(Beijing) — China National Petroleum Corp. (CNPC) will take French company Total SA's place in developing what is thought to be the world's largest gas deposit, according to Iranian state media, as the state-owned energy giant is apparently undeterred by the return of U.S. sanctions on the country.
The takeover would help to bolster and diversify China's supply of liquefied natural gas (LNG), analysts said, although major practical challenges remain, given the U.S. prohibitions.
China scaled back its oil imports from Iran over the course of this year ahead of sanctions that were reimposed at the start of the month, even as China's Foreign Ministry said Beijing will maintain "normal economic and trade cooperation" with Tehran.
The $4.8 billion development of the "Phase 11" section of the South Pars gas deposit also looked as though it would become a victim of the sanctions' return when Total withdrew from its agreement to take a 50.1% stake in developing the project in August, according to Iranian state media.
Yet after months of rumors, Iranian state media outlet ICANA reported on Sunday(link in Farsi) that Oil Minister Bijan Namdar Zanganeh said CNPC will "replace" Total in the project.
While not made explicit in the state media report, this likely means CNPC will take Total's 50.1% stake in the project in addition to the 30% stake it already holds.
Phase 11 was originally intended to produce 56 million cubic meters (2.0 billion cubic feet) of gas per day once completed by 2021. It is unclear whether the project is still on schedule, however, as the Iranian government "must negotiate with CNPC to determine when it will begin operating and operational activities," the report quoted Zanganeh as saying.
CNPC's move "appears to be for now more a statement of intent than a firm commitment," said Readul Islam, a research analyst with consultancy Rystad Energy. "There's a question whether Chinese companies are able to raise the financing required for Iranian projects in the current environment," he said.
Islam said "in terms of symbolism," he had expected Russian and Chinese state-linked companies to step in and solidify their hold on possible future Iranian projects as Western companies shied away.
While still a "preliminary potential arrangement," CNPC's increased role "makes a lot of sense" since Total has other major LNG projects, said Nicholas Browne, a research director with Wood Mackenzie's LNG team. "CNPC has an urgent need for additional gas following the coal to gas switching policy success in China."
"However, developing an LNG project is another challenge and this would require experienced EPC contractors, all of whom would be cautious about involvement in Iran currently given the risk of US sanctions," Browne added.
Iran does not currently export any gas or LNG to China, said Jeff Moore, an LNG analyst with S&P Global Platts. Yet, "with China clearly representing the majority of the growth in LNG demand over the next decade or so, a CNPC deal, if confirmed, would show China is increasingly looking to diversify their sources of LNG supplies," he said. "We expect Chinese LNG imports to more than double from 2017 levels by 2025."
China is also ramping up its Iranian oil imports after receiving a six-month waiver from U.S. sanctions allegedly intended to prevent oil market volatility, Bloomberg News reported. While Iranian oil imports fell 12.3% month-on-month in September to 442,900 barrels per day, according to data from S&P Global Platts, the Chinese government has ordered at least two state-owned energy importers to increase imports during the six-month period, Bloomberg said, citing anonymous sources.
The South Pars gas field, which was discovered in the 1970s and which began production in the 1990s, is by far the world's largest gas reservoir, straddling the sea border of Iran and Qatar in the middle of the Persian Gulf. The huge field accounts for about 8% of total gas reserves in the world, according to press release from PetroPars, the state-owned subsidiary that owns the remaining 19.9% share in the Phase 11 bloc.
In July 2017, Total and CNPC signed a 20-year contract to develop Phase 11 in what marked the first major international development project in the country since U.S. sanctions were lifted as part of the Joint Comprehensive Plan of Action (JCPOA), an international agreement intended to freeze Iran's nuclear program while allowing it to re-enter the international economic system. Yet U.S. President Donald Trump's withdrawal from the JCPOA threatened to leave the project in turmoil.
It remains unclear whether CNPC has secured a sanctions waiver regarding the project. The company has not yet made an official announcement regarding the takeover of Total's stake.
Contact reporter David Kirton (davidkirton@caixin.com)
You've accessed an article available only to subscribers
VIEW OPTIONS
Share this article
Open WeChat and scan the QR code