Tencent Music Soars on New York Debut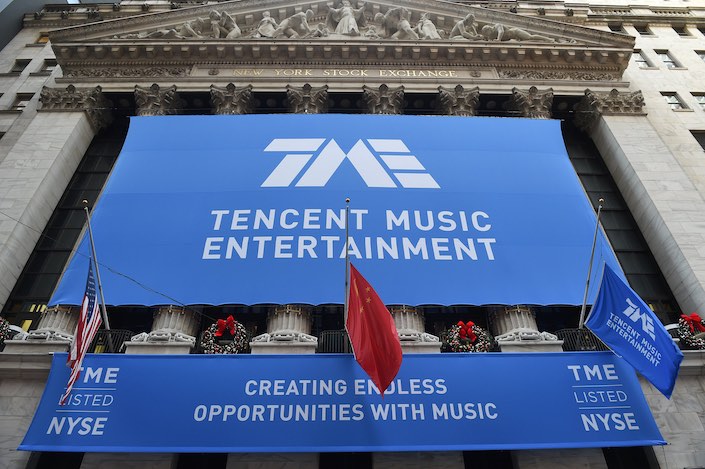 Tencent Music debuts on the New York Stock Exchange following $1.1 billion initial public offering. Photo: VCG
Shares of Tencent Music Entertainment Group, China's largest music streaming service, popped in their New York debut following the company's $1.1 billion initial public offering.
The music unit of tech giant Tencent Holdings opened at $14.10 Wednesday on the New York Stock Exchange, jumping nearly 9% from the IPO price of $13.
The opening share price translates to a market capitalization of $23 billion for Tencent Music, which is on a par with the $23.35 billion market value of Spotify, the world's largest music streamer. Tencent Music owns 2.5% of Spotify.
The stock surged as much as 13% to $14.66 in morning trade and finished its first day at $14.12.
Tencent Music said Tuesday it raised close to $1.1 billion after pricing its shares at $13 apiece, at the bottom of its stated range of $13 to $15.
The listing came amid escalating trade tensions between the United States and China that have rattled global stock markets. The highly anticipated IPO was originally scheduled for October but was postponed because of market volatility.
The lead underwriters of Tencent Music's IPO are Merrill Lynch, Deutsche Bank, Goldman Sachs Group, JPMorgan Chase and Morgan Stanley.
Tencent Music's parent company, Tencent, is the largest shareholder, with 59% of the shares and 61.5% of the voting rights. Pacific Alliance Group holds 9.6% of Tencent Music shares, and Spotify 8.9%.
Other shareholders include CIC Zhongcai Fund Management Co. Ltd. and Tencent Music's two co-presidents, Xie Zhenyu and Xie Guomin.
The company said in its prospectus that funds raised from the offering will mainly be used for investment in music content and developing products and services.
Tencent Music owns four popular music apps in China — streaming apps QQ Music, Kugou Music and Kuwo Music, and karaoke app WeSing. The company had more than 800 million unique monthly active users during the second quarter of 2018, according to the prospectus.
Tencent Music reported 13.59 billion yuan ($1.98 billion) of revenue for the first three quarters of 2018, an increase of nearly 84%. Meanwhile, net profit surged 244% to 2.71 billion yuan.
China's music industry and other entertainment services have boomed as consumers are increasingly willing to pay for content.
Still, only 3.6% of Tencent Music's users paid for its music downloading services. By comparison, nearly half of the 180 million subscribers to Spotify are paying customers. Instead, Tencent Music's major revenue sources are online entertainment services, such as online karaoke, gaming and sales of music-related merchandise.
During the first nine months of 2018, the online music services raked in 30% of the company's total revenue, while online entertainment services contributed 70%.
Tencent Music is among dozens of major Chinese tech companies that have gone public in recent years in New York. E-commerce giant Alibaba Group Holding Ltd. was by far the largest listing, raising a record $25 billion in 2014 on the NYSE.
You've accessed an article available only to subscribers
VIEW OPTIONS
Share this article
Open WeChat and scan the QR code