State Auditor Finds Over $40 Billion of Fiscal Violations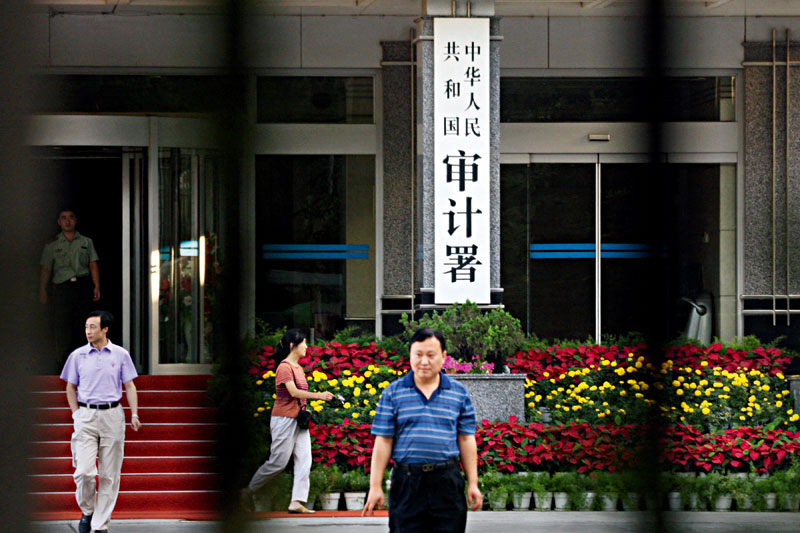 The National Audit Office said the total funds linked to fiscal breaches was estimated to be 295.6 billion yuan as of the end of October 2018. Photo: VCG
China's top auditor identified nearly 300 billion yuan ($43.5 billion) of fiscal violations in an audit of last year's budget spending and other fiscal matters.
In a report Monday to the Standing Committee of the National People's Congress, which is China's parliament, Hu Zejun, the head of the National Audit Office, said the total funds linked to fiscal breaches was estimated to be 295.6 billion yuan as of the end of October 2018.
Hu specified illegal lending by certain state-owned banks to the real estate sector and consumer loans used to buy housing and stocks.
After special inspections by the Ministry of Housing and Construction, the central bank and the China Banking and Insurance Regulatory Commission (CBIRC), financial institutions have rectified 22 billion yuan through loan recoveries and accounting adjustments and have made plans to collect an additional 14.1 billion yuan, Hu told the lawmakers.
Regulators have been tightening their scrutiny of capital sources for land purchases after some of the country's top lenders were found illicitly providing credit to property companies through loans and asset management products.
The CBIRC recently slapped fines of more than 150 million yuan on six Chinese banks for violations including investing funds gathered from wealth management products in property projects.
This was one of the largest penalties handed out this year by the regulator. The six banks include the country's fifth-largest lender, Bank of Communications, which was fined 7.4 million yuan; China Citic Bank, 22.8 million yuan; and China Zheshang Bank, 55.5 million yuan.
Earlier this year, Caixin exclusively exposed a shadow banking scheme by a branch of state-owned Industrial and Commercial Bank of China (ICBC).
ICBC's Xiangyang branch illegally raised 13.2 billion yuan by selling unregistered investment products to other banks from 2014 to 2016. Through a complicated series of transactions, the bank then funneled the money to local real estate developers.
Another problematic area is consumer loans, the use of which is relatively hard to trace. A regulatory crackdown since last year on online financial irregularities found that some investors used consumer loans to invest in stock and properties to skirt borrowing rules.
Research by Fujian-based brokerage Industrial Securities found a correlation between consumer loan growth and housing sales. Despite tightening controls on mortgage loans to rein in a property price surge, down payments made by Chinese home buyers reached 8.3 trillion yuan in 2017, up 3.4 trillion yuan, or 70%, from the previous year. During the same period, consumer borrowing nearly quadrupled to 3.9 trillion yuan, according to the report.
The rapid expansion of consumer loans hasn't been accompanied by an equivalent increase in household consumption, which indicates that the money was not used for consumption, the report said.
Since the beginning of this year, regulators have made repeated efforts to rein in household leverage and launched a crackdown on using consumer loans to invest in stock and property markets.
The audit report also highlighted violations in financing to industries with high pollution, high energy consumption and overcapacity. State-owned banks have rectified 149 billion yuan of such violations, through loan recovery and account adjustment, and have made plans to recover an additional 72.5 billion yuan.

Register to read this article for free.
Register
Share this article
Open WeChat and scan the QR code

Sep 18 06:20 PM

Sep 18 05:21 PM

Sep 18 05:08 PM

Sep 18 05:05 PM

Sep 18 02:58 PM

Sep 18 11:59 AM

Sep 18 09:29 AM

Sep 18 04:29 AM

Sep 17 06:38 PM

Sep 17 05:42 PM

Sep 17 04:58 PM

Sep 17 12:54 PM

Sep 17 09:28 AM

Sep 16 06:07 PM

Sep 16 03:44 PM
GALLERY