Migrant Children Face Barriers Accessing Health Care in Most Major Cities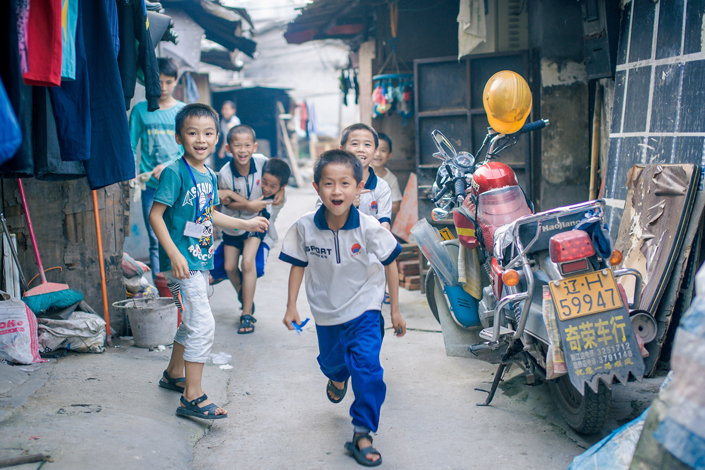 Migrant children play in an alley in Huizhou, Guangdong province, in 2014. Photo: VCG
The majority of Chinese cities erect barriers which make it difficult or impossible for migrant children to access public health care, a recent report shows.
Beijing and Guangzhou don't allow children without a local household registration to use public health insurance, while eight other cities, including Shanghai and Shenzhen, have strict requirements for access that many children of migrant workers often can't meet, according to a study of 18 major cities by Chinese non-governmental organization Cityobserve published last week.
The remaining eight cities, including Xiamen and Fuzhou in Fujian province, allow all schoolchildren public health insurance regardless of their parents' status.
The country's household registration, or "hukou," system determines where citizens can access public services, meaning people registered in wealthier cities are able to use better-funded public services than those registered in underdeveloped rural areas. It has also meant that children who follow their migrant parents into cities where jobs are better paid often find themselves locked out of better-equipped public schools — and out of the public health care system.
In one case cited by the study, only 31 children out of a class of 59 at a privately-run elementary school in the southern Chinese boomtown of Shenzhen qualified for the city's public health insurance, which requires children to have at least one parent who has enrolled in the health insurance system for at least one year, among other conditions.
Cityobserve's findings highlight a problem faced by a sizeable part of the Chinese population. One in five Chinese people didn't have a hukou from their current place of residence in 2017, according to National Bureau of Statistics data cited by the official Xinhua News Agency.
According to another report by Cityobserve earlier this month, there were over 200 million laborers in China last year who weren't covered by workers' public health insurance — the main form of public health insurance for working adults. What's more, China's migrant workers are increasingly bringing their children with them as they move. There were 10.14% more children of migrant workers seeking schooling in Chinese cities last year compared to in 2012, according to Cityobserve.
For a long time, most of China's local public services were supported by local government funds, and primarily covered people with local hukou, Lu Ming, a professor of economics at Shanghai Jiaotong University, told Caixin. Many cities have adjusted their systems to include non-hukou holders, but full coverage is still hard to achieve at the current stage, Lu said.
Cityobserve's report also pointed out how China's two-child policy, introduced in 2016 to replace its decades-old one-child policy, could make it harder for migrant children to access health care.
"With the implementation of the comprehensive two-child policy, there will be more older mothers among the migrant worker population," the report said. "When their children are in elementary and middle school, many of the parents will be close to or have reached 50 years of age, making it harder for them to enter the social insurance system."
Calls have intensified in recent years for China to change the way basic public services are funded by local and central governments, in order to redirect funding toward areas with high migrant populations, like the Yangtze River Delta and the Pearl River Delta.
"When (China) talks about economic development, it sees the migrant population in terms of the demographic dividend," Li Nan, one of the authors of the Cityobserve report, told Caixin. "But when talking about public services, migrants are seen as a burden."
Contact reporter Teng Jing Xuan (jingxuanteng@caixin.com)
You've accessed an article available only to subscribers
VIEW OPTIONS
Share this article
Open WeChat and scan the QR code