Foreign Airlines to Decide if They Want to Land in Beijing's New Airport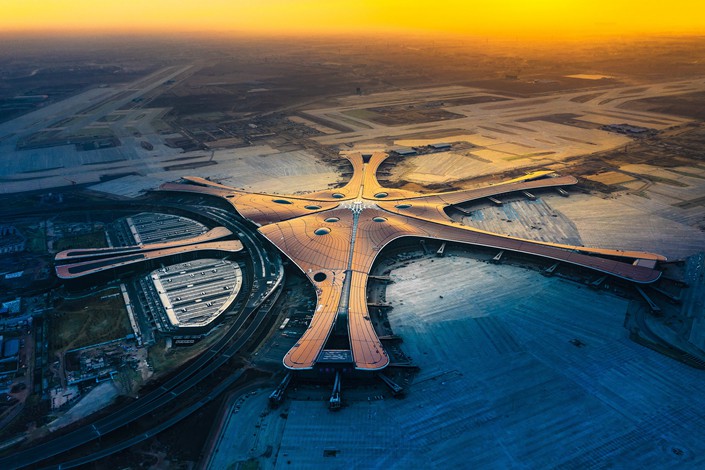 Beijing Daxing International Airport, currently under construction, is seen on Dec. 27. Photo: IC
International airlines will get to decide whether to hop over from Beijing's current international airport to the colossal new $12 billion one when it opens in late September, China's air regulator said, giving the market a say in the major airline realignment.
The seven-runway Daxing International Airport is being built 45 kilometers (28 miles) south of the capital's center, and passengers will be able to reach downtown Beijing in 18 minutes via a high-speed rail connect. While Beijing Capital International Airport was expanded with much fanfare before Beijing hosted the Summer Olympics in 2008, it is now packed to capacity with 100 million passengers a year. Daxing will help relieve the burden, with 72 million passengers annually expected by 2025.
Yet questions remain over how the airports will coordinate. On Wednesday, the Civil Aviation Administration moved to clarify the matter, publishing rules (link in Chinese) that said foreign carriers will be able to choose for themselves whether to stay in the Beijing Capital airport or move south to the new terminals of Daxing.
As for Chinese airlines, China's biggest state-owned giant, Air China, will stay in the Beijing Capital airport, where it has long been firmly entrenched. However, it will receive greater competition from contenders China Eastern Airlines, which is strong around China's financial center of Shanghai, and China Southern Airlines, which has become a major force connecting flights between China and Southeast Asia thanks to its key position in South China's Guangzhou Baiyun International Airport. Both China Eastern and China Southern will be based in the new airport.
Foreign airlines will likely coordinate based on their membership of the three major global alliances, said Jeff Yu, a specialist in transportation logistics at consultancy Roland Berger. Comprising several major international carriers, the alliances allow airlines to coordinate across international routes, cutting out inefficiencies. "But the point is that this is their own decision based on what's best for the market — they're not being forced by the government," he added.
While both airports will continue to be major international transit hubs, Beijing Capital is expected to be more a transit for flights across the wider Asia-Pacific region, while Daxing is intended to help boost the government's plans to turn the wider Beijing-Tianjin-Hebei region into an economic city cluster. The new airport lies almost midway between central Beijing and the Xiongan New Area, the government's planned new high-tech industrial hub intended to relieve pressure on the capital, and the airport will be used to drive its development.
A major airport infrastructure binge is expected after Daxing opens its doors, with the government aiming to double the number of airports in the country to 450 by 2035. Smaller airports across third- and fourth-tier cities are expected to be the focus. In November, the government announced a $3.07 billion plan to upgrade the airport in Urumqi, the capital of Northwest China's Xinjiang Uygur autonomous region, capitalizing on that airport's growing importance as a gateway for flights to Central Asia.
Contact reporter David Kirton (davidkirton@caixin.com)
You've accessed an article available only to subscribers
VIEW OPTIONS
Share this article
Open WeChat and scan the QR code