Hyundai Makes China Layoffs Amid Sluggish Sales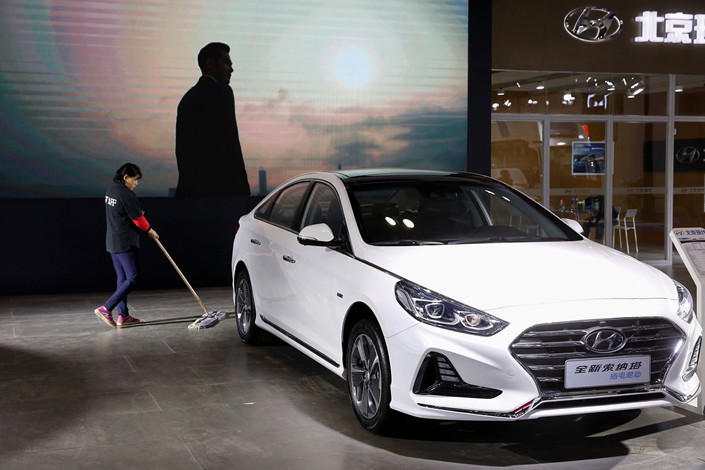 A Hyundai Motor Co. vehicle is displayed in Beijing during the Energy-Saving and New Energy Vehicles Exhibition on Oct. 18. Photo: VCG
* About 1,500 workers at Hyundai's three Beijing factories are expected to be idle during the first quarter of this year as the automaker cuts back production
* Workers were encouraged to accept buyout packages or face relocation to the automaker's two other factories outside Beijing
(Beijing) — Hyundai Motor Co. is laying off workers at its China joint venture, after the South Korean carmaker's sales failed to rebound last year from a sharp drop in 2017 that came during a diplomatic clash between Seoul and Beijing.
About 1,500 workers at Hyundai's three Beijing factories are expected to be idle during the first quarter of this year as the automaker cuts back production, according to an internal company document viewed by Caixin.
The workers were encouraged to accept buyout packages or face relocation to the automaker's two other factories outside the capital, several company sources told Caixin, declining to be named as they are not allowed to speak to the media. The internal company document also included several other options, such as transferring operations to Hyundai's Chinese joint-venture partner.
The layoffs come as sales sputter for the South Korean carmaker, once highly popular in the world's largest auto market. That weakness comes amid a broader downturn that saw car sales in China drop 2.8% last year, the country's first annual decline in 28 years.
Hyundai has also suffered from a lack of attractive models and from increased competition from Chinese brands.
Last year, Hyundai's China sales dropped 3.7% to 790,000 vehicles. The company's annual sales peaked at 1.14 million in 2016. But the figure plunged 28% in 2017 as some Chinese consumer boycotted Hyundai and other South Korean brands to show displeasure over Seoul's decision to deploy a U.S.-supplied anti-missile system. South Korea said the system offers protection against a North Korea missile attack, but Beijing said the system could be used for spying.
Beijing Hyundai Motor Co. Ltd. is a joint venture with Chinese partner BAIC Group, and operates five factories in China, including three in the capital. Its other two — one in Cangzhou, Hebei province, and one in Chongqing — began production in 2016 and 2017 respectively.
The three Beijing factories currently employ more than 6,000 workers, and the other two each more than 2,000, a Beijing Hyundai spokesperson said. But he denied that Hyundai is laying off employees. "This is a normal relocating process among workers across factories in China, with an aim to improve their skills," he said, adding the number of affected worker remains limited.
A former Beijing Hyundai worker who accepted a buyout told Caixin that one Beijing factory has ceased operations for now, but how long the stoppage will last remains unclear. He added that the factory had operated for only three days over the last 30.
For the fourth quarter, Hyundai reported a global net loss of 129.8 billion won ($114.94 million), its first quarterly net loss in eight years, largely due to continuing weakness in the China market.
Contact reporter Mo Yelin (yelinmo@caixin.com)
You've accessed an article available only to subscribers
VIEW OPTIONS
Share this article
Open WeChat and scan the QR code

Jul 20 05:12

Jul 20 05:06

Jul 19 18:23

Jul 19 18:00

Jul 19 17:50

Jul 19 15:55

Jul 19 15:25

Jul 19 14:50

Jul 19 10:56

Jul 19 10:21

Jul 19 05:00

Jul 19 05:08

Jul 19 05:34

Jul 18 17:12

Jul 18 17:40
GALLERY