CX Daily: Shandong's Industrial Debt Crisis Worsens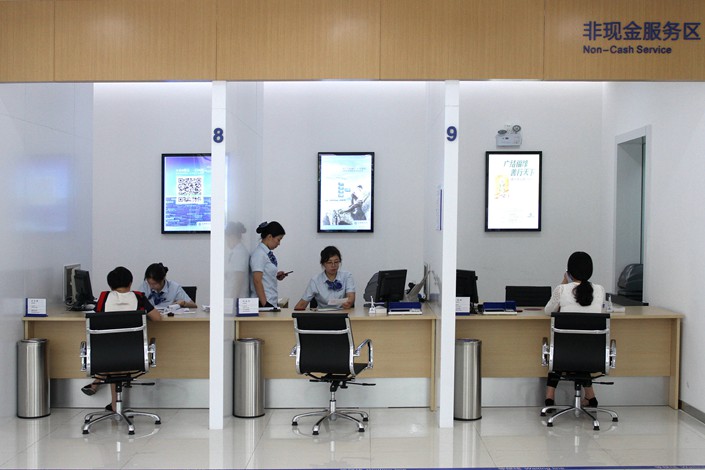 The central government has been strengthening measures to promote the local government bond market. Photo: VCG
Retail investors get first crack at buying local government bonds at banks
Later this month, Ningbo, Zhejiang province, plans to become the first city in China to sell local government bonds to retail investors at bank counters. It will offer a three-year special-purpose bond worth up to 840 million yuan ($125.1 million) to raise money to purchase land reserves, the city's fiscal authority said last week.
It will be the first time that banks will be allowed to offer local government bonds to retail investors via bank counters. Previously local governments could issue bonds only on the interbank market and stock exchanges.
The issuance will include as much as 300 million yuan in notes that will be offered to individual and small institutional investors in the province. The securities will be available at the bank counters of Industrial and Commercial Bank of China, China Construction Bank, Agricultural Bank of China and Bank of Ningbo, it said.
In a joint release in November, the People's Bank of China, the Ministry of Finance, and the China Banking and Insurance Regulatory Commission allowed outstanding local government bonds to be sold via bank counters, opening the door to the 18.3 trillion yuan market wider to retail investors. Beijing hopes that bringing retail investors into the local government bond market will boost trading in the secondary market, making the securities more liquid and allowing the market to price the bonds better
FINANCE & ECONOMICS
SNTON, a debt-laden materials maker in Shandong province, has filed for bankruptcy due to a liquidity crunch. Photo: VCG
Bankruptcy /
Shandong industrial debt crisis claims two more companies
Two more indebted Shandong province companies — steel-cord maker Shandong SNTON Group Co. Ltd. and local industrial conglomerate Eastar Holding Group Co. Ltd. —
entered
official bankruptcy proceedings Friday, court filings showed, as the region's industrial debt problem deepens after a series of corporate defaults.
Concerns over the health of companies in the East China province emerged last year after a number of local private enterprises were hit by a debt crisis. Many of the companies had provided mutual guarantees for each other's debts to obtain credit from banks, but that practice triggered a chain reaction of missed repayments on loans and bonds once companies faced cash-flow problems.
Real estate /
China's sinking land sales
Over the first two months of this year, property developers
acquired
15.5 million square meters (166.8 million square feet) of land, a 34.1% YOY drop, marking the steepest decline since early 2009, according to official data. Meanwhile, the value of land deals over the same period fell 13.1% YOY to 69 billion yuan ($10.3 billion), marking the biggest decline since 2015.
Analysis /
The yuan won't follow the yen's example
In 1985, the U.S., Japan, the U.K., France and West Germany agreed to coordinate in a devaluation of the dollar, in part to help the U.S. reduce its large trade deficit. After this agreement — known as the Plaza Accord — was put into effect, the Japanese yen appreciated sharply against the dollar, as did other major currencies. To limit the negative effect this would have on exports, the Japanese central bank loosened monetary policy. An asset bubble followed, and after it burst in the early 1990s, Japan's "Lost Decade" of economic stagnation began.
Though this may be an oversimplification, some who see parallels with the current U.S.-China trade friction worry that a new Plaza Accord could be forced on China, perhaps with similar consequences.
We think it's unlikely. In this week's Caixin View, we look at why there's little chance of the yuan strengthening further to anywhere near the degree that the yen did in the 1980s.
Planning ahead /
China securities regulator sets out ambitious 2019 work plan
China's securities regulator revealed Friday a work plan for this year that includes establishment of the new high-tech board, continued reform of the nation's capital markets, efforts to control the behavior of financial market entities and additional precautions against excessive financial risks.
This year, the regulator plans to draft, revise, or finalize a total of 28 financial market rules, 13 of which will focus on regulating the behavior of individuals and institutions in the domestic market, it said at a briefing. Among them are rules on ownership requirements for companies that buy and sell futures contracts as well as on equity crowdfunding platforms.
Quick hits /
China increases U.S. Teasury holdings for second straight month
Xi'an bucks national real estate trends as new-home prices keep rising
Opinion: The World Bank's role in the transformation of China's state sector: Part one
'Missiles' are shooting trouble into China's underground lending market
Shaanxi anti-corruption official under investigation — for corruption
BUSINESS & TECH
The first Boeing 737 Max is delivered to Air China at the Completion and Delivery Center in Zhoushan, Zhejiang province on Dec. 15. Photo: VCG
Boeing /
Deadly crashes unlikely to affect Boeing's China plant: Analysts
Sources have played down speculation about the future of Boeing Co.'s first overseas plant after the company's flagship model suffered its second deadly crash in just five months.
According to at least one industry observer, the U.S. company's Completion and Delivery Center, located 290 km (180 miles) southeast of Shanghai in Zhoushan, is chiefly of "symbolic" importance to Boeing as it tries to forge good relations with China, and has a limited role in the actual airplane manufacturing process.
Cars /
Luxury-car buyers might not see savings from slashed prices
On March 15, Mercedes-Benz said it would move to reduce the recommended retail prices of many of its models sold in China to give benefits resulting from VAT cuts to consumers. This prompted competitors BMW, Jaguar, Land Rover and Volvo to follow suit, with the prices of major luxury car models falling by about 2% on average, according to our calculations.
Yet analysts say manufacturers' recommended retail prices, which are decisions higher up in the supply chain, often give little indication of prices for car buyers because final sale prices end up being slashed anyway when competition is fierce.
Natural resources /
China became net importer of rare earths in 2018
China became a net importer of several rare earth elements last year for the first time since 1985, according to a report by an industry research firm. That may continue this year as the government reduced first-half mining and refining quotas from 2018.
China's domestic rare earth output declined in 2018 amid a crackdown on illegal mining. Meanwhile, imports of rare earth oxides by the world's top producer increased by 167% last year, according to the industry report from Adamas Intelligence. The research group estimated that China's illegal production fell by 50% last year, creating a vacuum that was filled by record imports from Myanmar and the U.S.
Gaming /
ByteDance ventures further into gaming market
ByteDance, the owner of popular video app Douyin, has acquired Shanghai-based gaming startup Mokun Technology, marking the tech company's latest foray into the gaming industry.
A wholly owned Beijing-based subsidiary of ByteDance recently bought a 100% stake of Mokun, we've learned. Other details of the transaction have not been disclosed, though Shenzhen-listed 37 Interactive Entertainment, Mokun's former parent company, confirmed the deal to us.
New media /
WeChat account valued at 2 billion yuan snapped up by education firm
Tencent-backed WeChat is not just a social networking app — it's also a huge content production and circulation ecosystem that creates new business models and wealth for content creators.
Shenzhen-listed Qtone Education Group, an online education firm, announced Sunday it would make a share-for-share acquisition of "Wu Xiaobo Channel," a WeChat account focusing on business analysis and opinion articles with a valuation of 2 billion yuan and more than 2.2 million followers.
Thanks for reading. If you haven't already, click here to sign up.

Register to read this article for free.
Register
Share this article
Open WeChat and scan the QR code

Jun 04 17:45

Jun 04 17:19

Jun 04 16:26

Jun 04 12:38

Jun 03 18:07

Jun 03 16:48

Jun 03 13:17

Jun 03 12:25

Jun 03 06:45

Jun 02 16:29

Jun 02 14:45

Jun 02 12:04

Jun 02 05:38

Jun 02 05:35

Jun 01 17:41
GALLERY