Nonperforming Loans Soar After Banks Ordered to Come Clean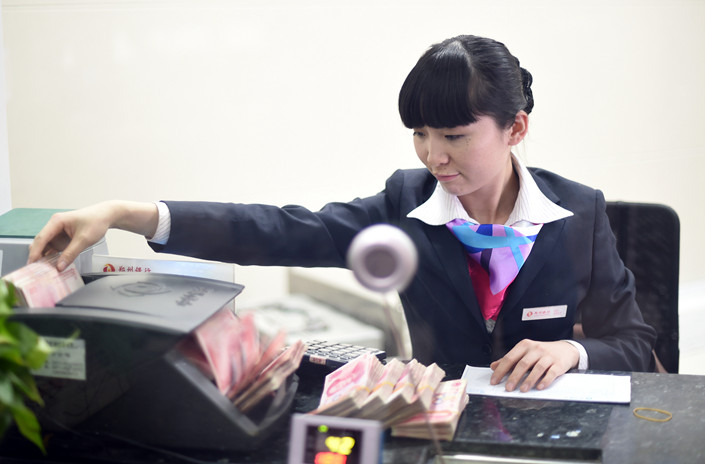 Of the 42 banks in a Chinese province with elevated levels of nonperforming loans, a dozen reported an NPL ratio above 20%, the National Audit Office found.
A growing number of small Chinese banks have seen a spike in nonperforming loans (NPLs) since the banking regulator tightened requirements for reporting them.
At the end of last year, 42 commercial banks in Central China's Henan province — nearly half of the province's commercial banks — saw their NPL ratios cross the 5% warning line set by the China Banking and Insurance Regulatory Commission (CBIRC), according to an official report released on Tuesday.
Of the 42 banks, a dozen reported an NPL ratio above 20%, including "several" with a ratio higher than 40%, the National Audit Office said in its latest quarterly audit report (link in Chinese), which highlighted the problem of high NPL ratios, though only for Henan. The office is responsible for examining the books of government agencies, public institutions and state-owned financial firms.
These NPL ratios, which are well above the national average of about 2%, highlight the impact of tighter regulations and have caught market attention as risky loans could easily turn sour amid an economic slowdown.
Last year, the CBIRC gave city and rural commercial banks until the end of 2019 to classify all loans more than 90 days overdue as NPLs, Caixin previously reported. Some of its local branches required banks to comply even earlier. The moves have forced lenders to come clean about the extent of their risky loans.
Previous regulations hadn't specified the maximum time for a bank to classify loans as nonperforming after they became overdue. Rural banks are widely believed to have a loose classification for NPLs.
The National Audit Office named only one lender — Henan Junxian Rural Commercial Bank Co. Ltd. — among the 42 commercial banks with an NPL ratio above 5%. At the end of June, Henan had 93 commercial banks, including 88 rural ones and five city ones, according to Caixin's calculation based on CBIRC data (link in Chinese).
"The banks' high NPL ratios amid tighter regulations don't indicate a sudden drop in their asset quality or a sudden economic downturn," Nicholas Zhu, a vice president at Moody's Investors Service, told Caixin in a phone interview. "The number of banks that have such a problem remains in question," he said, adding that NPL ratios are more telling about what banks' asset quality will look like in the future.
China has more than 1,300 rural commercial banks and 134 city commercial banks, official data show.
Response in question
Since the second half of last year, more and more small rural banks, especially those in undeveloped inland provinces, have reported a sharp rise in their NPL ratios. Worse still, such a regulatory requirement has dampened their profits as the surfacing of more risky loans forces them to set aside more funds as a cushion against loans going bad.
"It's noteworthy how regulators will deal with these problems," Zhu said.
"Normally, a bank with too many nonperforming loans can seek help from asset management companies that can handle their bad loans," Harry Hu, a banking analyst with S&P Global Ratings, told Caixin. "It can also borrow money from other lenders to get through short-term difficulties, or ask a local government to replenish its capital."
No bank in China has been allowed to fail in recent years. Although the CBIRC could force some high-risk financial institutions out of the market by letting them go bankrupt, it will chiefly guide them into mergers and restructuring to defuse risks, Xiao Yuanqi, the CBIRC's chief risk officer, said at a press briefing in February.
Caixin previously learned that the CBIRC and its local branches have taken over some risky financial institutions — including rural commercial banks — and have guided some into restructuring.
NPL ratios continued to rise among small rural commercial banks in the fourth quarter of last year, partly due to the tighter regulations, Moody's analysts said in a March report, adding that the NPL ratios of big state-owned commercial banks edged down. "Asset quality has diverged further," they said.
On average, the NPL ratio of Chinese commercial banks stood at 1.83% at the end of December, down slightly from 1.87% a quarter earlier, CBIRC data show. The amount of their outstanding NPLs dipped to 2.03 trillion yuan ($295.8 billion), 6.8 billion yuan less than that at the end of September.
Wu Hongyuran contributed to this report.
Contact reporter Lin Jinbing (jinbinglin@caixin.com)
You've accessed an article available only to subscribers
VIEW OPTIONS
Share this article
Open WeChat and scan the QR code