Beijing Halves Electricity Bill Surcharge to Zap Flagging Economy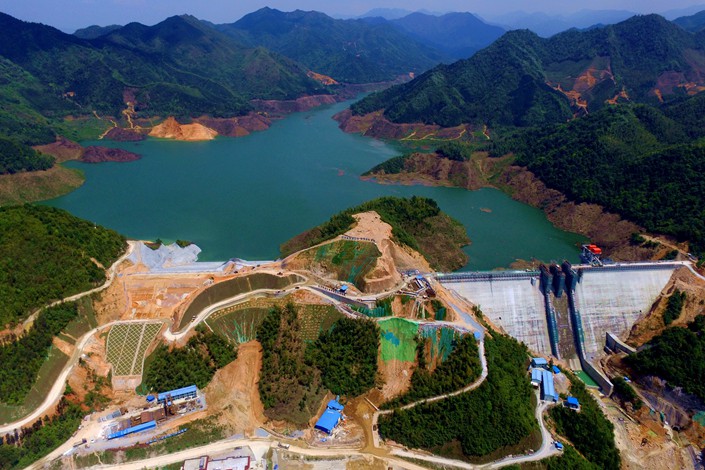 The main project of the Mangshan Reservoir in Chenzhou, Hunan province, on Sunday. Photo: VCG
* The surcharge was already cut in 2017 and 2018, both times by 25%. The total deduction in the last two years could be over 70% after the latest 50% cut
* Such surcharges are expected to be phased out as Beijing continues to push forward measures to downsize energy costs
(Beijing) — Beijing has proposed another measure to lessen the tax burden on companies and households amid ongoing economic headwinds. This time, electricity bills are getting a little lighter.
The State Council, China's cabinet, said last week that the country would implement a series of incentives aimed at boosting the country's slowing economy. As part of the incentive package, an electricity surcharge paid to the Fund for the Construction of Major National Water Conservancy Projects will be cut in half starting from July 1.
The latest incentives followed the announcement last month in the annual government work report that Beijing would cut taxes and fees by nearly 2 trillion yuan ($298.31 billion).
The fund has been collecting cash from electricity bills since it was set up in 1993 to support the construction of the Three Gorges Dam. Since 2010 it has been used to support major waterworks projects across the country.
It does this through a regionally set surcharge attached to electricity bills, currently up to 0.01491 yuan per kilowatt-hour (kWh) of electricity. The exact rate is set by each region, apart from Tibet, which is exempt. These regional rates will be halved.
The national average price of electricity in 2017 was 0.654 yuan per kWh, according to the State Grid.
The surcharge was already cut in 2017 and 2018, both times by 25%. The total deduction in the last two years could be over 70% after the latest 50% cut, according to Caixin's calculation. The fund will stop collecting revenue by the end of this year, according to guidelines published in 2009.
Around 5% of electricity bills were composed of this and other surcharges in 2017, according to the State Grid, which did not break down the proportion of bills made up by the waterways levy.
These extra fees added to bills are expected to gradually drop as Beijing continues to push forward measures to downsize energy costs.
General electricity prices fell by around 10% last year, largely thanks to the easing of bottlenecks in power sales between provinces, together with efforts to introduce a more comprehensive mix of market mechanisms for electricity pricing. Electricity from renewables has also become more competitive thanks to the slackening of subsidies and the development of more efficient equipment. The government is targeting a further 10% reduction in prices in 2019.
Caixin has learned that several regions including Beijing and Shanghai will cut industrial and commercial electricity rates from May 1.
At the same State Council meeting at which the waterways levy cut was announced, it was revealed that the country would cut infrastructure taxes paid by airlines.
Contact reporter Isabelle Li (liyi@caixin.com)
You've accessed an article available only to subscribers
VIEW OPTIONS
Share this article
Open WeChat and scan the QR code