In Depth: Xiangshui Chemical Factory's Recipe for Disaster (Part 1)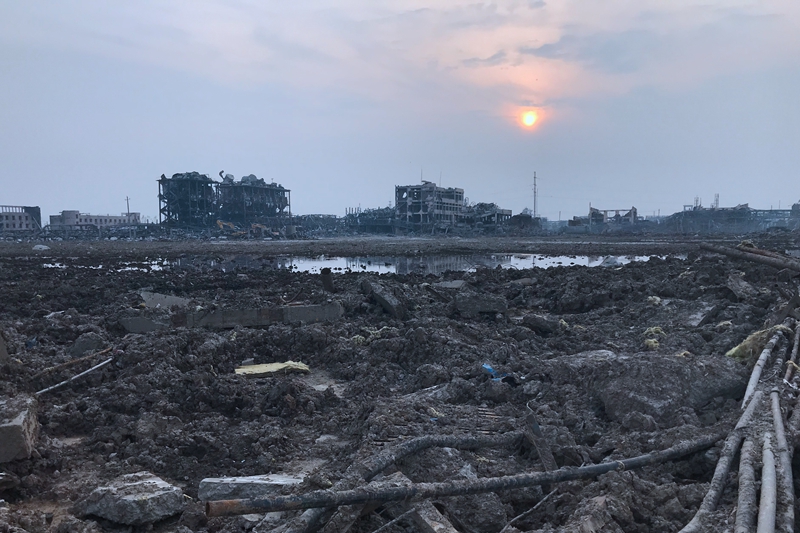 The Xiangshui explosion left a crater measuring 100 meters in diameter. When Caixin reporters visited the site at the end of April, the crater was still filled with a pungent mix of black, green and red liquids.Photo: Yang Rui/Caixin
Editor's note: A devastating chemical blast in eastern China's Jiangsu province killed dozens of people in March. Weeks later, local communities and businesses are struggling to pick up the pieces while the authorities push to relocate the area's chemical industry.
In the first of this two-part series, we uncover how a deadly mix of safety violations and cost-cutting layoffs pushed one factory toward disaster. As some of the people who spoke with Caixin asked not to be named because they feared repercussions, pseudonyms are used to identify them. To read part two, click here.
Ironically, the Jiangsu Tianjiayi Chemicals factory was about to undergo a safety inspection the day an explosion destroyed the fertilizer and pesticide plant.
That morning, Xiangshui county in eastern China's coastal Jiangsu province had gathered managers from the county's major businesses for a safety training session. Zhang Qinyue, general manager of Tianjiayi, was among the attendees.
At roughly the same time, workers at Tianjiayi's factories were informed that an inspection would take place in the afternoon. Several workers told Caixin that the "smellier" workshops, including the hydrogen production workshop, were temporarily shut down in preparation for the inspection. The liquid waste treatment area was also prepared.
"We mixed water meant for putting out fires into the sewage in the secondary sedimentation tank to meet liquid waste treatment target levels, and used brushes to scrub clean the rainwater drains that we secretly dumped liquid waste into at ordinary times," one worker said. At this point, it isn't clear whether this action contributed to the subsequent fire and explosion.
Zhang returned from the lecture to the industrial park at 2 p.m., accompanied by several inspectors sent by the county. They gathered in a conference room in Tianjiayi's office building, intending to perform the inspection after a brief meeting.
At around 2:30 p.m., Zhou Hua, the pseudonym of a Tianjiayi employee who was on a third-floor workshop at the time, looked out the window and saw that a building used for holding solid waste roughly 200 meters away was on fire. Zhou rushed downstairs, where he told colleagues resting in the lounge to run.
The workers were only a few seconds away from the building when a loud blast knocked Zhou to the ground. One colleague helped Zhou up, and they continued to run. Zhou's forehead and lower lip were bleeding, and there was a mysterious liquid on the ground that irritated the skin on his feet.
Chen Guowei, another Tianjiayi employee who asked to be identified using a pseudonym, was in the distillation workshop when over his walkie talkie he heard someone shouting about a fire. Less than three seconds later, "there was a noise, and I was suddenly sent flying as though I had been picked up by the wind," Chen said. A steel pipe hit his leg, injuring it.
Thirty seconds after the first blast, Chen heard a second, louder explosion. Then, the natural gas pipes that ran through the factory began to make thumping noises. Chen limped out of the factory.
"After the first blast, a colleague who was standing next to me fell down and stopped moving," Chen said. "Later, when people from outside came in looking for survivors, they found him already dead, with his face covered with blood."
The explosion left a crater measuring 100 meters in diameter. When Caixin reporters visited the site at the end of April, the crater was still filled with a pungent mix of black, green and red liquids.
According to official reports as of March 25, 78 people were killed in the incident in Xiangshui on March 21. The official death toll has not been updated since.
Repeated warnings
Tianjiayi had been fined a total of 1.72 million yuan ($250,000) over the past three years by the Xiangshui Environmental Protection Bureau for a host of violations including improper solid chemical waste management and failure to adequately prevent water pollution, documents obtained by Caixin show.
An official investigation into the cause of the explosion is still underway. But the size and nature of the crater mean it's very likely that the blast was caused when "at least hundreds of tons, or even thousands of tons" of solid chemicals ignited, one industry source told Caixin. Meanwhile, sources close to the official investigation team said security footage suggested that one of the solid waste warehouses had caught fire minutes before the blast.
Wang Ye (also a pseudonym), a waste disposal worker at Tianjiayi, said the company had two solid chemical waste storehouses. The older, white-roofed storehouse was found a few years ago by environmental inspectors to have substandard construction.
Tianjiayi built a new, blue-roofed storehouse around 2016, Wang said. It was equipped with cranes for lifting heavy loads and a floor that had been treated to prevent seepage. Nevertheless, the old storehouse remained in use for surplus material from the new storehouse.
The river next to Tianjiayi's factory was filled with dead fish and debris when Caixin visited on April 13. Photo: Yang Rui/Caixin
A more recent inspection found that Tianjiayi had stockpiled an unacceptable volume of hazardous waste in its storehouses. Inspectors told Tianjiayi to dispose of the materials by Dec. 31, 2018 — but the company did not comply, Caixin learned.
One local welder who had been brought in for repairs on the old storehouse told Caixin he had seen the building stacked at least 2 meters high with bags of waste at the end of February.
Gas pipes have also been flagged as a possible cause for the blast. The factory used to burn diesel and coal to power its furnaces and incinerators, employees told Caixin. But toward the end of 2018, Tianjiayi began to switch to relatively cleaner natural gas as part of environmental protection upgrades.
Workers familiar with the layout of Tianjiayi's gas pipes showed Caixin a hand-drawn map depicting three main pipes — including one connecting to the solid waste storehouses. Natural gas experts consulted by Caixin said that, based on the map and satellite images from before and after the explosion, there had not been a safe distance between the factory's natural gas substation and the nearby structures.
Multiple sources also said they had been worried about the plant's lack of experienced staff with adequate knowledge of safety precautions. One engineer who previously worked with Tianjiayi told Caixin that he noticed high personnel turnover at the plant and saw a "new face" every time he visited. The plant terminated a number of employees shortly after the Lunar New Year holidays this year, Tianjiayi personnel told Caixin.
"Originally, there should have been two people in each position, working 12-hour shifts," the source said. "Now, only one person was left in each position, working eight hours per shift in accordance to the labor law." Temporary contractors were brought in to handle tasks including cleaning and waste disposal after the job cuts.
Work-safety authorities also found Tianjiayi's personnel to be poorly trained. An inspection team sent by the former State Administration of Work Safety in early 2018 found that workers tested on the spot did not appear to clearly understand multiple safety measures.
Inspectors noted 13 specific safety hazards at the time, including the absence of emergency shut-off valves on Tianjiayi's highly flammable benzene and methanol tanks. It's unclear whether the hazards had been resolved by the time of the blast.
Zhang Qinyue's 'luck'
Tianjiayi's general manager Zhang was still in the conference room with the inspectors when the explosion took place 450 meters away. Windows shattered, blinding one inspector and fracturing Zhang's left hand.
The blast broke a lucky streak Zhang had experienced for the past year.
Zhang had held many positions at factories owned by Jiangsu Nijiaxiang Group, Tianjiayi's parent company, over the past few decades. In November 2014, the local Environmental Protection Bureau found more than 120 tons of chemical waste illegally buried in two locations in Jiangyin City in southern Jiangsu.
Zhang was found guilty of causing pollution by overseeing the illegal dumping of hazardous waste in January 2017 and sentenced to 18 months' imprisonment, including time already served. After he was released on probation before the end of 2017, he was transferred back to Tianjiayi, which was struggling at the time because of the falling price of m-phenylenediamine, a compound used in fibers, resins and dyes produced by the factory.
Zhang's return coincided with a rebound in m-phenylenediamine prices, Pu Qiang, a chemical industry analyst from Sinolink Securities, told Caixin. Local environment authorities carried out a series of inspections the previous year, resulting in factory shutdowns and a drop in capacity, causing the industry's profitability to gradually recover, Pu said.
Under Zhang, Tianjiayi doubled down on production. The plant even violated a local freeze on chemical production after state broadcaster CCTV reported on pollution problems in northern Jiangsu's Guanyun, Guannan and Xiangshui counties. Tianjiayi resumed production for 20 days under the guise of clearing out semi-finished products, Jin Tongren (a pseudonym), who oversaw a workshop at the factory, told Caixin.
Zhang appeared to be the "lucky charm" who promised to restore profits for Tianjiayi's shareholders, sources told Caixin. That came to an abrupt halt March 21.
After the blast, 26 suspects were detained by public security authorities, including nine who "bear major responsibility for Tianjiayi and its controlling shareholder Nijiaxiang Group," according to official announcements in April that didn't name the suspects.
Next in part 2: Chemical factories were once seen in Xiangshui as welcome contributors to the lagging local economy. But what was the true cost of the growth they brought?
Contact reporter Teng Jing Xuan (jingxuanteng@caixin.com)
You've accessed an article available only to subscribers
VIEW OPTIONS
Share this article
Open WeChat and scan the QR code

China Stories: The Rural Hardship Behind the Mine Murders That Shocked China