Qinghai SOE Downgraded Amid Continued Debt Woes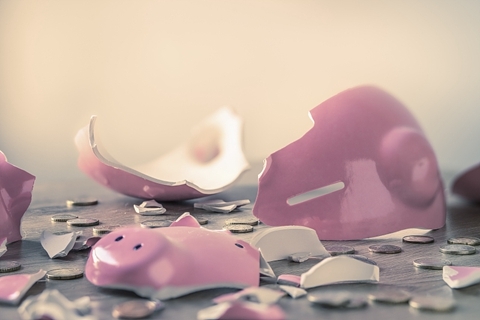 Qinghai's financially strapped provincial government is increasingly reluctant to bail out state companies hit by debt crisis. Photo: VCG
A provincial government-backed metal producer that defaulted on bonds in February was downgraded by a domestic credit-rating company in the latest development dampening confidence in state-backed borrowers.
Qinghai Provincial Investment Group, an aluminum and coal producer based in the vast northwest Qinghai province, was downgraded to BBB with a negative outlook by CSCI Pengyuan Credit Rating Co. reflecting uncertainties of its funding access and business operations.
The state-owned enterprise is struggling to manage massive debt even as the financially strapped provincial government faces its own debt troubles.
By the end of 2018, Qinghai Provincial Investment had debts totaling 45.9 billion yuan ($6.69 billion), including 2.8 billion yuan on which it already defaulted. Data at the end of March showed the company had repayment obligation of 19.6 billion yuan this year, including borrowings from, trust, trade financing and other financing channels.
Meanwhile, Qinghai — one of China's poorest provinces, located in the country's interior next to Tibet — has been rattled by a high debt ratio. Lianxun Securities estimated that Qinghai's debt-to-GDP ratio could reach as high as 122% if hidden debts are taken into account, ranking seventh among all 31 Chinese provinces and regions.
Those circumstances make the provincial government increasingly reluctant to offer a bailout to the metal producer, something investors have long counted on.
"People buy its debt because of government support," a bond investor said.
Qinghai Provincial Investment rattled the bond market in February by defaulting on a domestically issued bond and an overseas bond. Its delayed interest payment on $300 million of offshore U.S. dollar-denominated bonds was the first such default in more than 20 years.
A bond manager holding debt issued by Qinghai Provincial Investment said the company is working with other parties to seek a debt restructuring. It is unclear whether further defaults will occur, the manager said.
As of Monday, Qinghai Provincial Investment had two outstanding domestic bonds worth 1 billion yuan and three offshore bonds of $850 million.
Founded in 1993, Qinghai Provincial Investment is one of two main enterprises of the Qinghai provincial government. Its persisting debt crisis reflects the government's changing attitude toward the assumption that it will offer implicit guarantees to avert defaults of state-owned enterprises.
CSCI Pengyuan said in its credit report that Qinghai Provincial Investment's cash access is limited as some of its assets were frozen for lawsuits. Meanwhile, the company's 2018 net loss of more than 1 billion yuan, partly caused by exchange-rate fluctuations, further worsened the company's financials, the rating company said.
Earlier, Qinghai Provincial Investment's auditor Wuhan Gongxi issued a disclaimer of opinion for the 2018 annual report — meaning auditors could not confidently assess the company's financial state.
CSCI Pengyuan said the Qinghai government set up a taskforce to assist Qinghai Provincial Investment with a debt relief plan. As the leading creditor, China Development Bank has led a group of banks to extend the company's loan repayment deadline. By the end of May, three larger rivals including central government-owned Aluminum Corp. of China Ltd. were appointed to oversee operations of several subsidiaries of Qinghai Provincial Investment.
Caixin learned that central government-owned State Power Investment Corp. earlier this year discussed with the Qinghai government a potential investment into Qinghai Provincial Investment, but the two failed to reach an agreement.
In 2018, Qinghai province's fiscal revenue totaled 205.4 billion yuan while its outstanding government debts reached 176.3 billion yuan by the end of the year. The provincial government has obligations to repay more than 19 billion yuan of debt this year, according to CSC Financial Co.
Contact reporter Han Wei (weihan@caixin.com)
You've accessed an article available only to subscribers
VIEW OPTIONS
Share this article
Open WeChat and scan the QR code