China Boosts Pressure on Cities to Ease Car Ownership Restrictions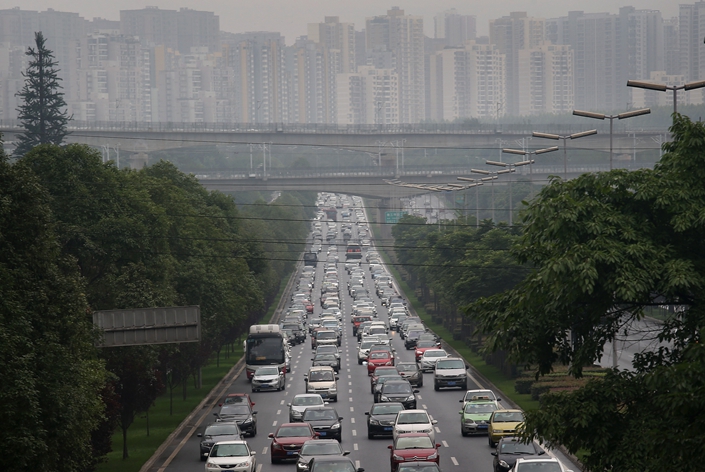 So far only Guangzhou and Shenzhen have taken specific steps to issue more license plates. Photo: VCG
China's State Council has called on major city governments to relax or even cancel restrictions designed to limit car sales, aiming to boost a struggling auto market now entering its second year of contraction.
Car sales have been a major driver for the nation's economic expansion, posting double-digit growth for much of the last decade to make China the world's largest auto market. But over that period many of the nation's largest cities, including Beijing, Shanghai, Shenzhen and Guangzhou, have restricted their issuance of new license plates to keep congestion and pollution in check.
The State Council's new call to relax or even cancel those restriction promises to meet with resistance from many of those cities, a source close to policymakers told Caixin.
The latest call was contained in a document dated Aug. 16 and published on Tuesday on the website of the State Council, China's cabinet. The document was more broadly focused on steps that could stimulate consumption as China's economy slows sharply. The document pointed out that efforts to boost demand are facing bottlenecks and other shortcomings.
The State Council's call comes two months after the similarly powerful National Development and Reform Commission (NDRC), China's state planner, issued its own document saying that cities shouldn't introduce new rules to restrict car sales, and ones with such restrictions should shift to encouraging more car use.
So far only the southern cities of Guangzhou and Shenzhen, both in affluent Guangdong province, have answered the central government's call by taking specific steps to issue more license plates. In June, Guangzhou increased its quota for small- and medium-sized car license plates by 100,000 for the period from June this year to the end of 2020. The same day Shenzhen said it would increase its quota for small car license plates to 120,000 in 2019 and 2020 from a previous 80,000 each year.
Despite the central government's urging, at least some cities are hesitant on following through with such relaxation. A source close to the Beijing municipal government told Caixin earlier this month that congestion concerns mean it is "unrealistic" for the Chinese capital to drop its quota on the number of new license plates for new-energy vehicles it hands outs to residents.
In the past, China turned to tax reductions to boost car sales when it wanted to stimulate the market. But such tax cuts don't really create new demand, Shi Jianhua, deputy secretary general of the China Association of Automobile Manufacturers (CAAM) has said previously. He said such cuts were more likely to just prompt people who were already thinking of buying cars to do so earlier, and didn't recommend using the tactic again.
China car sales have fallen for 13 consecutive months now, with no signs of a near-term turnaround. CAAM estimates total car sales in China will drop 5% this year, while some car-component makers say their own declines could approach 10%.
Contact reporter Yang Ge (geyang@caixin.com; twitter: @youngchinabiz)
You've accessed an article available only to subscribers
VIEW OPTIONS
Share this article
Open WeChat and scan the QR code

Caixin-Sinica Business Brief: TikTok CEO Pushes Back on Security Concerns