Excess Supply, Rising Tech Costs Take Shine Off Screen-Maker Profits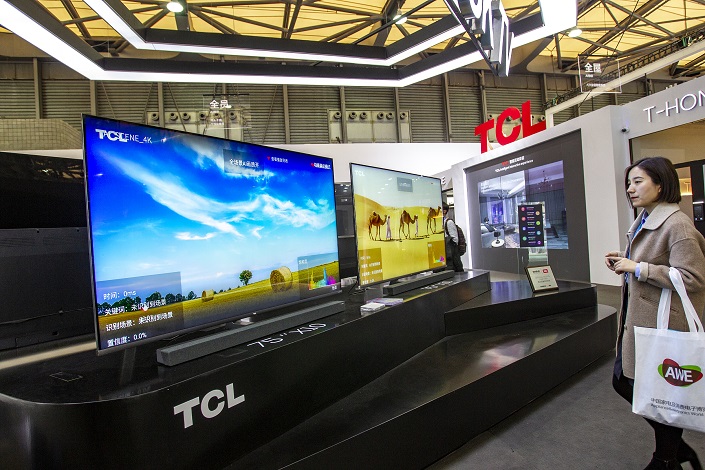 Photo: VCG
China's three major display panel manufacturers reported decreased net profit despite revenue growth during the first half of the year, exacerbating the industry's concerns over excess supply and the pressure to constantly push out new generations of products.
Electronics-maker TCL's display panel unit reported 33.5% year-on-year growth in operating revenue to 16.3 billion yuan ($2.3 billion) in the first half, but its net profit declined 7.83% to 1 billion yuan, according to an early filing. TCL chairman Li Dongsheng said there was excess supply of general semiconductor components globally, and that the industry's losses might widen.
Similar results were reported by Shenzhen-based display panel manufacturers Tianma Microelectronics Co. Ltd. and BOE Technology Group Co. Ltd. — the latter of which is rumored to be the new supplier of iPhone screens.
During the first half of the year, Tianma booked a 4.4% revenue increase to 14.6 billion yuan, and a 17.7% decline in net profit to 643.6 million.
Meanwhile, BOE's operating revenue increased 26.6% to 55 billion yuan in the first half from the same period last year, but its net profit dropped 43.9% to 1.7 billion yuan.
Intense competition between display-makers has squeezed profit margins, according to one source with decades of experience in the electronics industry, who asked to be identified only by his surname Huang. As a result, many firms are now prioritizing survival over development, he said.
Rapid technological developments and a changing market are expected to continue to crowd out smaller players, further cutting supply, Huang said.
Contact reporter Zhao Runhua (runhuazhao@caixin.com)