Update: Hong Kong Shares Soar on Withdrawal of Controversial Bill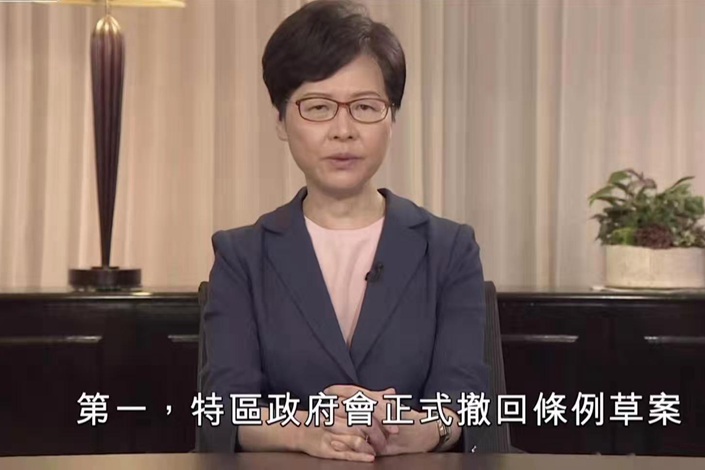 Hong Kong Chief Executive Carrie Lam made the announcement in a prerecorded televised address after the markets closed Wednesday. Photo: Now TV
Hong Kong stocks rallied nearly 4% on Wednesday after news broke that the city's leader would formally withdraw controversial legislation that had sparked three months of unrest.
The Hang Seng index surged 3.9% to 26,523.23 on news reports that Hong Kong Chief Executive Carrie Lam was going to withdraw legislation that would have allowed suspects wanted on the Chinese mainland to be extradited from the city.
Lam made the announcement in a prerecorded televised address after the markets closed. "The government will formally withdraw the bill in order to fully eliminate the public's doubts," Lam said.
Speaking in Cantonese, Lam also pledged to start a "direct dialogue" with protesters to "address the discontent in society."
"The discontentment extends far beyond the Bill," she said. "It covers political, economic and social issues, including the oft-mentioned problems relating to housing and land supply, income distribution, social justice and mobility and opportunities for our young people. It also reflects the desire for the public to be fully engaged in government decision-making."
At the same time, the latest reading of the IHS Markit Hong Kong purchasing managers' index (PMI) sank to 40.8 in August from 43.8 in the previous month, the lowest reading in over a decade, reflecting concerns that Hong Kong was on the verge of recession.
Concerns have emerged over the city's dim economic outlook. The IHS Markit survey, which covers the manufacturing, construction, wholesale, retail and services sectors, showed that new business orders shrank in August with lower demand from the mainland. Nearly half of the survey's respondents suggested that trade frictions between China and the U.S., the yuan's depreciation against the U.S. dollar and the protests were the main reasons for the shrinking new orders.
"The latest PMI data reveal a Hong Kong economy flirting with recession in the third quarter as business activity is increasingly aggravated by protest-related paralysis," Bernard Aw, principal economist at IHS Markit, said in a note Wednesday.
"The rates of decline in output, new orders and export sales accelerated sharply in August, with the only other time that the PMI survey has recorded a steeper downturn, in its more than two decades of history, been during the SARS (severe acute respiratory syndrome) epidemic in 2003 and the global financial crisis in 2008-2009," Aw noted.
Government data released last month showed that in the second quarter, the city's economy grew 0.5% from the same period last year — its lowest growth rate in nearly a decade.
Compared with the previous quarter, Hong Kong's GDP contracted 0.4%. If the city's GDP shrinks again on a quarter-on-quarter basis in the third quarter, Hong Kong will enter a technical recession, its financial secretary said.
Doug Young contributed to the report.
Contact reporter Timmy Shen (hongmingshen@caixin.com, Twitter: @timmyhmshen)
You've accessed an article available only to subscribers
VIEW OPTIONS
Share this article
Open WeChat and scan the QR code