Opinion: China Could Have Difficulty Holding Its Tough Line on Real Estate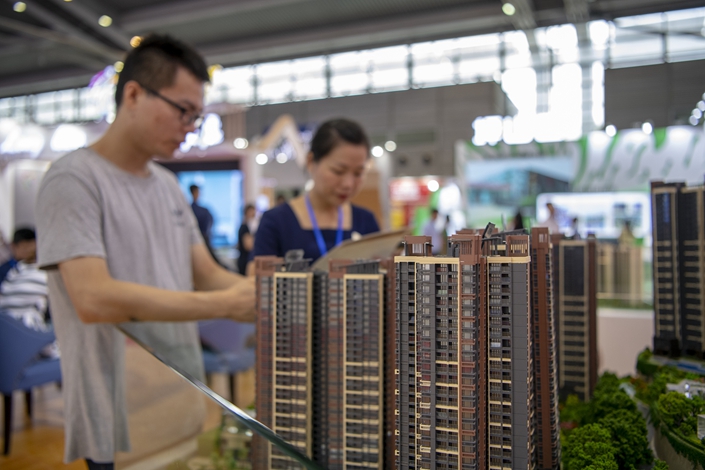 A real estate expo in Shenzhen, Guangdong province, last month. Photo: VCG
Real estate and infrastructure investment are two traditional engines of China's economy. However, since the beginning of this year, regulations on the property sector have become stricter despite rising downward pressure on economic growth. That's confusing.
Is it possible to stabilize economic growth without support from the property sector? And will property regulations be further tightened? These questions are crucial to judging the direction of China's economy.
Since the first quarter of this year, growth in major cities' home prices has bottomed out in month-on-month terms. Although this round of home-price increases is moderate compared with previous rounds, it has become a great concern to policymakers.
The current tightening controls over real estate markets indicate that policymakers have become less tolerant of high home prices amid high debt levels, and that they are worried about excessive resources flowing into the property sector. However, these issues cannot necessarily be entirely addressed by short-term policies, as behind them are deep structural problems, and the lack of a long-term regulatory mechanism for the property sector.
From a historical perspective, an economic recovery at times when there was a drop in external demand usually relied on the "dual engines" of infrastructure investment and real estate. In terms of benefiting relevant industrial chains, real estate is not inferior to — and can even outpace — infrastructure investment. Presently, infrastructure investment has been constrained by multiple factors including high debt levels. Meanwhile, it is not easy to underpin economic growth to much of an extent only through monetary and credit expansion.
Read more
In Depth: The Inconvenient Truth About China's Investment Funk
Looking ahead, even if growth in industrial output in September rebounds to the relatively high level seen in June, there remains a high chance of GDP growth dipping below 6% in this year's third quarter.
With economic growth approaching the lowest level that policymakers will tolerate, local government revenues under pressure from subdued land sales, and slower growth in home prices, it may be difficult for authorities to maintain the current trend of tightening control over the property market.
Admittedly, policymakers have not used real estate as a tool to boost the economy in the latest round of economic stimulus, but that doesn't mean they will allow it to depress economic growth.
Wu Ge is chief economist of Changjiang Securities Co. Ltd. Gao Li is a researcher at Changjiang Securities. Wang Zhihao, Chen Yulin and Zhao Yuli are intern researchers at Changjiang Securities.
This article has been edited for length and clarity.
Translated by Lin Jinbing (jinbinglin@caixin.com)
You've accessed an article available only to subscribers
VIEW OPTIONS
Share this article
Open WeChat and scan the QR code

Caixin-Sinica Business Brief: Hong Kong to Allow Retail Investors to Trade Crypto