China Faces Growing Virus Threat From Outside the Country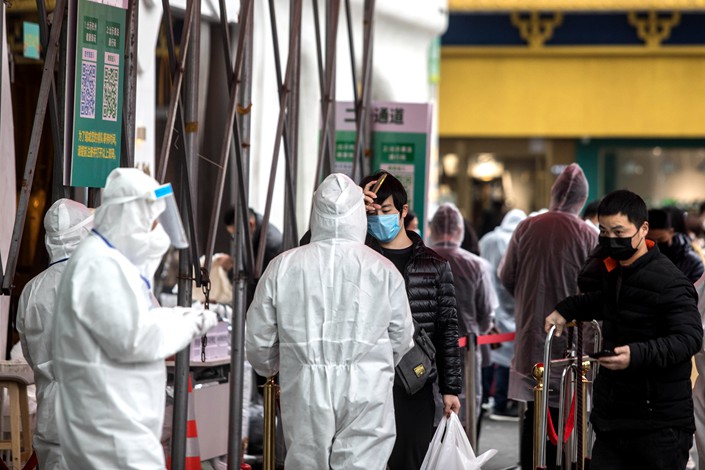 People return to work in Hangzhou, East China's Zhejiang province, on March 2. Photo: IC Photo
Eight new cases of Covid-19 may seem unremarkable when 90,000 people have been infected with the disease.
But the cases, reported on Monday and Tuesday in the county of Qingtian, East China's Zhejiang province, were different. All eight individuals appear to have caught Covid-19 in Bergamo, a town in virus-ravaged northern Italy, where they worked at a restaurant, Qingtian officials say.
Chinese authorities call these "backflow cases" — people who contract the disease that originated in China outside the country, and bring it back.
While small in number, they're causing increasing concern as diagnosis rates outside of China eclipse the official count within the country where it first spread, and as a festival where Chinese migrants often return to their hometowns to pay respect to their ancestors draws closer.
The Qingtian cluster also suggests northern Italy's outbreak may have spread earlier and wider than first thought.
The first of the Qingtian eight is a woman surnamed Wang, who tested positive on Monday — the day Zhejiang became the 19th province to ratchet back its emergency response from level one to two.
Wang, 31, developed a cough and a headache on Feb. 16, and returned to China on Feb. 26, via Moscow and Shanghai, and finally to Qingtian by hired car. She was diagnosed with Covid-19 on Sunday evening.
Accompanying Wang on the journey were six others, including her husband and younger brother. All tested positive for the disease on Monday after they were isolated in Qingtian.
An eighth restaurant worker, 34-year-old Ye, flew from Milan to Frankfurt on Friday, and to Shanghai on Saturday before chartering a car to Qingtian. He was also diagnosed on Monday.
Caixin learned from local hospital sources that one of the reasons the group returned from northern Italy was that the epidemic there was affecting their restaurant business. Italy has recorded more than 2,000 cases and 52 deaths.
Wang, who has no travel history to Wuhan, said she developed symptoms on Feb. 16. That's around the same time as the man authorities currently believe was the source of widespread local transmission in Italy, a 38-year-old Italian from Codogno, 100 km from Bergamo, who said he contracted the disease after meeting a friend who had visited from China. That friend subsequently tested negative, Reuters reported.
That 38-year-old, identified only as "Mattia," became the first in northern Italy to be diagnosed with Covid-19 on Feb. 20. But if Wang's symptoms were in fact Covid-19, that would suggest the outbreak may have spread further in the region of Lombardy earlier than believed.
"The reintroduction of the virus into China from citizens returning from overseas is not entirely surprising given the international spread of Covid-19, but it is nonetheless a concerning development," said Adam Kamradt-Scott, a health security expert at the University of Sydney in Australia.
He said it "raises serious questions about the Italian government's containment measures."
The cluster has also focused attention on the county of Qingtian in Lishui, which is little known outside Chinese communities where it is synonymous with the European Chinese diaspora.
Challenging the dominance of better known Chinese migrant hotspots like as Fujian and Guangdong provinces, an overwhelming majority of China's migrants in places like Italy and Spain have roots in Qingtian, write Xu Liwang and Yang Taoyu in "Chinese Diasporas in Europe: History, Challenges and Prospects."
"The first pioneers leaving Zhejiang to head for Europe were from Qingtian. This group has formed the core of the Chinese immigrant population in Europe and has continually exerted a significant influence," Xu and Yang write.
Now, local authorities are concerned those migrants will return from Italy ahead of Tomb Sweeping Day, a national holiday to pay respect to one's ancestors, which falls on April 4 this year.
Qingtian government officials told Caixin that around 100,000 people from the county are thought to live in Italy. "When Tomb Sweeping Day approaches every year, Chinese migrants who did not return during the Lunar New Year will return home to worship their ancestors. This year they may return slightly early because of overseas epidemics," said a source in the Qingtian County Overseas Chinese Affairs Office, which is currently trying to dissuade them from returning.
On Feb. 27, Qingtian county issued a "Notice on Qingtian Overseas Chinese Families," empathizing with the desire to return home due to the coronavirus epidemic, but saying self-isolation at home was the best course of action, and asking them to postpone their return to China unless there were special circumstances.
But it has not stopped hundreds of returnees to Qingtian, who officials say have been placed in 14-day quarantine.
Contact reporter Flynn Murphy (flynnmurphy@caixin.com) and editor Michael Bellart (michaelbellart@caixin.com)
You've accessed an article available only to subscribers
VIEW OPTIONS
Share this article
Open WeChat and scan the QR code

Caixin China Biz Roundup: New 'Langya' Virus Detected in China