Hong Kong Graft Watchdog Charges Bourse IPO Official After Probe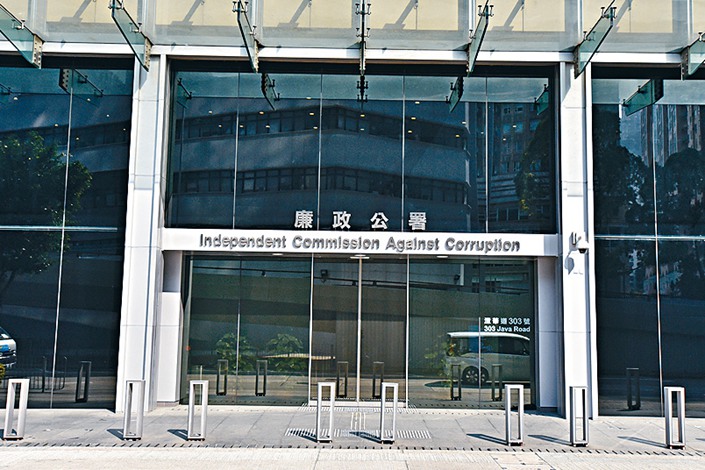 A spokesperson for HKEx told Caixin that the bourse operator has fully cooperated with the ICAC in its investigation and will continue to provide full assistance. Photo: IC Photo
Hong Kong's anti-corruption watchdog charged a former senior official of the city's stock exchange with accepting bribes totaling HK$9.15 million ($1.2 million) from an initial public offering (IPO) consultant in exchange for supporting applications.
The Independent Commission Against Corruption (ICAC) said in a statement Wednesday that Eugene Yeoh Kim-loong, 43, a former joint-head of the IPO vetting team of the listing department at Hong Kong Exchanges and Clearing Ltd. (HKEx), was charged with accepting an advantage as a public servant and misconduct in public office.
Yeoh was said to have accepted bribes from an IPO consultant, Richard Lum Chor-wah, between June 20, 2017 and April 30, 2019, and "wilfully misconducted himself in the course of or in relation to his public office, without reasonable excuse or justification," the ICAC said. Yeoh allegedly concealed or failed to declare or disclose to the HKEx the transfer of a total of HK$9.15 million from Lum to Yeoh's wife, according to the ICAC statement.
Lum, who provided advice and assistance to companies seeking to make IPO applications, was also charged with offering an advantage to a public servant by seeking to have Yeoh view applications favorably. Both men appeared in court on Wednesday.
A spokesperson for HKEx told Caixin that the bourse operator has fully cooperated with the ICAC in its investigation and will continue to provide full assistance.
Cash inducements
The case has raised concerns about the effectiveness of Hong Kong's listing approval system, although the bourse's chief executive defended the process last year. "Even a perfect mechanism might have rotten apples," Charles Li said in June, although he said he believed existing rules for the Hong Kong Stock Exchange left little room for corruption.
Yeoh was responsible for vetting IPO applications for compliance with the Listing Rules and the Companies Ordinance, and for endorsing recommendations of approval or rejection before applications were sent to the listing committee or the listing approval group for the Growth Enterprise Market (GEM).
The ICAC's statement didn't specify how many companies were involved, but named an IPO application by Shen You Holdings Ltd., a textiles company mainly involved in the manufacture and distribution of sewing threads. It said that on or about Dec. 21, 2017, Yeoh accepted from Lum a sum of HK$2 million "as an inducement to or reward for being or remaining favourably disposed to" Shen You's application.
Shen You went public on the GEM on Dec. 15, 2017, raising a total of HK$48.3 million from the sale of shares at an offer price of HK$0.375. But since rising to as high as HK$0.54 in February 2018, the shares have collapsed as the company issued six profit warnings – four in 2018, one in 2019 and the latest on March 17 this year. The shares last traded on March 20 at HK$0.049.
Shen You said in a January announcement that the ICAC had conducted a search of its offices and that Albert Wong Kwok Wai, the company's chairman, chief executive and controlling shareholder, was under investigation. The ICAC did not disclose any details of the investigation in Wednesday's statement.
The ICAC started its investigation after a complaint referred by the Securities and Futures Commission, and Yeoh and Lum were both arrested last year. The two were brought to the West Kowloon Magistracy on Wednesday and the cases was adjourned to June 3. Each was granted bail at HK$100,000 but they are barred from leaving Hong Kong or contacting prosecution witnesses.
Contact reporter Timmy Shen (hongmingshen@caixin.com, Twitter: @timmyhmshen) and editor Nerys Avery (nerysavery@caixin.com)
Caixin Global has launched Caixin CEIC Mobile, the mobile-only version of its world-class macroeconomic data platform.
If you're using the Caixin app, please click here. If you haven't downloaded the app, please click here.
You've accessed an article available only to subscribers
VIEW OPTIONS
Share this article
Open WeChat and scan the QR code