In Depth: WHO Leak Sheds Light on Aborted China Trials of Gilead Coronavirus Drug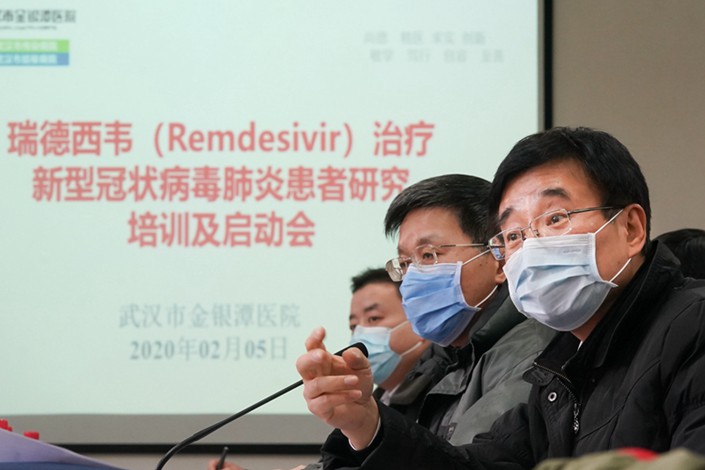 The study was aborted due to difficulty finding test subjects and was "underpowered to enable statistically meaningful conclusions," the company said. Photo: Xinhua
Shares in Gilead Sciences Inc. tumbled on Thursday after disheartening data from a closely-watched Wuhan trial of its experimental coronavirus drug was posted online by the World Health Organization (WHO), apparently by accident.
The since-removed data was from a study of 237 patients with severe Covid-19, 158 of whom were given the antiviral remdesivir and 79 a placebo drug. The results show remdesivir did not improve patients' condition or reduce the amount of virus they had in their bloodstream, according to the Financial Times, which was among the first to report the leak.
The study was one of two rigorous Chinese trials that were both quietly discontinued this month after struggling to recruit patients, raising questions about the completeness and accuracy of promising early evidence for remdesivir's effectiveness and safety.
Gilead said the information was released without permission and was not peer reviewed, and said the post "included inappropriate characterizations of the study," in a Thursday statement.
The study was aborted due to difficulty finding test subjects and was "underpowered to enable statistically meaningful conclusions," the company said. It said peer-reviewed results were expected soon.
The news has amplified the voices of skeptics who said more robust evidence was needed to ensure coronavirus patients treated with experimental drugs were not improving for other reasons. While the disease can be deadly and unpredictable, and has the full spectrum of severity, most people who contract Covid-19 recover without treatment.
Gilead is forging ahead with two Phase 3 clinical trials, one which hopes to recruit 1,600 patients with moderate Covid-19, and another which targets 6,000 patients with severe cases of the disease, according to trial records posted on ClinicalTrials.gov, a U.S. government-backed clinical trials database. Placebos will not be used in either trial.
Allen Cheng, a leading infectious diseases physician who is advising the Australian government on its coronavirus response, said it was unusual that the Chinese trials were not moved overseas to other Covid-19 hotspots in order to collect more data.
"What you'd normally do in that situation is just recruit in another country. It wouldn't be unusual for big pharma companies to do a trial in ten countries," Cheng, said, adding different standards of medical care could be factored into the analysis.
He said the fact Gilead was seeking to enroll such large numbers of patients in its own ongoing trials could be a bad sign. "If you need that many patients to show a difference, they're probably looking for a pretty small effect size…which means it may not have a dramatic effect."
"If it reduced (deaths) by half, you'd only need a few hundred participants to know that."
On the other hand, there are still hopes the drug may be effective if given earlier in the course of infection, while the patients' viral load is lower, Cheng said.
Gilead did not respond to detailed questions.
In a statement, the WHO said: "In response to WHO asking for information and studies to be shared early, a draft document was provided by the authors to WHO and inadvertently posted on the website and taken down as soon as the mistake was noticed."
High hopes
Quadruple-blinded controlled trials — where the patient, care provider, investigator and assessor are all unaware who has an active drug or a placebo — are tricky to pull off even in ideal conditions.
And the conditions in China's twin remdesivir trials were far from ideal, taking place in 10 hospitals overrun with people sick from a previously unseen and poorly understood disease, at the epidemic ground zero of Wuhan as a healthcare crisis unfolded around them.
But they were led by Cao Bin, head of pulmonary and critical care medicine at Beijing's China-Japan Friendship Hospital, a well-regarded and frequently published figure China's Covid-19 fight. And they were backed at the highest level by Chinese authorities and regulators. Gilead Sciences supplied remdesivir for free, and had what it called "input on study design and conduct."
They had the ambitious goal of recruiting around 750 patients hospitalized with Covid-19 — 308 with mild and moderate symptoms, and 453 with severe cases.
On Feb. 3, U.S. time, as airlines were already grounding flights amid fears about possible pandemic spread of Covid-19, a batch of remdesivir was dispatched on the final United Airlines flight of the day to Beijing. SF Express delivered the drug to Wuhan's Jinyantan Hospital, one of the first facilities to treat Covid-19 patients, on Feb. 6. Lightning fast approval from China's drug regulator and even faster trial approval from the Ministry of Science and Technology had already been granted, and the first Chinese Covid-19 patient was injected with remdesivir that same day.
The trial in patients with mild or moderate symptoms started Feb. 12 and was to conclude April 27, according to records posted on ClinicalTrials.gov. The trial involving severe patients was expected to conclude on May 1.
But in late February, Cao revealed the difficulties the team was having in recruiting enough patients amid competition with other drug trials. The trials' strict requirement that patients had not taken any other treatment in the prior 30 days also made it difficult to find eligible participants.
Further bad news was buried in an April 10 note from Gilead Chairman and CEO Daniel O'Day. The open letter led with hopeful findings from a Gilead-funded investigational study of a small number of patients: a New England Journal of Medicine paper said most of the 53 patients in the U.S., Europe and Canada who were given remdesivir under compassionate use provisions showed improvement.
But that was no clinical trial, and the conclusions were unreliable. Further down in O'Dea's letter was the bombshell: one of Cao Bin's trials had already been aborted. "The publication of data from the China remdesivir trials rests with the Chinese investigators, but we have been informed that the study in patients with severe symptoms was stopped due to stalled enrollment," the letter said.
By Thursday, updated trial records said the second trial, involving mild or moderate cases, had also been suspended because Covid-19 had been "controlled well in China, (and) no eligible patients can be enrolled at present."
Investigator initiated trials
What set the Cao-led trials apart was that they were "investigator-initiated trials," which are generally better regarded than trials led by pharmaceutical companies on their own drugs, experts told Caixin. Though in this case, as is common, the drugmaker did provide test drugs, placebos and advice.
How the data is now used will depend on the agreement between the drug company and the investigator. The details of the deal between Cao and Gilead have not been made public.
Randomized, blinded controlled trials are considered the gold standard for verifying the safety and effectiveness of drugs, and provide the strongest evidence that they work or don't. But because they require some people to go without a potentially lifesaving medicine, and need the researchers themselves to be unaware which patients are on the active drug, they can be inflexible and can raise ethical issues.
Experts said China's vastly improved Covid-19 infection rate played an undeniable role in the difficulty Cao's team had in recruiting patients. But there were other theories about why the trials may have ended prematurely.
According to official data, in February around 270 coronavirus trials were registered in China. Many were for traditional Chinese preparations.
While some say this overcrowding frustrated recruitment efforts, Du Bin, director of the medical intensive care unit at Peking Union Medical College Hospital, pointed to other factors. More than 10 hospitals should have been included in the trials, he said.
Another requirement, that patients had experienced symptoms for less than 12 days, was considered onerous by some.
Or maybe the investigators ended the trials simply because the drug wasn't working.
Markets move as hopes dashed
The disappointing news moved the markets, with Gilead's shares closing down 4.3% in Thursday trade.
It followed calls from a U.S. congressman last week for the Securities and Exchange Commission to investigate a leak of positive news from a trial at the University of Chicago. Representative Lloyd Doggett, who chairs the House Ways and Means Health Subcommittee, said "providing information that's designed to impact the stock market is not something that is permitted under federal securities law," according to CNN.
Results from that trial, which do not include a placebo-controlled group, are expected to be reported by the end of April. More rigorous data from a placebo-controlled U.S. National Institute of Allergy and Infectious Diseases trial is expected in May.
Nasdaq-listed Gilead Sciences is set to release its first quarter financial results after the market closes on Thursday.
Karen Anderson, a senior healthcare analyst at U.S. financial services firm Morningstar, said in a Friday note there was still a 70% chance remdesivir would be approved by U.S. regulators by the middle of the year. She expected the company to make around $1.5 billion in peak sales in 2021 from the drug, but said "we don't think the drug has yet demonstrated that it will have a large and sustained impact on Gilead's future cash flows."
That's partly because of the high likelihood vaccines will replace treatments as the preferred coronavirus intervention in coming years.
Contact reporter Flynn Murphy (flynnmurphy@caixin.com) and editor Joshua Dummer (joshuadummer@caixin.com)
You've accessed an article available only to subscribers
VIEW OPTIONS
Share this article
Open WeChat and scan the QR code

Caixin Biz Roundup: Elon Musk Meets With Foreign Minister on Rare China Trip