China Loosens Covid-19 Test Kit Export Requirements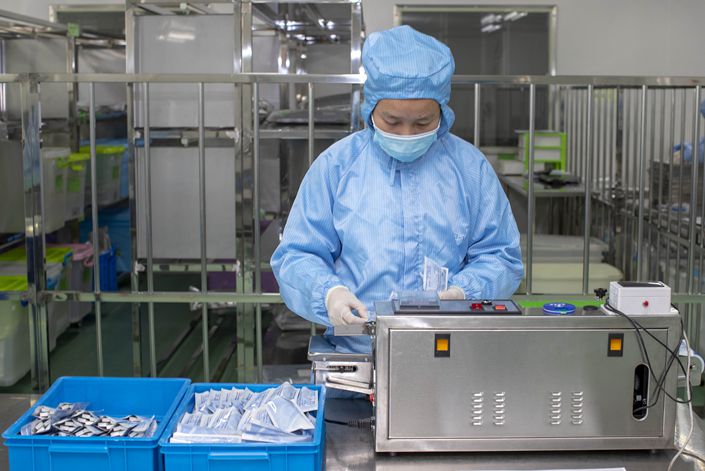 On April 9, a worker packs Covid-19 detection reagents produced by a biotechnology company in Taizhou, Jiangsu province.
China has reversed its decision to tighten export controls on Covid-19 test kits and other medical products, which came after reports that substandard items had been sold in several countries.
Since Sunday, China has no longer required Covid-19 test kits to be registered with, and approved by, the National Medical Products Administration (NMPA) prior to export. Instead manufacturers only need to obtain overseas approval and submit assurances that the product meets the import country or region's product standards.
The new policy was jointly issued on Friday night by China's Ministry of Commerce, the General Administration of Customs and the State Administration for Market Regulation, and also applies to manufacturers of medical masks, scrubs, ventilators and infrared thermometers. Companies have to provide declarations that their products meet the relevant standards and proof of their overseas certification, which customs officials will check against a list of overseas-approved manufacturers.
The move comes despite reports from various countries in recent months that some of China's medical exports do not meet quality standards and were unusable, which led China to tighten its export policy.
In one such case, Spanish newspaper El País reported in late March that a coronavirus test produced by Shenzhen Bioeasy Technology Co. Ltd. only correctly identified 30% of people who actually have the virus, rendering it less reliable than flipping a coin. The company claimed that Spanish health workers might have been using the kits incorrectly.
According to an analyst in the medical field, the measure will allow far greater export of in vitro diagnosis (IVD) test kits, which previously were held back by domestic red tape. "Now they can all be exported," the analyst said.
According to regulators, test kits fall into two categories, namely IVD and antibody. The first tests for the presence of a virus within a sample of tissue or bodily fluid taken by amplifying the pathogen's presence in a laboratory setting, and is considered the gold standard. Antibody tests, meanwhile, look for evidence of the body's immune response to a pathogen present in the bloodstream to determine whether a person has at some point been infected, and is considered in China to play a backup role to IVD tests, used in some types of screening.
Since late February, as China's Covid-19 epidemic has come increasingly under control and the situation in other regions has worsened, Chinese companies have looked to markets including Europe and the U.S. Early in the process, many exports were made without the approval of Chinese regulators.
As of Sunday, 30 test kits from 27 manufacturers had received approval from Chinese regulators. Among them, 19 are IDV tests and the rest used antibodies.
However, this number is dwarfed by the number of Chinese manufacturers already selling abroad. According to the China Association of In Vitro Diagnostics, by late March, 98 companies had already met European CE marking requirements, a certification that indicates the product meets the region's health and safety standards and can be sold across the European Economic Area. Most of their products were antibody-based and had not received NMPA certification.
At least four Chinese companies have also received emergency use authorization from the U.S. Food and Drug Administration.
The expansion of testing both in China and overseas is expected to grow demand for test kits. Last week, Chinese authorities outlined plans for large-scale testing for the first time, and several European countries are also likely to increase the scope of their testing as they get ready to loosen their lockdowns.
Contact reporter Dave Yin (davidyin@caixin.com) and editor Joshua Dummer (joshuedummer@caixin.com)
You've accessed an article available only to subscribers
VIEW OPTIONS
Share this article
Open WeChat and scan the QR code