Chinese Auto Startup Labels Tesla a 'Bully' in Trade Secrets Spat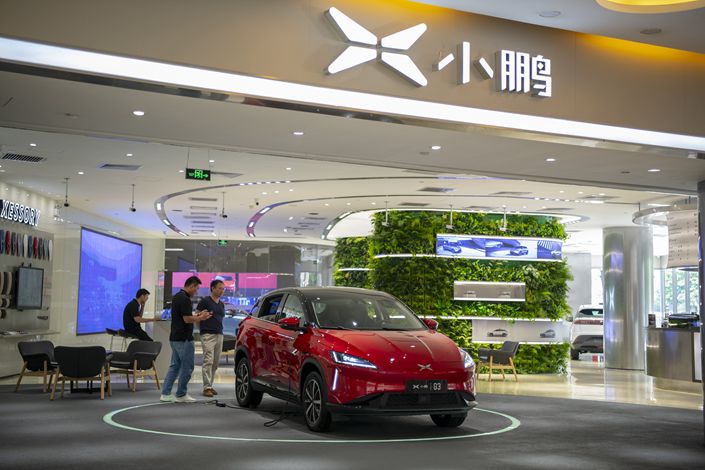 A Xpeng showroom in Zhujiang New Town, Guangzhou, Guangdong province, on July 17.
Chinese electric car startup Xpeng Motors has accused Tesla Inc. of engaging in a "fishing expedition" to "bully" its smaller competitor, firing the latest legal salvo in an ongoing case of alleged intellectual property (IP) theft.
Tesla had asked a U.S. federal judge in January to grant it access to Xpeng's company files — including those on the company chairman's own computer — as part of its yearlong lawsuit against an engineer who departed the U.S. company in January 2019 and returned to China two months later to work for the Guangzhou-based carmaker. Xpeng is not a defendant in the lawsuit, but has been named as a third party in the case.
Tesla's demands "crossed the line, seeking to rummage through our IP on Tesla's terms," Xpeng said in the statement Friday.
Xpeng had "fully cooperated with Tesla for months," including by providing its own confidential information, despite being confident that it had done nothing wrong, the statement said.
Tesla has accused the engineer, Guangzhi Cao, of taking more than 300,000 files and directories of secret source code for the Silicon Valley startup's driver assistance project "Autopilot," which Tesla claims he shared with Xpeng.
Cao has admitted to downloading Tesla material while working there, but said he did so for use in his remote office and that the practice was nothing out of the ordinary. He said he had "diligently and earnestly attempted to remove any and all Tesla intellectual property and source code from his own personal devices" prior to leaving the company.
In January, Tesla asked a federal judge in California to extend the scope of its investigation by granting it access to Xpeng's autonomous vehicle-related source code going back to November 2018, alongside complete copies of employee hard drives — including those of company founder He Xiaopeng and a former vice president Gu Junli.
In a filing with the California court on Saturday, Xpeng said it "never disputed" Tesla's claim that Cao downloaded its material while employed, but rather is arguing that the circumstances do not prove that it has done anything wrong. "After months of litigation, Tesla has failed to show any credible evidence that XMotors ever possessed, let alone used, any Tesla information from Dr. Cao," Xpeng said in its Friday statement.
In its suit against Cao, Tesla alleged the Chinese startup "reportedly designed its vehicles around Tesla's open-source patents and has transparently imitated Tesla's design, technology and even its business model." The Silicon Valley tech giant said Xpeng had introduced "Autopilot-like" features and employs at least five of Tesla's former Autopilot employees, including Cao.
In a motion filed on March 31, Xpeng objected to further cooperating with Tesla's demands for extra information. "Tesla tries to justify this intrusion into some of its competitor's most sensitive business information based upon hypothetical, unsworn, and unsubstantiated theories, irrespective of how fantastic or improbable they may be," it said.
According to the motion, Xpeng had provided information to Tesla twice — once voluntarily in June with forensic images on Cao's work computer hard drives that included partial copies of Xpeng's self-driving source code, and a second time in December, when it handed over copies of Cao's work communications while at the company, including emails, WeChat messages and slides.
It also noted that Cao has been put on leave since the lawsuit was filed.
For its part, Tesla has said that it is not interested in any of Xpeng's own technologies, but is entitled to learn about changes to the company's source codes before and after Cao joined.
The lawsuit marks at least the third similar accusation by a major Western company against Xpeng. In July 2018 and January 2019, U.S. tech giant Apple Inc. sued two of its former employees who left to join Xpeng, accusing them of taking confidential information related to Apple's driverless technology to their new employer. Xpeng denied any association between Cao's case and Apple's lawsuits in its statement.
Caixin has reached out to Tesla for comment, but has not received a reply by publication time.
The U.S. District Court of Northern California in San Jose will convene May 7 to decide whether to compel Xpeng to hand over the materials.
Contact reporter Isabelle Li (liyi@caixin.com) and editors Michael Bellart (michaelbellart@caixin.com) and Flynn Murphy (flynnmurphy@caixin.com)
You've accessed an article available only to subscribers
VIEW OPTIONS
Share this article
Open WeChat and scan the QR code