Tesla Sues Chinese Rival's Employee for Alleged Trade Secret Theft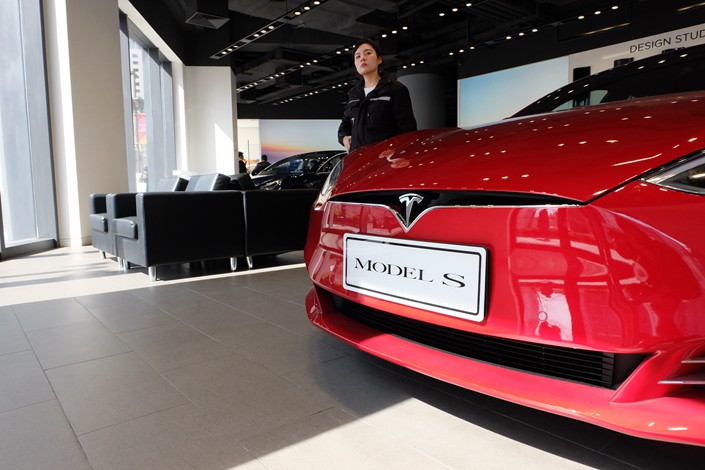 A Model S sits on display at a Telsa dealership in Shanghai on March 7. Photo: IC
Electric car maker Tesla Inc. has sued a former engineer who left the company to join a rival Chinese startup, accusing him of stealing trade secrets, including source code.
The defendant, Guangzhi Cao, worked for the tech giant in Silicon Valley for its "elite" Autopilot team before returning to China to work for Xpeng Motors, according to the lawsuit filed on Thursday in California.
Tesla filed the lawsuit a day after suing four other employees and a company over similar allegations, highlighting the importance it places on key proprietary technologies like those used for self-driving cars.
Tesla alleged that Cao began uploading complete copies of Autopilot-related source code, totaling more than 300,000 files and directories, to his personal iCloud account long before he left the company on Jan. 4.
It said it learned that Cao had begun searching for a new job by November, and received an offer from Xpeng in December. He allegedly deleted more than 120,000 files that month and disconnected his iCloud account from his Tesla-issued computer on Dec. 26, two weeks after receiving a written employment offer from the Chinese startup. By Jan. 4, his last day at Tesla, Cao had cleared all his browser history, according to the complaint.
Tesla did not list Xpeng as a defendant in the lawsuit, but alleged the Chinese startup had "reportedly designed its vehicles around Tesla's open-source patents and has transparently imitated Tesla's design, technology and even its business model." The Silicon Valley tech giant further alleged that Xpeng introduced "Autopilot-like" features and now employs at least five of Tesla's former Autopilot employees, including Cao.
Xpeng said it has not found that any of Cao's behavior has breached its regulations, either before or after he joined the company, according to a statement issued by the company on Friday. The Chinese carmaker said it had started an internal investigation to look into the matter.
Xpeng founder He Xiaopeng said on his personal social media account that his company has been developing its self-driving technology independently.
Tesla said this would not be the first time that a new Xpeng recruit tried to bring his or her former employer's trade secrets to Xpeng, according to the lawsuit.
The lawsuit marks at least the third similar accusation by a major Western company against Xpeng. Last July and again in January, U.S. tech giant Apple Inc. sued two of its former employees who left to join Xpeng, also accusing them of taking confidential information related to Apple's driverless technology to their new employer.
Tesla's lawsuit against Cao came just a day after it filed a similar lawsuit against Silicon Valley startup Zoox and four former employees who worked in its warehouse and distribution center.
Contact reporter Isabelle Li (liyi@caixin.com)
You've accessed an article available only to subscribers
VIEW OPTIONS
Share this article
Open WeChat and scan the QR code